Key Notes: 24 September 2021
24th September 2021
Out and About
Today was a collapsed timetable day for all our pupils. Years 8, 9 and 10 were out on the school trips that had to be postponed from last year due to Covid. Year 8s played Jurassic Golf, Year 9 went to Shepreth Wildlife Park and Year 10 had fun at Gravity Trampoline Park in Stevenage. Look out for some photos of these events next week. Those not on trips had activities in school and Year 11s attended PSHE sessions and spent time writing their personal statements.
Open Evening 2021
We were delighted to be able to invite people back into our school for our Covid-adjusted Open Evening. We had a strong turnout of visitors who were encouraged to wear face coverings and followed a one-way route round the college to reduce mingling. They were able to visit classrooms, talk to staff and pupil guides and watch demonstrations. The Principal's talk in the hall was replaced by online version which is available to view here. It was a very successful evening with lots of positive feedback.
Flu Vaccinations in school reminder
The School Immunisations Team will be offering Flu Vaccinations to all pupils in October/November. The deadline to return the consent form to reception is 1st October 2021. Spare forms are available from reception.
Community Education
Community Education classes start on Tuesday next week and we look forward to welcoming them back to the college after lockdown. Details of our Adult Education classes can be found here.
Covid 19 Vaccinations for 12- to 16-year-olds
The Schools Vaccination Service is offering Covid 19 vaccinations to 12- to 16-year-olds at MVC on 3rd November 2021. All parents/carers have been sent an email/letter with information and link to the Bi-Portal (run by the NHS) to sign up and give or decline consent.
Here is a reminder of the link to the Bi-Portal: forms.hct.nhs.uk/CovidConsent/Form1/
You will need the unique code number: EE137527 which identifies MVC. If you are unable to access the Bi-Portal please contact the school nurses service directly on 0300 555 5055 option 1, or email them on hct.csaiscambspb@nhs.net
School dinners
We appreciate parents/carers trying to stay in credit on ParentPay for your child's lunches. If you have not activated your ParentPay account yet, please do so, or contact office@melbournvc.org.
The kitchen staff are having some problems with limited availability of certain items from suppliers at the moment. As a result, the menu may change at short notice. Cartons of drinks are also affected, and whilst the supplies are not our usual ones and we will have water on sale, pupils may want to bring their own water bottles which can be refilled from the new water fountains.
Y11 Post 16 – Information Evening
Year 11 pupils and parents/carers are invited to an information evening on Wednesday 29th September. This is an opportunity to hear more about the post 16 process and options available, and to meet staff from all local college/sixth forms/providers. Parents/carers will receive a letter giving further details about this. Some key points:
Pupils with surname beginning with A-L: 6pm – talk in the hall.
Pupils with surname beginning with M-Z: 6:30pm – talk in the hall.
After the talk pupils and parents/carers can meet post 16 provider staff.
We ask for 1 pupil and 1 parent/carer only to attend to help reduce crowding.
School Photographer
Our school photographers were in school on Tuesday this week taking individual pupil photos. If your child had their photo taken, they will have brought home a paper slip with a QR code and a unique reference number. You can use this information to order copies from the photographer online at DSP Photography or if you have any queries please email dsp.enquiries@gmail.com
Pupil Wellbeing
A number of tutor groups are taking on a challenge for Wellbeing Wednesdays – the aim is to set an individual or tutor group challenge, practise over a number of weeks and monitor progress. Setting a goal and then working to reach that goal can help give purpose and focus to people, as well as a sense of achievement. Peers are encouraging each other too – all good for their mental health and wellbeing! This week, Mr Bacon's group have been trying to build card towers, and Mrs Giles' group are aiming to pass a ball between them all without dropping it.

Creative Writing Club
We are excited to be able to offer a Creative Writing Club as part of our enrichment program. Wednesday saw the first session and it was fantastic to have such a great turn out and to see so much enthusiasm for writing. We hope to share the work we do with the rest of the school later this year, when we publish some of the stories. Due to Covid, the library has been closed for some time, but it will now be open for pupils to take books out during club time. It was great to see how keen the pupils were to finally have the opportunity to browse the shelves and borrow library books again.
Year 7 Reading Initiative
The year 7 reading initiative is now under way, and all year 7 pupils have been given reading journals to take home and track their reading. Reading homework will be set every 2 weeks and once books have been completed, pupils will be encouraged to write a book review, which will be published on our Year 7 book review Blog here: https://mvcy7bookguide.wordpress.com/. Book tokens will be awarded to the best contributors at the end of each term. We have already received some fantastic reviews from Dolly, Marco, Lacey, Elsie, Caitlin, Amelia and several others.
Maths
All year 7 pupils have been shown how to access their Timestables Rockstars accounts and their maths teachers are really looking forward to seeing pupils challenging themselves to improve their accuracy and speed. All year 7s have been asked to practise for 15 minutes a week. Please encourage your child to access their account regularly. The 'mantra' is little and often – if everyone manages 3 minutes a day by the end of the year we will have a year of Timestables 'Rock Legends'!
Online Safety Newsletter – September 2021
July's Online Safety Newsletter is being sent out with this edition of Key Notes and can be viewed online here. It looks at Social Media Apps, specifically what age your child should be to use the apps, the risks, reporting functions and has links for further information. There is an in depth look at Snapchat and some of the features such as Snap Map and the recommendation that this function is not enabled for young people.
Physical Education
Construction of the new artificial pitch is well underway, and we are hopeful this project will be completed early 2022 and pupils will be able to use it for lessons and enrichment next term.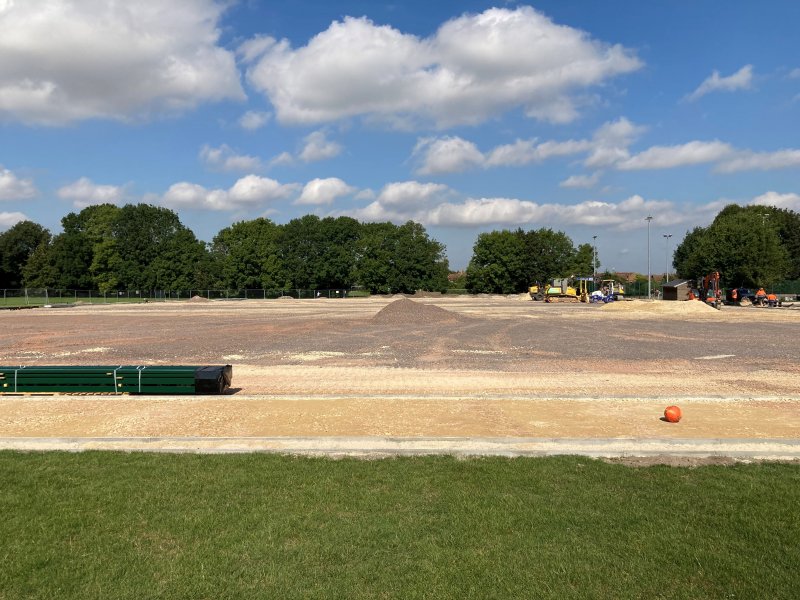 Monday saw our first fixture take place having been rained off last week (yes you are reading that correctly in September, thanks to the barrage of rain last Tuesday!) Our opponents were Joyce Frankland Academy from Newport and we progressed to the next round with a convincing 4-2 win. Jack B and Callum B both bagged a brace of goals, one of Callum's in particular was a speculative strike from range which dipped over the visiting goalkeeper, a great effort and one that gave us clear breathing space at 4-1. Next up it's our Year 11 boys who host King James Academy (KJA) next Monday (27th), kicking off at 4pm. Our boys will be keen to avenge a penalty shoot-out defeat in a friendly with them last term.
Have a good weekend,
Simon Holmes