Key Notes: 22 April 2022
22nd April 2022
Welcome back
It has been a very enjoyable week. The sun has shone, and we have welcomed pupils back into an environment which is getting ever closer to 'normal'. Staff returned to school on Tuesday this week for our CamTrust training day – an opportunity for staff across all the schools in our Trust to come together for some joint training, discussion, and the sharing of good practice. This cooperative work is one of the key elements of being part of a wider Trust. The relationships formed and the ideas shared on these days benefit pupils at all of our schools.
Even though this is a short week, there has certainly been a lot going on, including the unexpected occurrence of a fire affecting our hedge at the edge of the backfield. This occurred as a result of wind fanning flames from a smouldering bonfire on a next-door property. The site team acted quickly and the fire was extinguished by the fire brigade without disruption to the school day. Thank you Hertfordshire Fire and Rescue Service for arriving so promptly.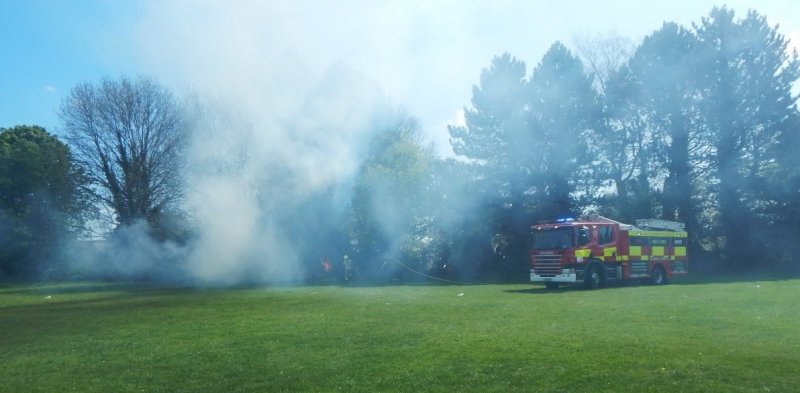 Coming up next week
Mon 25th – Year 5 and 6 Swimming Gala (Primary Liaison Event)
Tues 26th – Cambridge Regional College visit
Wed 27th – Men ACWY/DTP vaccinations Year 9 and mop up Year 10s
Wed 27th – Triple P Teens Parenting Course (see details below)
Thurs 28th – Year 10 PSHE Periods 4 and 5
Year 11 Group Photos Reminder
A reminder that the deadline to order Year 11 or prefect group photos online for free delivery to the school is 24th April. Any orders placed after this will be subject to postage and packaging costs, with delivery direct to your home address.
Attendance at School
As a school, we encourage excellent attendance so pupils can best access their education. To ensure pupils have the best chance of achieving their potential, they are expected to have at least 96% attendance. This is the equivalent of no more than 1 day off per 6 weeks (about one each half-term). We fully appreciate that illness happens but if a pupil is just feeling a bit under the weather we would expect them to attend school. Parents can of course let tutors know so they can keep an eye on them. If a pupil is to be absent please do email absence@melbournvc.org. Offering medical evidence is very helpful when a pupil is off with illness (we may request this). A screenshot of a doctor's appointment slip/text, and a photo of a prescription with date and name or hospital letter are the best forms of this.
GCSE Exams Begin
Today marked our first GCSE exam of the summer series with our Year 11 GCSE PE class taking part in their practical moderation. We were joined by King James Academy from Royston as well as Sawston and Linton Village Colleges.
The fact the moderator asked to host it at MVC is a testament to our facilities and PE department. Well done to the Year 11 pupils who were involved in the GCSE PE moderation. They all absolutely smashed it and were a credit to the school. Thank you also to the Year 10 and 11 pupils who helped out; their talents were showcased too. That's now 40% of the GCSE PE course done, and there will be a huge final push for the two theory papers left for those pupils. Special thanks to Lynn Gregory and the kitchen staff for providing visiting teachers with refreshments and to Mr Kirkham for filming the whole day.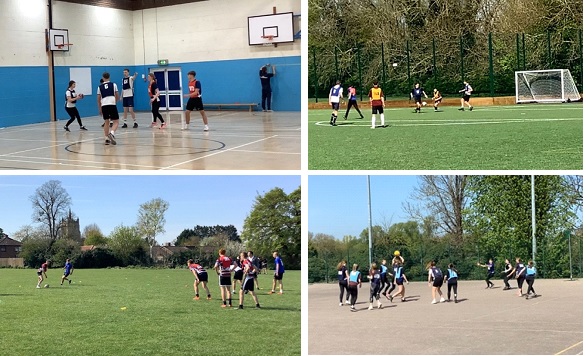 Physical Education
The date for the Year 10 boys football County Cup Final has been confirmed for next Thursday 28th April at 3.30 pm KO at Histon Football Club, which is the headquarters of the Cambridgeshire Football Association. We are planning to take a minibus of supporters, so if pupils are interested please speak to Mr Kennedy or Mrs Coghlan.
Our opponents will be Longsands School from St Neots and our team manager Mr Mills is optimistic, "We are there on merit having already beaten some big schools. I think the boys love the title of the underdog and there will be no pressure on them from the PE department, we are already proud of their success so far." Mr Barlow is also hopeful but wary of a busy few weeks for these and other Yr10s, "We have increased our training load, and continually reminded the boys to revise for their upcoming Yr10 exams, so their organisational skills will also be tested!"
Enrichment Activities – new club
Our Summer term extra-curricular clubs will start on Monday 25th April and will run until Wednesday 6th July between 2.50-3.50 pm on Mon, Tues and Wed. There is still time to sign up by clicking here.
Starting from next Wednesday,
Mrs Forrester, our librarian, and Mrs Hallam will be running an enrichment club for Year 7 and 8 pupils to participate in the upcoming Yoto Carnegie Greenaway Book Awards. There will be plenty of opportunities to read and discuss the books on the shortlist, which are amongst the best new fiction for children published in the last year. We'll also be participating in an event with other schools across the Trust, to offer views and vote in these national awards. To have your voice heard and contribute to the debate, see Mrs Hallam or Mrs Forrester for details about this club. Spaces limited.
KS3 Science Club is starting next Wednesday and Dr Wilson said that the first topic they will be exploring is alkali metals. These include lithium, sodium and potassium, which all react vigorously with water!
Upcoming Y10 events
Thursday 28th April Y10 pupils will receive PSHE lessons on safe sex (including contraception and STIs). If parents have any questions about the delivery of this we advise reading our RSE policy (relationships and sex education policy) on the school website.

Friday 6th May all Y10 pupils will have a scheduled "mock interview" where they will have a 15 – 20 min session with a volunteer from business/industry. The aim is to give pupils experience of being interviewed and to develop some of these skills as part of their careers curriculum.
Year 10 Work Experience (WEX)
A reminder that Y10 pupils should be aiming to secure a work experience placement by Wednesday 25th May. Pupils must complete forms with their placement and then use these forms to upload information to the online platform. Pupils should hand their form (signed by the employer and parent/carer) to Mrs Brown in the Exams/Maths office. Please see previous MVC posts on how to complete these. If you have any queries about WEX please email: tbrown@melbournvc.org
Pastoral Support
Triple P Teens Course: Starting on Wednesday 27th April, the Cambridgeshire Early Help team will be running the "Triple P Teens" course for parents at Melbourn Village College on Wednesdays from 1-3pm for 7 weeks.
The course aims to support parents raising teenage children by looking at adolescent behaviours, setting boundaries, strategies to help regulate behaviour and mood, self-confidence, self-esteem and anger. These are all areas that are often raised when working with students and parents within school and therefore we feel very fortunate that Early Help have selected Melbourn Village College to host this course and can offer this resource to our parents. Completing Triple P is a prerequisite for any successful neurodevelopmental referral to Younited when trying to activate support for students who need investigations into ASD or ADHD pathways and therefore we encourage parents wanting to pursue this route to also engage with this course.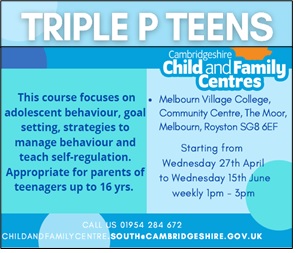 Positive Parenting Workshop: CommEd Adult Education is offering a FREE Positive Parenting Workshop on Saturday 21st May at Melbourn Community Hub. This course is to provide parents/grandparents/carers with practical tips to improve family life, improve confidence and raise self-esteem. If you would like further details or to book onto the course, then please email commed@combertonvc.org The course is being repeated at Cambourne Village College on Saturday 25th June.
Operation Sceptre
Cambridgeshire Constabulary would like to draw your attention to the forthcoming national knife crime week of action – Operation Sceptre: Monday 16th May to Sunday 22nd May 2022. This operation is designed to educate children and young people and raise awareness of the consequences of knife crime, (see poster at the end of this Newsletter)
Melbourn Football Club Quiz
Test your general knowledge in teams of up to six people at the Melbourn Football Club Quiz on Sat 30th April, 7.30 pm at Melbourn Village College. £5 per head with a Licensed bar and snacks provided. For tickets contact: Stuart on 07789468165 or Simon on 07732613555, email: chadders2000@hotmail.co.uk or visit: www.facebook.com/MelbournFC
Have a good weekend,
Simon Holmes