Key Notes: 1 April 2022
1st April 2022
Covid Update
The government has updated its advice on Covid. Subject to any further amendments over the Easter holiday, advice is that Covid is now to be treated like any other respiratory illness. This means that if your child is unwell and/or has a high temperature they should stay at home and avoid contact with other people. There is no official period of isolation - they can return to school when they no longer have a high temperature, and they are well enough to attend. If you choose to purchase a Covid test (free tests are no longer available) and your child tests positive, they should self-isolate for three days.
Return to school / Uniform
Pupils return for the Summer term on Wednesday, April 20th. Please ensure that your child is wearing the correct uniform and following all guidance on jewellery etc. Please also note that we will be returning to the normal rules regarding not wearing coats etc in classrooms, so make sure your child brings their college jumper.
Bus Passes
If your child travels to school by bus, please remind them that they must have their bus pass with them to travel on the bus and the driver will be checking passes on each trip. New Summer Term bus passes for the Royston bus will be issued on the first day back, but the Spring Term pass will remain valid in the meantime.
Year 7 Reports
The year 7 reports have been issued today. It has been a pleasure to read them and to see so many positive comments about how pupils have been working.
Date for your diary
27 April: Meningitis ACWY and Diphtheria, Tetanus and Polio vaccinations for Y9 & mop-up Y10s.
MVC News
The latest edition of MVC News has been published and is available to read online here. In this issue: Support for Ukraine; Celebrating 150 Years; Focus on Food; New Activities Start-Up; Trust News; Spotlight on Science; Poetry Winners; Actors Help with Coursework; Art Attack; SCSSP round-up; Sports and more.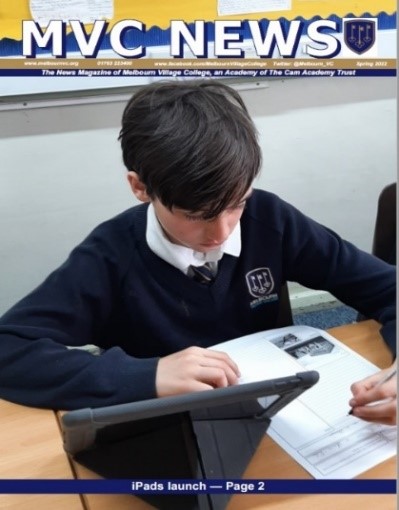 Year 11 Group Photos
Just a reminder that the deadline to order Year 11 or prefect group photos online for free delivery to the school is 24th April. Any orders placed after this will be subject to postage and packaging costs, with delivery direct to your home address.
E-Scooters
We've had some reports from local residents of pupils riding e-scooters through villages and causing a disruption. Please remind your child that it is only legal to use e-scooters on private land or where official trials are taking place (such as Cambridge City). If your child is riding their scooter on public land or roads / pavements they are breaking the law and may be fined and the scooter may be confiscated by the police.
Pastoral Support
The Cambridgeshire Early Help team will be running the "Triple P Teens" course for parents at Melbourn Village College in the summer Term on Wednesdays from 1-3pm for 7 weeks.
The course aims to support parents raising teenage children by looking at adolescent behaviours, setting boundaries, strategies to help regulate behaviour and mood, self-confidence, self-esteem and anger. These are all areas that are often raised when working with students and parents within school and therefore we feel very fortunate that Early Help have selected Melbourn Village College to host this course and can offer this resource to our parents.
Completing Triple P is a prerequisite for any successful neurodevelopmental referral to Younited when trying to activate support for students who need investigations into ASD or ADHD pathways, and therefore we encourage parents wanting to pursue this route to also engage with this course.
SEND News
The latest newsletter from Pinpoint Cambridgeshire for parents/carers of children with additional needs and disabilities is now available to view online here. This issue includes information about the SEND Review green paper and forthcoming events for parents and carers. These sessions are free, all online, and booking is easy via the events page. Topics include: Transitions – how change and routine impacts behaviour; Exploring ways to help your child cope better at school; Building resilience – life lessons from dogs; PDA, Autism and Me.
MVC Spring Concert
On Tuesday we held the first live music event at Melbourn Village College in well over two years! The MVC Spring Concert included performances from the Y7 Choir, and Y10 Show Band, as well as solo and duet performances from some of the GCSE Music pupils. Mr Holmes commented, "It was fantastic to see pupils experiencing the joy of making music together and passing on that joy through their performances. We have some exceptionally talented musicians at MVC."
Mr Thomson said, "It was a great pleasure to be able to share the musical progress of all pupils involved, with their family and friends." The audience was limited by invitation only, but we were still able to raise over £150 for the DEC Ukraine Humanitarian Appeal. Special thanks go to Mr Thomson for all the time put into rehearsing and organising, and to the staff who helped out on the night.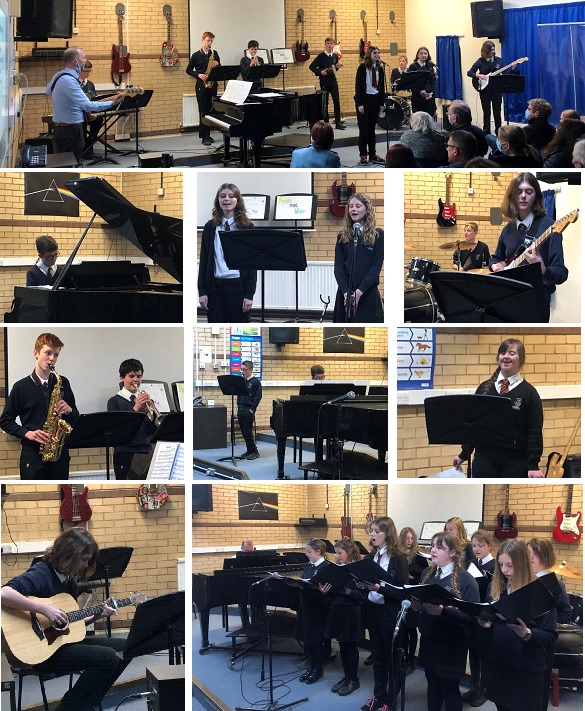 Staff Wellbeing Day
On Wednesday we had a focus on staff wellbeing, with a whole school assembly during Tutor Time, followed by an activity where pupils could write a 'Thank You' note to a member of staff. There were some lovely messages and staff really enjoyed reading them. (See some examples below, names have been removed)

Easter Egg Hunt
Earlier this week, pupils from our Student Support Centre enjoyed an Easter egg hunt as part of their work learning about the Easter Story! Great fun and much chocolate was had by all!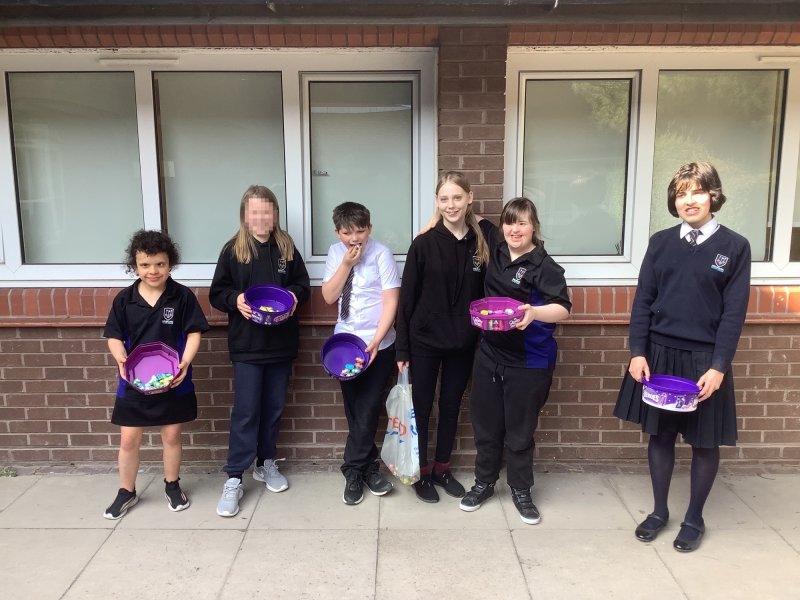 Enrichment Activities
Our Summer term extra-curricular clubs will start on Monday 25th April. These sessions will take place between 2.50-3.50pm on Monday, Tuesday and Wednesday. We would encourage all pupils to take part. There are limits to the number of pupils we can have in each activity so your child must sign up for the ones they wish to attend. We also run a free bus service home. This will visit all local catchment areas and Royston, and we aim to get all pupils home by 5pm. You can complete the Enrichment Activities form by clicking here.

GCSE Geography Fieldwork Trip
As part of their work towards GCSE Geography, Year 11 geography pupils visited Cambridge on Thursday. The trip enabled them to practise their fieldwork techniques which will be needed for their final geography exam. Following the visit, pupils will be writing up their work.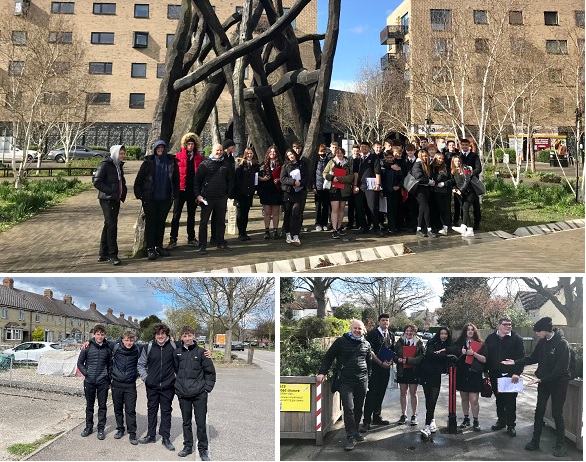 Science – Physics
In physics, year 9 pupils set themselves a challenge to build the biggest parallel circuit of bulbs that they could muster! This helps to prove that potential difference (voltage in old money!) is the SAME everywhere in a parallel circuit, but the current is shared between the loops.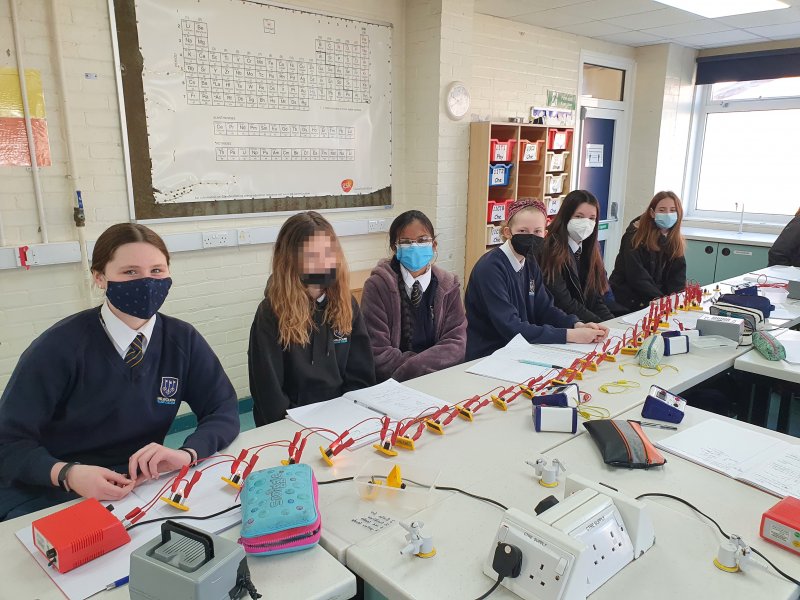 Maths Trip
Mrs Rogers' maths class have been working very hard this term. As a reward, the group were treated to a trip to McDonalds where they practised calculating the cost of buying separate items individually. They then compared this with buying a meal deal and calculated the savings.
Mrs Rogers said, "The pupils were a credit to the college and Mr Barlow was impressed when he came to join us. Thank you to Mrs Neville and Mrs Black for accompanying us." The award for eating the most was very close between Tyler and Alfie, but in the end, Alfie won!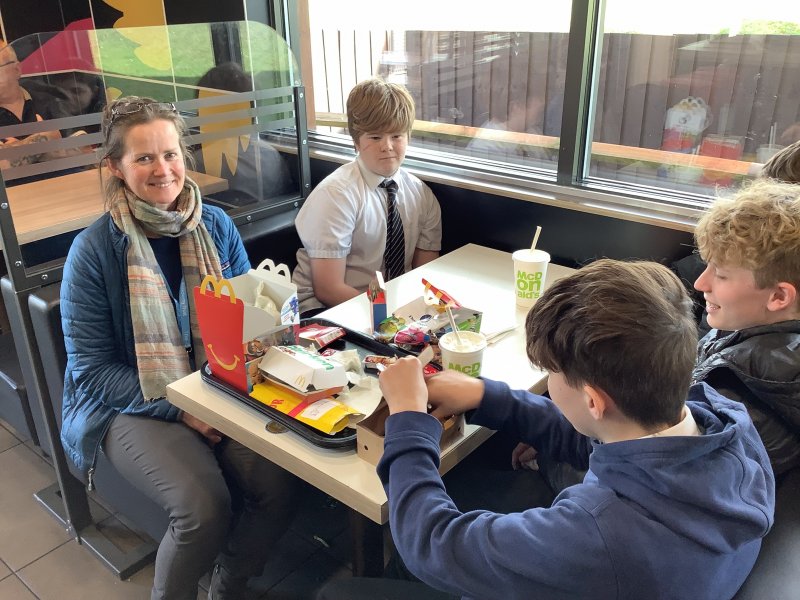 Exam Invigilators Needed
We are currently advertising for Exam Invigilators (Casual Basis - £9.85 per hour). This position would ideally be suited to reliable, committed, and punctual individuals who are available in May, June and November. Must be flexible to cover varying shifts throughout the exam period. For more details and an application form, please visit our website here. Please note that we do not accept CVs.
Year 10 Exams Timetable
Pupils in Year 10 have now received their exam timetable. These will take place between 3rd-13th May 2022 under normal exam conditions. Details of these and the timetable are available on our website here. It is very important that pupils familiarise themselves with the exam rules and take the time to thoroughly revise each topic. On Thursday, pupils had an assembly from Ms Smith about revision and exam techniques.
Online Safety Newsletter – March 2022
The March edition of our Online Safety Newsletter is being sent out with this issue of Key Notes. You can also view the copy online here. This month's newsletter looks at Smartwatches/Fitness Trackers and the risks associated with using these.
It looks at Snapchat; what to be aware of in terms of group chats, Snap Map, inappropriate content and bullying etc. It also provides safety tips for you and your child. There is information about Apps for learning which engage young people in areas such as music-making, coding and creating movies. Finally, there is a section on how to support young people with SEND online covering parental controls and how to help protect your child online.
Sporting Achievement – Boxing
Melbourn Village College Year 10 pupil Claude Gray has fought his way to a Junior English Boxing title. Fifteen-year-old Claude from Meldreth boxes out of the Rainham Gym in Essex and has shown great commitment to spar there weekly – frequently using the gym at the Melbourn Leisure Centre to maintain a high level of fitness. When he is not at one of those establishments you can frequently see him out running around Melbourn and Meldreth. Claude, sporting his flashy neon outfit in the picture, beat a range of fighters in the southern area at exhibition fights and qualifiers. He then defeated a semi-finalist from Birmingham and finalist from Manchester to be crowned England Boxing's Male Junior Cadet Under 66kg champion.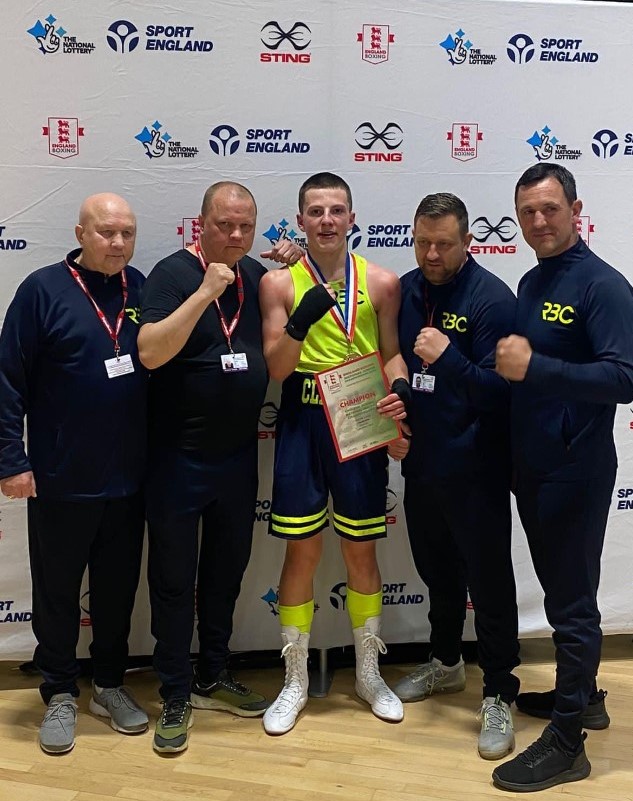 Claude travelled to the Guildford Spectrum in Surrey last weekend for the high-pressured National Junior Championship finals day with hundreds in attendance. This is where the cream of boxers from across England at Junior Level meet in the semi-finals and finals stages to crown national champions for 2022. Claude prevailed in his two sets of 3 x 2 min rounds – convincingly beating Harvey Thorley from Walsall Wood Boxing Club in the semi-final with some neat combinations and excellent footwork. He then followed that up with victory over the unbeaten Kevin McDonagh from Ardwick Lads by a split decision in a frantic final. Claude's lightness on his feet and calmness in the ring were evident throughout, even if the final became a bit of a tear up! Many of Claude's peers at Melbourn Village College streamed the fight live on YouTube and his PE teacher Mr Barlow said, "There is a real buzz around the PE department currently. To have a national champion in any sport takes some doing but Claude deserves a great deal of credit as he has remained committed to GCSE PE and his other subjects whilst being a role model around school with excellent behaviour, all whilst balancing a heavy training load in Essex some evenings!". Well done, Claude!
Gymnastics at MVC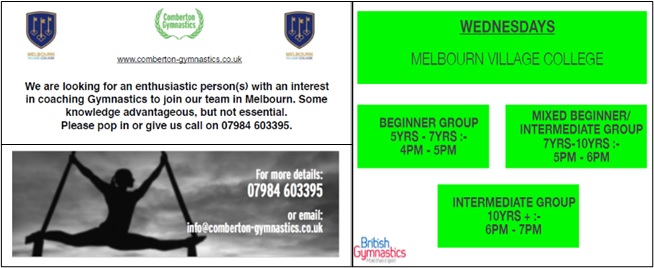 Spanish
Class 7XE Spanish revised their grammar with the help of some furry friends and then wrote about them. Mrs Hallam helped Mrs Stanley pick the winners, who will receive a prize next term.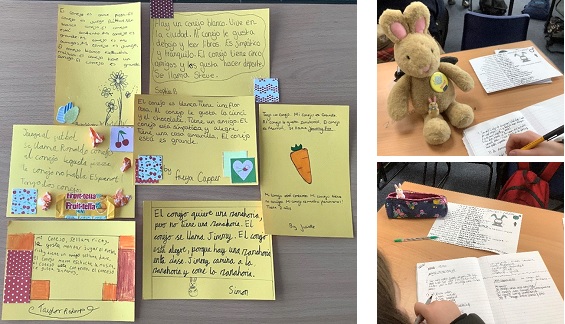 Farewell Mr Lawrence-Jones
After working for us for nearly 5 years Mark Lawrence-Jones left us this week to pursue other interests. An enthusiastic and highly regarded member of the mathematics department, Mark has also taught geography, PE and computer science during his time with us. Outside college, Mark is a qualified gliding instructor and on a number of occasions has run gliding courses for pupils during activities weeks. Mark's contributions to college have been greatly appreciated by his colleagues, and many pupils will recognise the positive impact that his teaching has had on their educational journey. Everyone at MVC wishes him well for his future.

Due to Mr Lawrence-Jones' departure, there will be several timetable and staffing changes for maths and computer science pupils. Please could all pupils check their timetables before returning after Easter.
And Finally…
Many thanks to all parents for your support over the past term. Like all schools, we have had our share of Covid-related absences but the staff at MVC have worked incredibly hard to minimise any disruption to pupils. We hope that you all have an enjoyable holiday and look forward to seeing everyone again on April 20th.
Have a good Easter break,
Simon Holmes