Art and Technology
Key Stage 3
Art
We aim to engender five key values:
Perseverance
Challenge
Mastery
Self-motivation
Creativity
In each of the Key Stage 3 years pupils follow a variety of project work targeted at each year group, presenting the core of their learning within sketchbooks, with larger pieces and pottery work also included. Each year group has a sketchbook to aid learning and give pupils ownership of their work.
Pupils' project work is aimed at developing core skills in art and design and embedding the five key values of Perseverance, Challenge, Mastery, Self-motivation and Creativity.
We want to encourage pupils to master practical skills and research work.
We want to encourage pupils to take risks with ideas and learn from them.
We want to encourage pupils to take care of their sketchbooks, and see them as valuable
We want to encourage pupils to aim higher, take on board any constructive criticism and understand that progress has to be earned. All artists learn from their mistakes and this is how they progress.
Extension work is offered in all classwork project work to push all pupils in this subject.
Studio time outside lessons is offered by the HOD in her lunch times.
Food, Preparation and Nutrition
The Food and Nutrition department are passionate about ensuring that all pupils leave Melbourn Village College with the skills and knowledge to produce healthy and delicious food for themselves. Staff have put together curriculums at all stages that ensure pupils are able to develop key culinary skills alongside robust knowledge of nutrition, safety and ethical issues so that pupils are able to achieve in all areas of the food curriculum.
In addition, KS3 Food and Nutrition pupils will develop a wide range of transferable skills; creativity, problem solving, resilience, teamwork, communication, numeracy, organisational, time keeping.
Examples of KS3 practical recipes: soda bread, sweet and sour chicken, Thai green curry, fruit muffins, homemade pizza, scones, chicken chow mein, vegetable stir fry, homemade pasta & tomato sauce, fruit crumble, vegetable tart, quiche, jam tarts
Examples of topics covered: dietary advice guidelines, diet related illnesses, nutrients and their functions, food provenance, food safety, food science, food choice
Independent study:
Pupils will be expected to complete written homework to demonstrate understanding and knowledge of the theoretical elements.
Practical skills are encouraged to be utilised at home to enhance skillset and confidence.
Assessment:
Pupils will be required to demonstrate technical skills through an independent lesson of cooking and display a high standard of safety. Pupils will receive formative feedback in lessons and will be required to take end of module written tests.
There are a wide range of opportunities for pupils to get involved with, competitions, charity events and afterschool clubs.
Please note there is a requested contribution for ingredients, and pupils will be asked to provide supplementary ingredient and pupils are required to bring a labelled container to transport their food home in.
Systems and Control Technology
Systems and Control Technology is taught to pupils of Melbourn Village College from Year 7 up to GCSE (Key Stage 4). The subject aims to provide pupils with useful practical skills and an understanding of logical thinking.
At Key Stage 3 level pupils are taught Systems and Control, which covers aspects such as mechanisms and how systems are controlled in everyday life. Pupils are introduced to a range of materials from common metals and plastics to smart materials. Throughout Years 7 to 9, pupils will undertake a range of projects with increasing levels of complexity, from keyrings, to clocks and a fan with speed control.
If pupils decide to take their study of Systems and Control Technology to GCSE level there are two possible routes they can choose from:
WJEC (Welsh Joint Education Committee exam board) Systems and Control
This course enables pupils to design and make systems using a range of electronic, mechanical and pneumatic components. It provides the opportunity to explore what is involved in designing, engineering and manufacturing.
WJEC Construction in the Built Environment
This course offers an insight to the construction industry from the build perspective. It gives pupils a broad introduction to the different trades involved in the sector and the types of career opportunities available.
Staff
Mr Stephen Reynolds (Head of Department, Teacher of Design and Technology)
We are always looking to take advantages of opportunities to enrich the curriculum for our pupils and relate their learning to the world beyond the school. The drainage works taking place at the school were one such opportunity and so we were delighted to be able to team up with Atkins to give our Construction pupils an insight into that industry.
Key Stage 4
Art
The Art and Design Department offers specialist GCSE courses in Fine Art.
The grades awarded for these examinations are based on:
The completion of coursework portfolio produced during Years 10 and 11= 60%
A final timed test = 40% 10 hours over two days which includes a preparation period in which pupils must prepare for the exam with evidence of clear research, experimentation and planning for the final 10 hour exam. This preparation work makes up a proportion of the overall exam grade
We aim to engenger five key values in GCSE Fine Art pupils:
Perseverance
Challenge
Mastery
Self-motivation
Creativity
We want to encourage pupils to master practical skills and research work.
We want to encourage pupils to take risks with ideas and learn from them.
We want to encourage pupils to take care of their sketchbooks, art work and see their work as valuable.
We want to encourage pupils to aim higher, take on board any constructive criticism and understand that progress has to be earned.
All artists learn from their mistakes and this is how they progress.
Structure of Fine Art GCSE Assessment Criteria
Assessment Objective 1: Critical Understanding
Develop their ideas through investigations informed by contextual and other sources, demonstrating analytical and cultural understanding
Evaluating and analysing objects and artefacts
Understanding context
Assessment Objective 2: Creative Making
Refine their ideas through experimenting and selecting appropriate resources, media, materials, techniques and processes.
Experimenting with a variety of media, ideas and processes
Assessment Objective 3: Reflective Recording
Record ideas, observations and insights relevant to their intentions in visual and/or other form
Observational drawing
Recording experiences and ideas
Develop secondary sources ideas and artwork
Assessment Objective 4: Personal Presentation
Present a personal, informed and meaningful response demonstrating analytical and critical understanding realizing intentions and where appropriate, making connections between visual, written, oral or other elements
All four assessment objectives have equal weighting and should be addressed in both units of coursework and the final examination.
Examination Board: Eduqas
Homework is continual and should be at least 2 hours a week. Work is reviewed by the teacher throughout the course. Allpupils are graded according to the GCSE Art and Design assessment Grid for both units. Targets are set according to the matrix.
All pupils need to buy a sketchbook for Year 10 and another for Year 11
The Department offers Art packs for purchase at cost price to pupils. It is highly recommended that pupils purchase one for homework.
Extra studio time is offered by HOD at lunchtimes and in enrichment after school.
GCSE Virtual Art Exhibition
Students taking GCSE Fine Art at Melbourn Village College are exhibiting their final pieces of work to the public online this year. Covid restrictions have curtailed the annual exhibition hosted at The Plough in Shepreth, although we hope to return to this format next year. Every final piece has been framed and displayed in the main corridor of the school for staff and other students to enjoy. To give the amazing work a wider audience including proud parents and other relatives, the Art Department has turned the work into a virtual exhibition, which can be viewed here.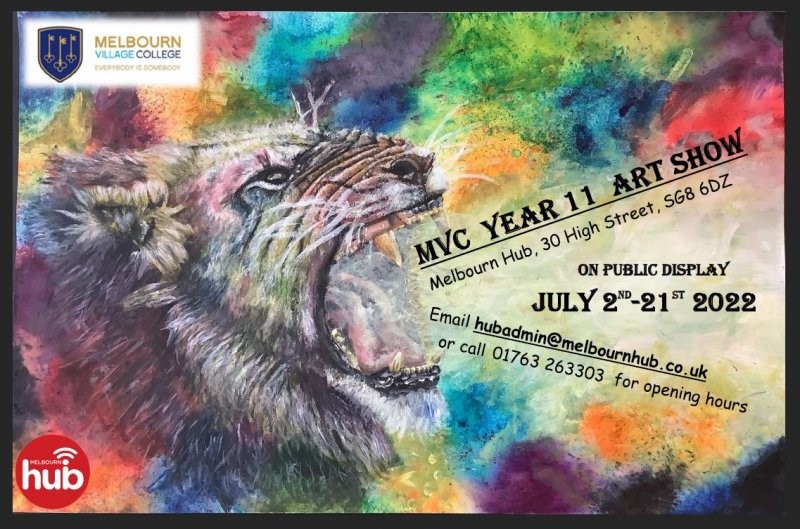 Food, Preparation and Nutrition – AQA
Not only a life skill but a varied and interesting course explores the science behind food, food provenance, food safety, food choice and nutrition. Pupils will be expected to display a wide range of cooking skills whilst applying theoretical knowledge and understanding. The belief that this course is entirely cooking is a myth! Pupils should have a passion for cooking and an interest in healthier choices.
If you are interested in any of the following questions, you may enjoy this course: Why do onions make you cry? What is the difference between baking powder and bicarbonate of soda? What is the difference between wholemeal flour and white flour? Why is some margarine soft and butter is hard? How do you ensure a brownie is gooey and not cakey? How do you ensure adequate protein intake if you are a vegan? Why is type 2 diabetes and obesity on the rise? What are GM foods? Where do pineapples grow?
Examples of practical dishes: crown loaf, mini carrot cakes, Chelsea buns, choux buns, sausage rolls, filo tarts, apple turnovers, chicken curry, breadsticks
This course is 50% theory and 50% practical. The Course is divided into two sections:
Section 1: Paper 1: Food preparation and nutrition
Theoretical knowledge of food preparation and nutrition which is assessed with a written 1 hour 45-minute exam. This is worth 100 marks and 50% of the GCSE. There are five multiple choice questions each worth 20 marks.
Section 2: a non-exam assessment (NEA), consisting of two tasks:
Task 1: Food investigation (30 marks) Pupils' understanding of the working characteristics, functional and chemical properties of ingredients. Practical investigations are a compulsory element of this NEA task. This Task is assessed by a written or electronic report (1,500 – 2,000 words) including photographic evidence of the practical investigation. This is a science-based experiment.
Task 2: Food preparation assessment (70 marks) Pupils' knowledge, skills and understanding in relation to the planning, preparation, cooking, presentation of food and application of nutrition related to the chosen task.
Pupils will prepare, cook and present a final menu of three dishes within a single period of no more than three hours, planning how this will be achieved. This task is assessed by a written or electronic portfolio including photographic evidence of the three final dishes must be included.
Pupils will be expected to independently choose recipes and select correct ingredients and equipment. Independent study at home is expected and end of module tests will be compulsory.
Please note there is a requested contribution for ingredients, and pupils will be asked to provide supplementary ingredients. Pupils will be expected to provide an apron and labelled container for their practical food lessons.
Construction
WJEC Level 1/2 Award in Constructing the Built Environment
The successful completion of this qualification, together with other equivalent qualifications, such as in Maths and the Sciences, could provide the learner with opportunities to access a range of qualifications including GCSE, apprenticeships, vocationally related and occupational qualifications. These include:
Level 3 Extended Project
Level 3 qualifications in Construction, such as Diplomas in Construction and the Built Environment
Level 2 qualifications in specialist areas such as plumbing, bricklaying and carpentry
Apprenticeships in Construction
This is the qualification structure:
WJEC Level 1/2 Awards in Constructing the Built Environment
Unit number
Unit title
Assessment
GLH
1
Safety and security in construction
External
30
2
Practical construction skills
Internal
60
3
Planning construction projects
Internal
30
This structure has been designed to allow learners to develop the understanding and skills related to a range of job roles in Construction. The units provide an overview of technical roles such as bricklayers, carpenters and electricians as well as professional roles such as site inspectors, project managers and architects and how they work together to completion construction projects. Each unit has been designed so that knowledge, skills and understanding are developed through tasks that have many of the characteristics of real work in construction. Each unit has an applied purpose which acts as a focus for the learning in the unit. This approach is called applied learning and enables pupils to learn in such a way that they develop:
skills required for independent learning and development
a range of generic and transferable skills
the ability to solve problems
the skills of project-based research, development and presentation
the fundamental ability to work alongside other professionals in a professional environment.
The qualification has been devised around the concept of a 'plan, do, review' approach to learning, where pupils are introduced to a context for learning: review previous planning activities, carry out activities and consider outcomes. This approach mirrors many work-related activities in Construction and also provides for learning in a range of contexts from urban to rural environments in mainly small scale Construction projects. As such, the qualification provides pupils with a broad appreciation of work involved in constructing the built environment and wider opportunities for progression into further education, employment or training.
Electronic Products
Information coming soon.
Teaching Staff
Everybody is somebody