SLT Update March 22nd
22nd March 2019
Our students look like they are having a fantastic time in Rome. See the pictures. We look forward to hearing more about it when they return.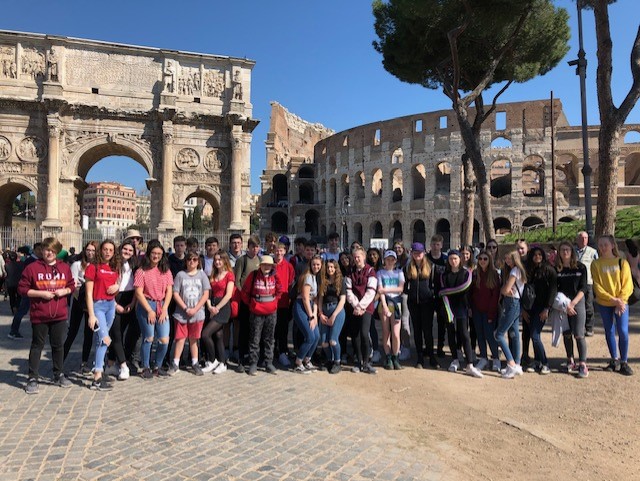 Yesterday, we were delighted to welcome more of our Spanish friends, who worked hard all day as teachers, helping our students with their Spanish – and also exchanging details to keep in contact on Instagram!
Five students competed in the next stage of the UK Mathematics Trust challenge yesterday. Only the top 5% of candidates reach this stage and we wish all the students who qualified every success on these very difficult papers.
Also, yesterday, Max Ashton, Mhari Mcfarlane, Sophie Paterson and Frank Tutton enjoyed a taste of Cambridge University life, visiting the department of Chemistry to carry out experiments before hearing a talk about the Periodic Table (to mark its 200 year anniversary). We hope you all had a great time.
A huge thank you to our staff, who planned a really varied PSHE day programme for our students today. Our work with Year 10 focused on preparation for life after MVC, with each student benefitting from a 1-2-1 interview with an employer, a presentation on the huge variety of apprenticeships available and team building activities with The Army. They have all set up their profile on www.startprofile.com, which we are using to support them with identifying their interests, skills, qualities and how they may relate to possible career choices. The post-16 open evenings start next term, so do check the dates on our SchoolPost messages.
Our Spring Concert will be at 7pm on Wednesday, 27th March, when we will be celebrating Spring with musical performances featuring the MVC Choir, Orchestra, Pop/ Rock Band, Jazz Band and Soloists. Tickets are available from reception and cost £3 (adult) and £1 (concession). Come along and invite your friends!
Keeley Thomas is having her hair cut to raise money for the Little Princess Trust at The Green Man Shepreth, on Sunday, 24th March. Proceedings start at 5pm with a tombola, teddy tombola, face painter and a fantastic raffle with around 100 prizes! Everyone is welcome to come and support Keeley!
There will be several Easter revision sessions for Year 11 groups, including one for all students on the Literature paper 2 on Monday 8th April, 12pm-2pm. Students taught byMrs Hallam and Miss Bailey will go to EN4; those taught by Miss King and Mrs Archer will go to EN5. Further information on individual options subjects to follow.
Have a great weekend.
Regina Lawrence
Deputy Principal