Key Notes: 9 July 2021
9th July 2021
Coronavirus Update
Please note that all current Coronovirus mitigations will remain in place until the end of term. This includes pupils staying in year group 'bubbles' and the need to wear masks whilst on school transport. This is to try and contain the sharp local increase in coronavirus cases and limit the number of MVC pupils who have to self-isolate at home. We are well aware of the inconvenience this can cause, including if pupils find themselves self-isolating for the first part of the school holiday. As you will be aware we have a Sportsday and some trips during the last week of term. Again, we have been working with Local Authority advisors on how we can make these as safe as possible as we know pupils have been looking forward to them.
Please continue to test your child twice weekly as these tests are our best defence against a wider school outbreak.
Uniform
Even though we are getting close to the end of the year, our expectations for uniform are as high now as they were in September. Please ensure that your children are in full uniform, unless they have PE on that day (when they may wear their PE kit). In the hot weather pupils can remove their jumpers and PE sweatshirts, but should not be wearing hoodies or coats indoors. Thank you for your support.
Year 7 Book Review Awards
Here is Mr Bacon with two of the winners of this term's Year 7 Book Review prizes.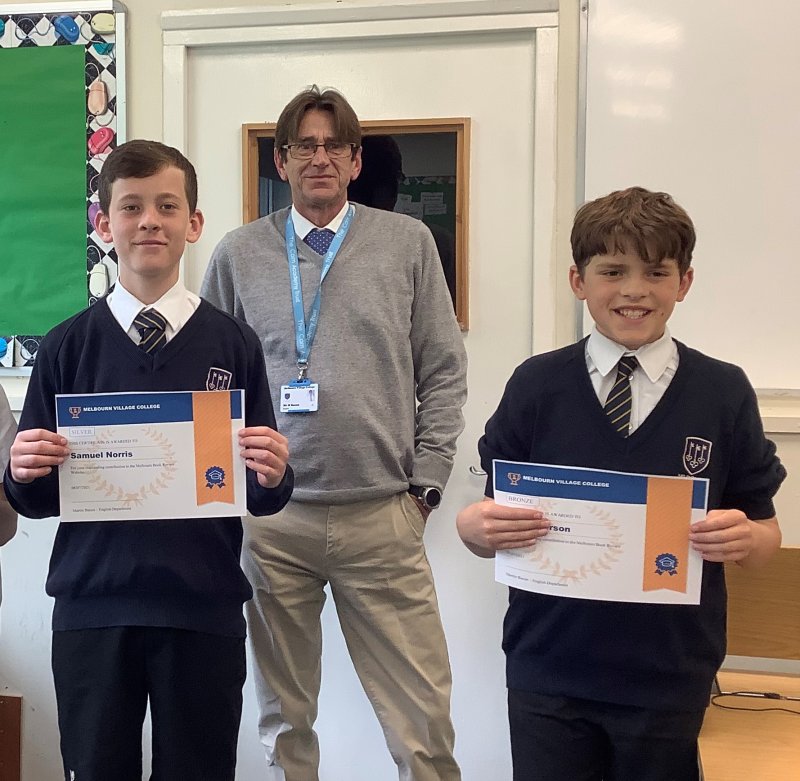 The winners were:
Gold and £15 book token – Abi (Darwin)
Silver and £10 book token – Samuel (Darwin)
Bronze and £5 book token – Ben (Hawking)
The prize for the most outstanding contribution over the year goes to Oscar (Hawking): £10. The reviews will be published on the Year 7 Book Blog here. Well done Y7 – keep reading!
Primary Transition Visits
Due to the Covid restrictions it has not been possible to have an induction day for our incoming Year 7 students this year. As a result, several teachers have been going into primary schools to deliver a variety of lessons to allow pupils the chance to become more familiar with a range of staff before arriving at Melbourn in September. Here are some pictures of Mr Fan teaching Mandarin at Melbourn Primary School and Harston and Newton Primary School, and Dr Wilson doing some Chemistry and Physics experiments with pupils at Thriplow Primary School.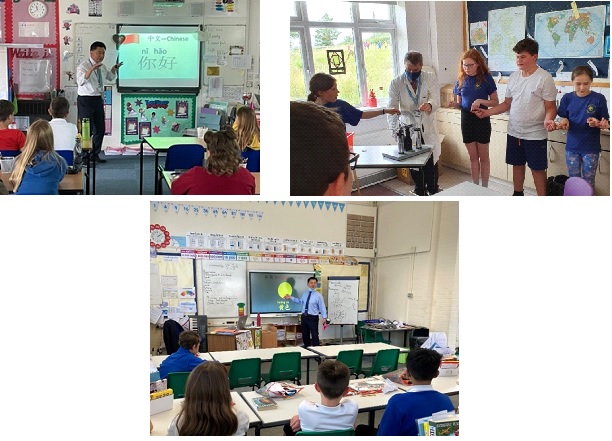 Sensory Room
Following on from Patrick's fundraising initiative last week, the Sensory Room in the Student Support Centre is now taking shape very nicely.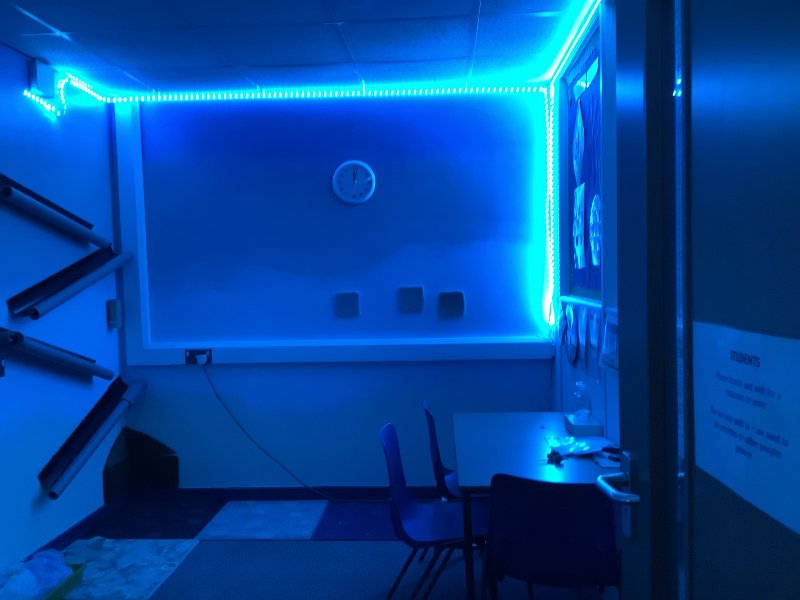 Out-of-School Sports Activities
Some of our Year 10 pupils were involved in the local Royston Town 7 a-side Youth Football Tournament at Eternit Melbourn on Saturday 3rd July. Pictured here is Joe (10DAR) scoring the winning penalty in a shoot-out against Bishops Stortford in the final. Joe and others had taken the time to practise penalties in core PE in order to make amends for a recent miss in a school penalty shoot-out. This proved worthwhile when he successfully scored in the smaller 7 a-side goal!

Meanwhile, here is Lily (7HAW) who has transitioned to hard ball cricket this year. Many pupils will have played a lot of Kwik Cricket at primary school but Lily has shown great commitment and been able to join a local team (Reed) to continue her development as a player. She has done so well that she is even playing for the year group above in the U/13 team! She was also the only girl to represent MVC at the recent U/13 tournament in Cambourne – taking some wickets there with precise bowling. Well done, keep up the good work!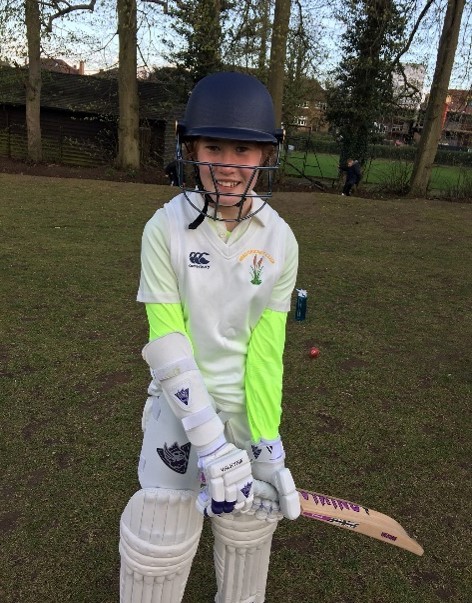 There are lots of local sports clubs available to join. Pupils can check out the display in the Drama corridor and there is a link to the clubs' contact details on our website here.
In light of England's epic win this week, here are some of our Y8 pupils 'taking the knee' on Wednesday in a gesture against all forms of racism. This pupil-led initiative surprised Mr Barlow who said "I didn't expect them to do this. Many have been watching teams 'taking the knee' before games recently and we were able to discuss, as a group, why players have chosen to do it". For those unfamiliar with this idea, here is a recent article by England football manager.

Attendance Bounce Back Campaign
Going into the new academic year, schools will be focusing on an attendance Bounce Back campaign. Pupils have faced many challenges due to the pandemic. Promoting Bounce Back will support them to build and re-establish resilience, social connections and form good habits for later life, particularly around attendance and punctuality.
Did you know – if your child arrives late, they could receive an absence mark? Registers close at a certain time and should the time they are late exceed this, without good reason, an absence could be recorded.
Did you know – missing just 2 days a month means a student will ultimately miss 10% of the school year? This can equate to approximately 19 days and 100 lessons!
Did you know – we have an attendance team in school, which includes a pastoral support officer, who are happy to listen to any concerns and provide support where possible.
We aim to work together with families and the local authority to ensure children are supported to 'Bounce Back' into education. For more information, contact us via absence@melbournvc.org
Pupil Showcase: Y7 and 8 Pottery
Mrs Bryce has been working with students in small groups, with both year 7 and 8, to produce some wonderful pottery work. Year 7 have been working on lettering design and Year 8 on the topics of sweets and treats.
Have a good weekend,
Simon Holmes