Key Notes: 30 June 2022
30th June 2022
June Pride Month Events
Today we had a non-uniform day to celebrate Pride Month at MVC. Pupils and staff wore bright colours to school and at breaktime pupils held a bake sale on the Willow Lawn. There were lots of delicious cakes and biscuits decorated in multi-colours, made by pupils and staff. All funds raised will go towards charities supporting young people with their mental health and wellbeing. Well done everyone who took part and thank you to all the bakers – we raised an amazing £450 from non-uniform and £200 from the bake sale and 'Guess the number of sweets in the jar competition'.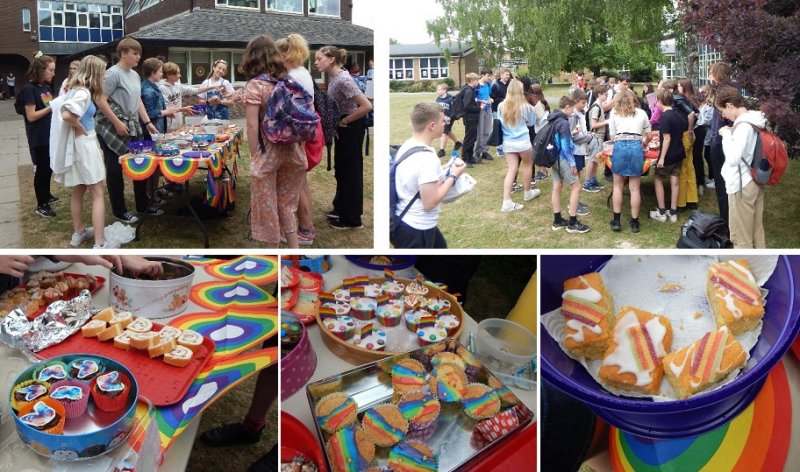 Coming up this week
Year 9 MEP Intensive Learning Week
Monday: Sports Day (reserve Sports Day Tuesday)
Tuesday: Year 10 RE Sessions Period 1 and 2
Thursday: Sports Leaders Helping at Harston Sports Day
Year 11 Prom
108 year 11 pupils enjoyed their end-of-year celebration event at Minstrel Court in Arrington last Friday. The evening was a fitting send-off for the pupils and we all enjoyed the beautiful surroundings of the venue. Everyone partied and the food and disco were fantastic. The whole evening came to a rousing climax with a wonderful fireworks' display too.
Mr Kennedy was so proud of the pupils and said "Everyone looked amazing and I'm blown away with the positivity and beautiful atmosphere of the evening." He added that he wanted to thank all the staff who supported the event, especially Mrs Deadman and Mrs Tidby who worked tirelessly to make sure the evening was such a success!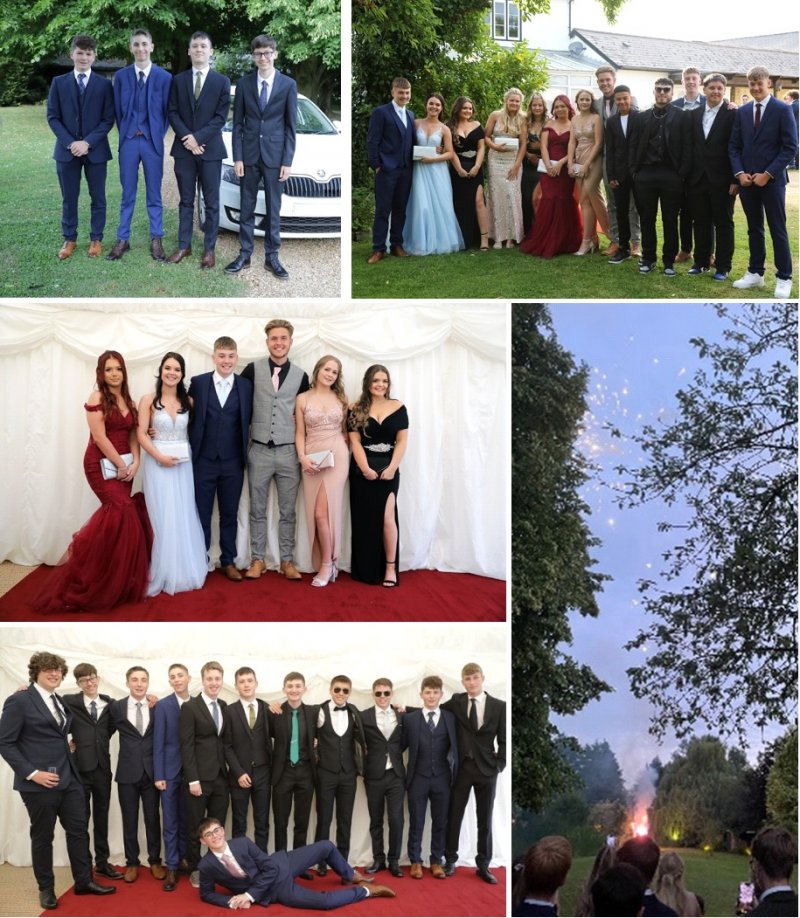 Year 11 Chinatown Visit
Mr Fan and Mr Kennedy accompanied the year 11 MEP class to Chinatown on Monday. The day started with us all being dropped off in Covent Garden and the students enjoyed a relaxing morning exploring the surrounding area and indoor market. We then walked to Chinatown where we all ate a delicious Chinese meal and, with the pupils suitably fed and watered, we then soaked up the atmosphere of Chinatown and the students bought some gifts.
Mr Fan remarked "We all had a brilliant day and it was so nice to finish off the year with a celebration meal." Mr Fan also said that he wanted to place on record how much he had enjoyed working with the talented and committed pupils from the MEP class and it had been an extremely rewarding experience. He wished them all the best for their futures and was absolutely convinced that they would all be successful British/Chinese ambassadors!!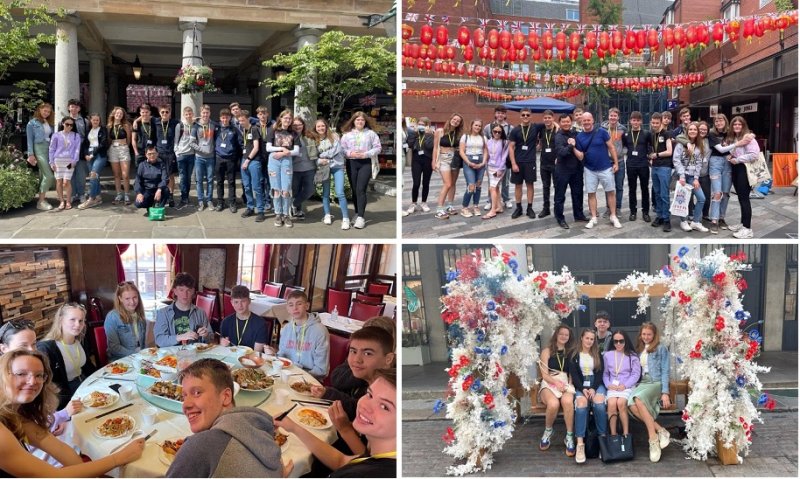 Student Support
Brodie has spent her time in the art club on Mondays creating this beautiful painting of the willow tree. It is what she thinks of when she thinks of MVC. Her painting will be on display in SSC from September.
Please see the two leaflets being sent with this newsletter:
Holiday Activities and Food (HAF) Programme Free Summer Holiday Scheme Places 25 July to 31 August 2022
Summer Holiday Camps Multi-Active Holiday Clubs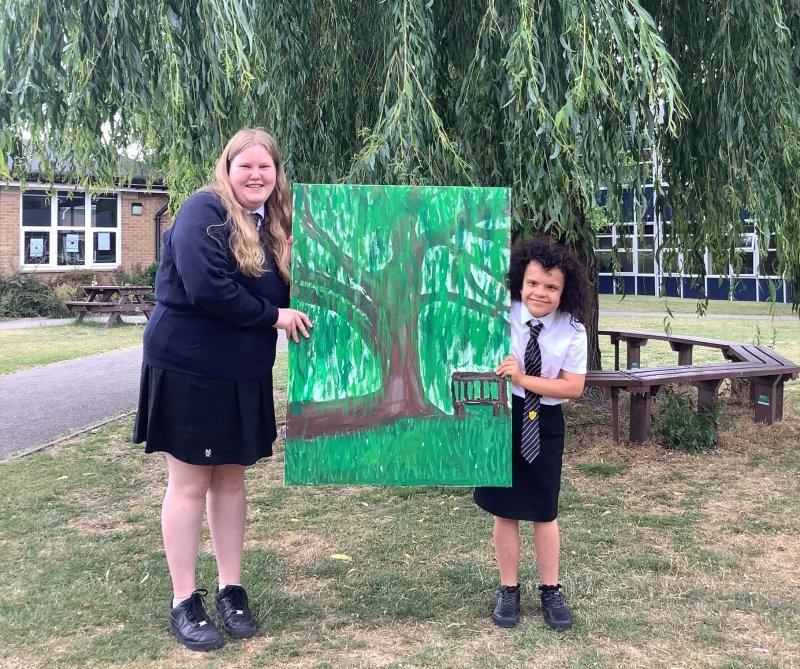 Year 7 MEP Activity Week
This week is Year 7 MEP Activity week and pupils have been learning about the Chinese Spring Festival. They did a food-related speaking activity and designed posters either about Kung Fu from Monday's lesson, or Chinese Dumplings in readiness for cooking on Tuesday. Mr Fan demonstrated how to cook Fried Noodle-Shanghai style and Omurice (Japanese Style) and pupils made their own Chinese dumplings with minced pork and Chinese cabbage. On Wednesday they decorated paper plates inspired by cultural relics in the British Museum. On Thursday they had a trip to London to explore the theme of Heritage and History, visiting the British Museum, Chinatown and enjoying lunch at a Chinese restaurant (pictures to follow).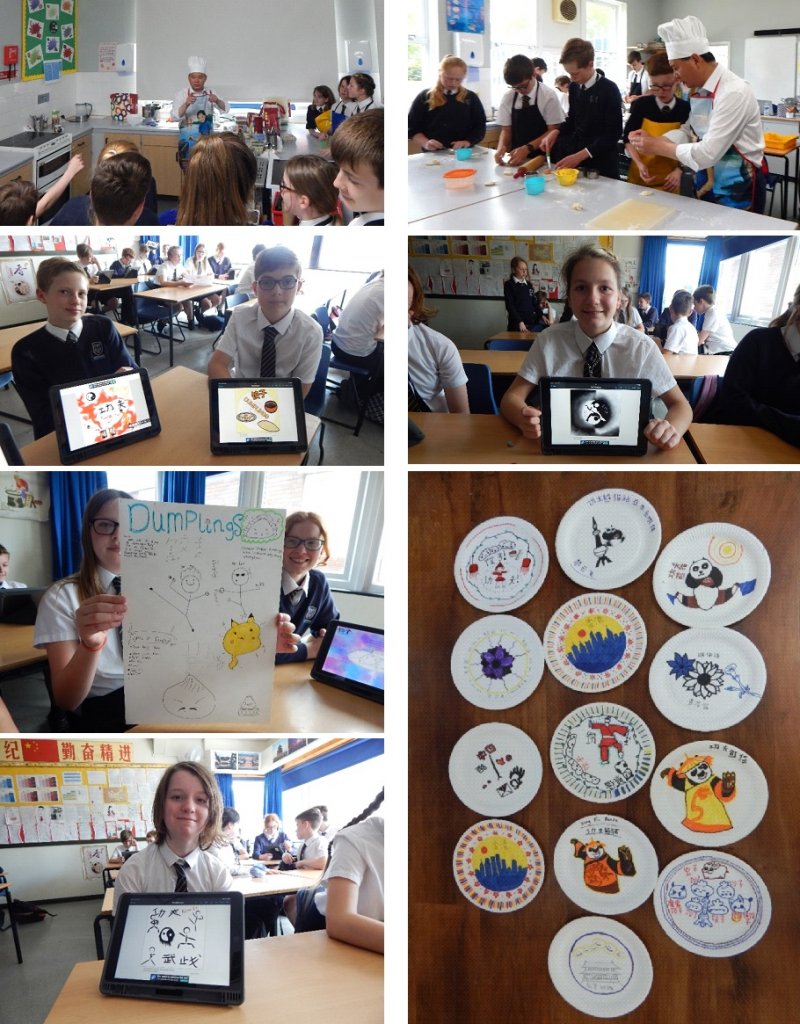 English
Year 7 pupils have been enjoying reading this year's shortlist for the Carnegie Book Awards 2022 and have voted for their two favourite reads: 'Punching the Air' by Ibi Zoboi and Yusef Salem for Key Stage 4 readers, and 'October, October' by Kate Balem for Key Stage 3 readers.
Pupils participated with other schools across the Trust in voting for the Carnegie winner and were very pleased to hear that MVC had the casting vote! The overall Trust winner, 'October, October' got the nod from all our pupils and the main, national Carnegie voting panel also agreed with MVC's choice!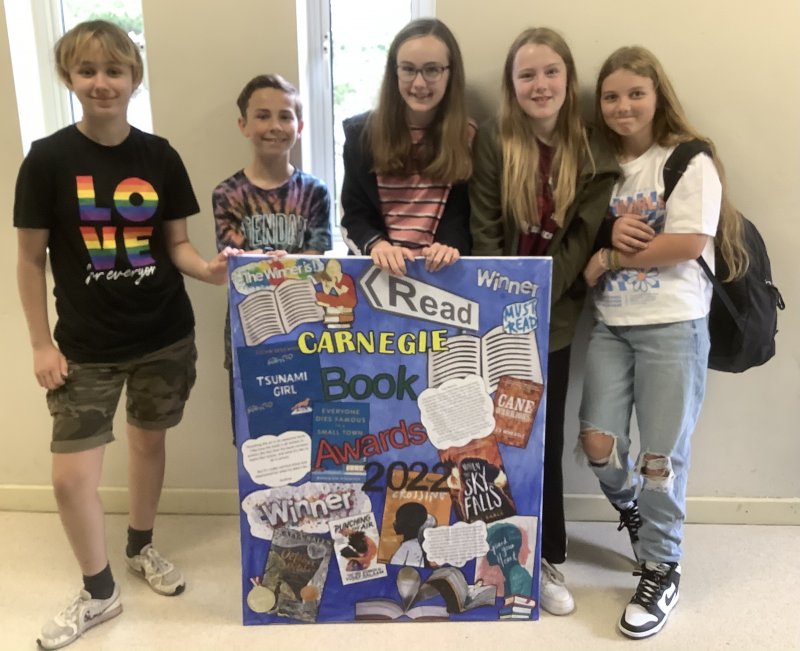 Meanwhile, Pupils in year 8 have been continuing their study of Chaucer, focusing on The Pardoner's Tale, showing a good understanding of his character and the story he tells.
Science
We had a slimmed-down Science Club this week, however, we still managed to investigate something amazing...CHAOS! We looked at how nature contains many fractals – ferns, for instance. James produced this great picture of a synthetic fern!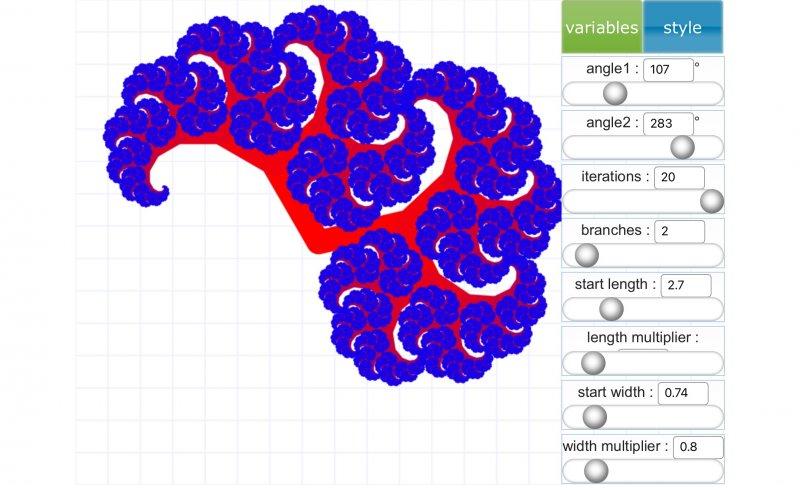 Olympic Cup
On Wednesday, 60 pupils travelled to the Cambridge University Athletics track to compete in the Olympic Cup against 9 other schools. Well done to all the year 7, 8, 9 and 10 pupils who competed in a range of athletics events – superb effort and resilience from all. A big thank you also to the Sports Leaders who assisted with the officiating and smooth running of the discus events. Melbourn VC was placed 6th overall. This was our first big athletics competition for a while. There were quite a few notable individual performances as follows:
Year 9 Hattie 2ndplace 100m
Year 8 Sam 3rdplace discus
Year 9 Alex 3rdplace 1500m
Year 9 Mylo 3rdplace hurdles
Year 9 Louis 3rdplace Javelin
Year 9 Jude 2ndplace discus
Year 9 girls' relay 3rdplace
Year 10 George 2ndplace 200m
Year 10 Joseph 3rdplace 400m
Year 10 boys' relay 3rdplace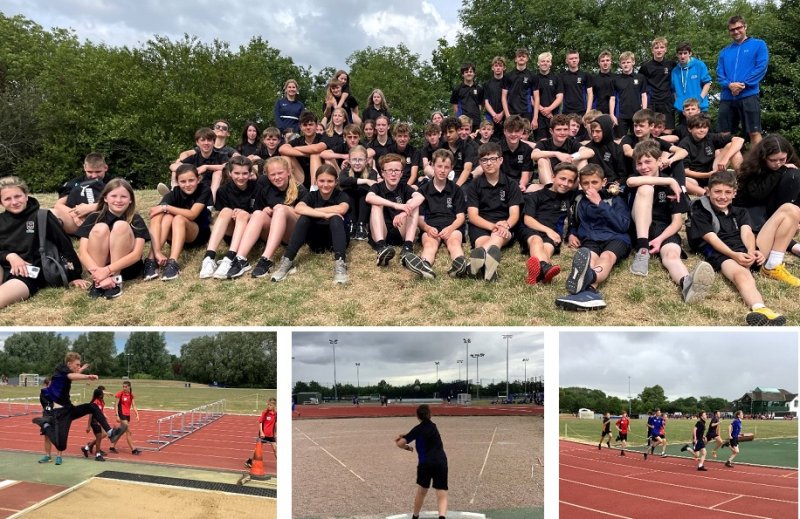 Vacancies
We are currently advertising for a number of vacancies, including Teaching Assistant positions in the Cabin and Student Support Centre. For more information, please visit our website here.
Melbourn Primary School
Melbourn Primary have their PTFA Summer Fayre tomorrow - Friday the 1st July 5-8pm.
Year 7 Art
Pupils are working on large sheets of black paper, experimenting with lettering using colour fades and word art to show the development of their chalk pastel, colour and design skills.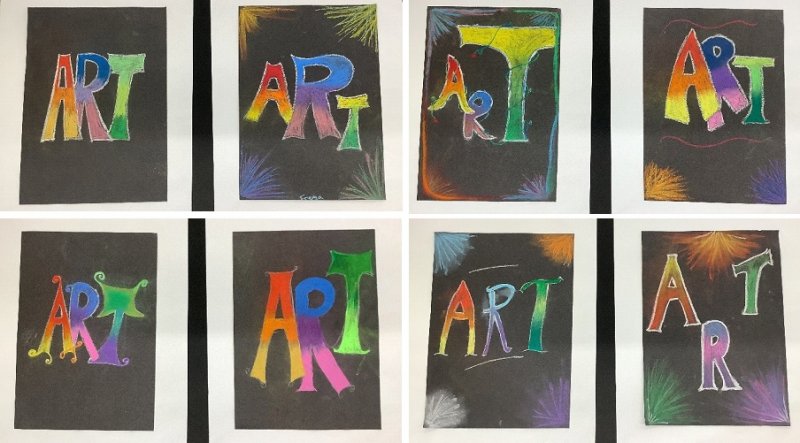 Harvey Greenfield is Running Late
A big thank you to local actor Paul Richards for putting on a free performance of his hit comedy "Harvey Greenfield is Running Late" at MVC last night.
Paul, a former MVC Teaching Assistant, writer and drums teacher, treated the audience to the high-energy, one-man, one-act comedy sketch about the demands of everyday life and trying to please everyone at the same time! Look out for the movie of the play movie of the play coming out shortly.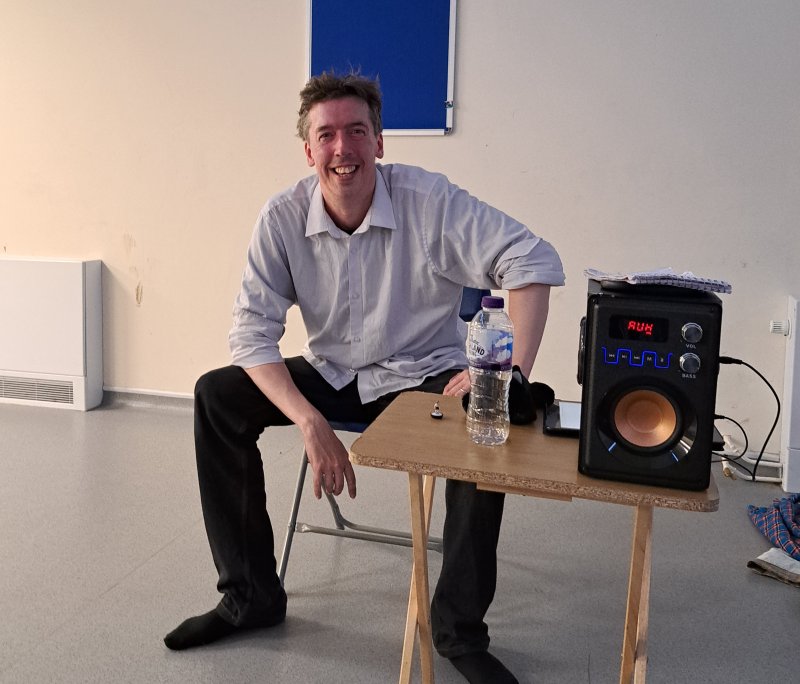 Yr11 Art Show
Reminder that the Yr11 Art Show will be at the Melbourn Hub until July 21st. The Hub is open from 9am -5pm, Monday to Saturday. Please take the opportunity to see the fantastic art produced by our Yr11s.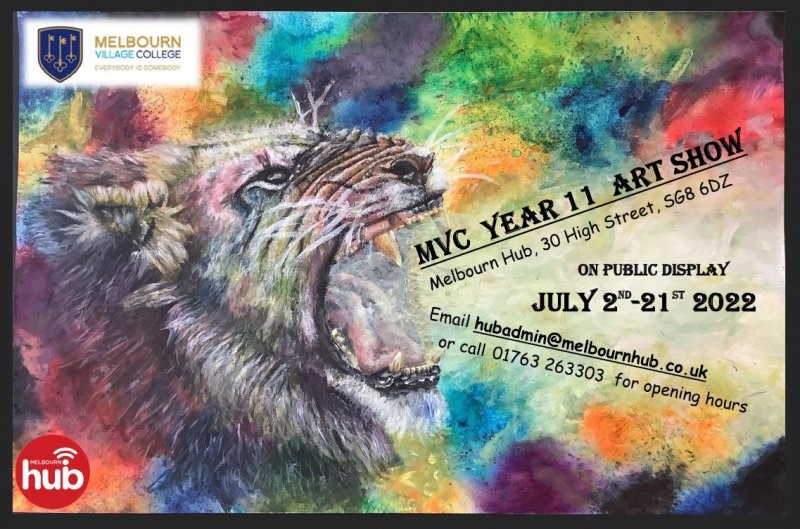 Have a good long weekend,
Simon Holmes