Key Notes: 29 April 2022
30th April 2022
Leading the Field
This week we have been celebrating achievements both on behalf of the college and our pupils. We were pleased to showcase our excellent provision for SEN pupils to Mrs Lee, Principal of Chaoyang School, who visited us from Singapore. Our Year 10 football team fought their way to an amazing victory against Longsands Academy in the County Cup and some of our pupils were instrumental in Royston Diamonds U16s success in the Mid Herts Rural Minors League Cup Final. We were also delighted to receive very positive feedback on our Rainbow Flag Award submission as we work towards this national quality assurance framework for LGBT+.
Coming up next week
Tues 3rd – Y11 GCSE Spanish Speaking
Fri 6th – Photography for school prospectus and website
Overseas Visit
We were delighted to play host to Mrs Lee, Principal of Chaoyang School in Singapore, whose school supports pupils with autism and learning difficulties. Mrs Lee was on a UK study trip to learn from schools with exceptional inclusive autism practice. She observed lessons and spoke to teachers and key personnel in The Cabin and Student Support Centre (SSC) about the excellent work we do supporting pupils. Mrs Lee was particularly impressed with how pupils are enabled to access mainstream lessons and the high-quality teaching of our staff. Her visit included meeting with myself, staff and pupils in the Cabin and SSC and observing one of Mrs Seagrove's English lessons with Year 8.
After the visit, Mrs Lee said, "I could feel the passion and commitment in all of you as you work with your pupils and families. I enjoyed the classroom experience. All of you have given so much of your love, effort, time, and support for the betterment of your pupils and families. It has been an insightful and inspiring visit and I thank you all."

Physical Education
The Melbourn Village College Year 10 boys football team were crowned County Cup champions at Histon FC on Thursday, coming from behind to beat a strong Longsands Academy team 2-1.
Melbourn, one of the smaller schools in the competition, were supported by several parents, staff and pupils who dashed over to Histon Football Club (headquarters of the Cambridgeshire Football Association) for a cracking cup final and staggering win.
Longsands Academy from St Neots took the lead with a neat cross whipped in from their right and a flicked header over goalkeeper George W. This sparked us into life and we bounced straight back with neat interplay from George M and Thomas F. Thomas then drove at goal from an angle and 'nutmegged' the goalkeeper to bring the scores level, although Thomas was later substituted after the opposing goalkeeper collided with him. His replacement, Tye, hit a looping shot from the left twenty-plus yards to edge us in front halfway through the second half. We clung on to the narrow lead despite Longsands throwing more bodies forward. A special mention to player of the match, Harry, in midfield and Callum for coming through an injury and providing some crucial goals in earlier rounds. The team have worked extremely hard this year to gain one of the highest sporting accolades for Melbourn Village College ever!
The boys defeated previous champions, St Peter's School from Huntingdon 3-0 in the first round and the early signs for a cup run were looking ominous. They defeated the Stephen Perse Foundation 5-2 in round two before beating a strong Impington Village College 4-2 in the semi-final. Most of these schools are significantly bigger than Melbourn, making this achievement even more significant.
Head of PE and their Head of Year, Kelly Coghlan spoke glowingly of their progress in this sport, "The boys have worked very well with Mr Barlow and Mr Mills, and also led some of their own training sessions showing just how much they have gelled as a team! This is a fantastic achievement."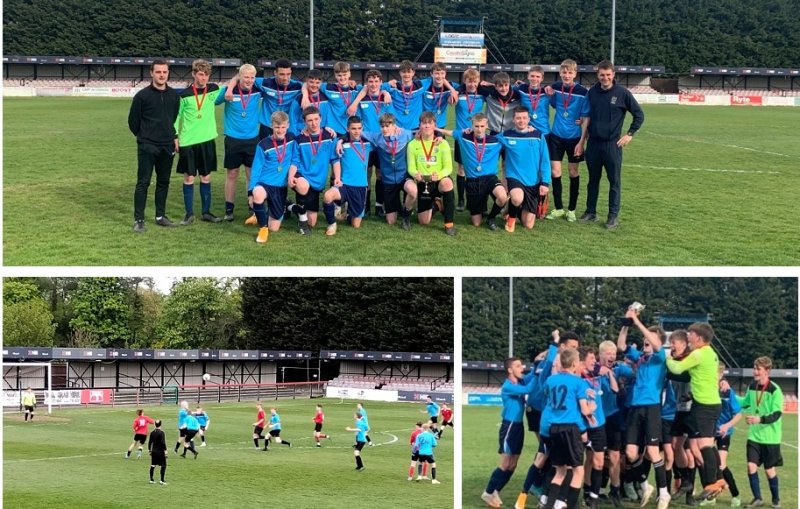 More Football News
Congratulations to MVC pupils Alfie, Levi, Louie, Joe, and Henry who played for Royston Diamonds in the U16 Mid Herts Rural Minors League Cup Final at Potters Bar Town FC last week. The Royston Diamonds beat Welwyn Garden City Hurricanes 5-2 with both Henry and Louie contributing to the score. This is a massive achievement for the boys, having already won their Division, and now the League Cup. In two weeks' time, they will be playing for the treble in the Divisional Cup Final and we wish them all good luck!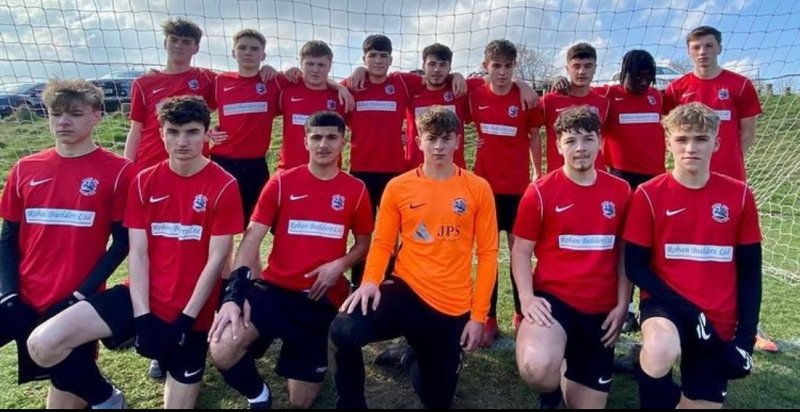 Royston Town Youth FC are currently recruiting U13 and U12 Girls of all ability, see details at the end of this newsletter.
New Reading Group
The Carnegie Book Awards group got underway on Wednesday after school. There is still plenty of time for keen readers in Years 7 and 8 to join and discuss the books on the shortlist, which are among the best new fiction for children published last year. MVC will be taking part in the awards event with other schools across the Trust in June to offer our views and vote in these national awards. Which one of these books will they like best?

Your Local Library Needs You!
Public libraries around the County are preparing for this summer's Reading Challenge. They are seeking teenage volunteers to help throughout the summer holiday. If you would like further information about this rewarding activity, please ask at your local public library – The Hub Melbourn or Royston Library. The closing date for applications is 4th June.
Enrichment Activities
Our Summer term extra-curricular clubs started this week and it was fantastic to see so many pupils getting involved. Activities included KS3 Science Club, Table Tennis, Minecraft, Rounders, Cricket, Gardening Club, Y10 Drama, Running Club, KS3 Netball, Athletics, Show Band, Sewing, Art, Girls Football, Skateboard/Scooter Club, Creative Writing, Squash, Choir, Workshop Skills and GCSE Revision Sessions. Here are some photos from this week.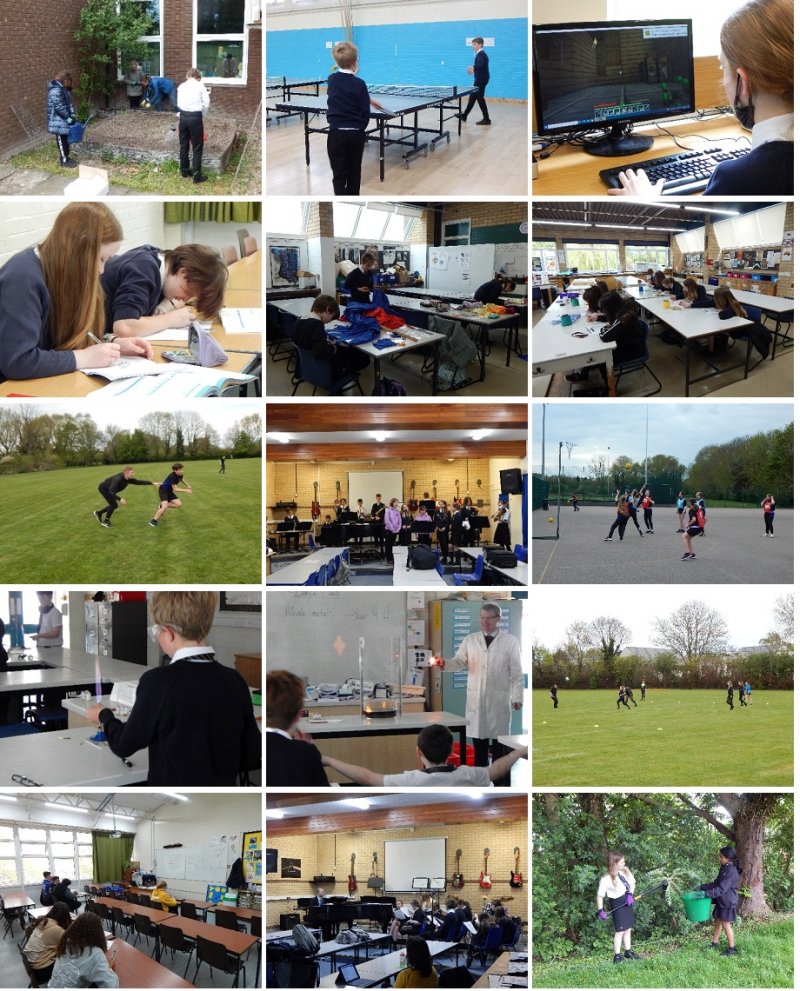 Year 11 Group Photos Reminder
The Year 11 photo orders have now been delivered to school and are available to collect from reception.
Deadline for Year 10 Work Experience Placements 25th May
A reminder that Y10 pupils need to secure a work experience placement by Wednesday 25th May. Completed placement forms (signed by the employer and parent/carer) should be given to Mrs Brown in the Exams/Maths office or handed into reception. If you have any queries or are able to offer a placement to one of our pupils, please email: tbrown@melbournvc.org
Free School Meals
If you apply and qualify for Free School Meals, your child's school will receive additional funding called Pupil Premium, up to £1,320 a year. Schools spend the pupil premium money on anything that can help your child do well at school, including trips, activities, and extra support. Applying online only takes a few minutes and, if eligible, your child will continue to receive Free School Meals until 31st August 2023. This is even if your income rises above the threshold at any point during that time. To get free school meals you need to be receiving one of the following:
Universal Credit (up to £7,400 net earned income)
Income Support
Income-based Job Seeker's Allowance
Working Tax Credit run-on (paid for 4 weeks after you stop working altogether or start to work less than 16 hours per week)
Child Tax Credit but no element of Working Tax Credit and have an annual income that does not exceed £16,190
To apply for Free School Meals visit: www.Cambridgeshire.gov.uk/freeschoolmeals


SEND - Pinpoint Newsletter
The latest edition of Pinpoint is now available to view online. This edition includes details of free groups and online events, SEND Review Green Paper Consultation, and Living Sport Half-Term SEND Family Fun Morning.
Rainbow Flag Award
At Melbourn Village College we are working towards gaining the "Rainbow Flag Award". This is a national quality assurance framework for all schools and focuses on positive LGBT+, (lesbian, gay, bisexual, trans, plus other related identities), inclusion and visibility. For more details email of what are doing, contact Mrs S Daly our LGBTQ Champion sdaly@melbournvc.org
We were pleased to receive the following feedback on our first submission for the Rainbow Flag Award:

"Fantastic first submission from Melbourn Village College. You have successfully cascaded relevant and interesting training that has engaged your staff".

"Overall great work and we look forward to your future submissions."
Goodbye Again
You may recall that Anne Rice, our wonderful science technician, came back from her retirement in February to help cover when one of our other science technicians, Dr Jeanette Dyer, was unable to work for a few weeks due to surgery. Thursday was Anne's last day of work and Head of Science, Dr David Wilson and other members of the science team presented her with a lovely bouquet of flowers to thank her for her help and wish her the very best for her retirement (again). Her contribution to the Science Department was exceptional and very much appreciated.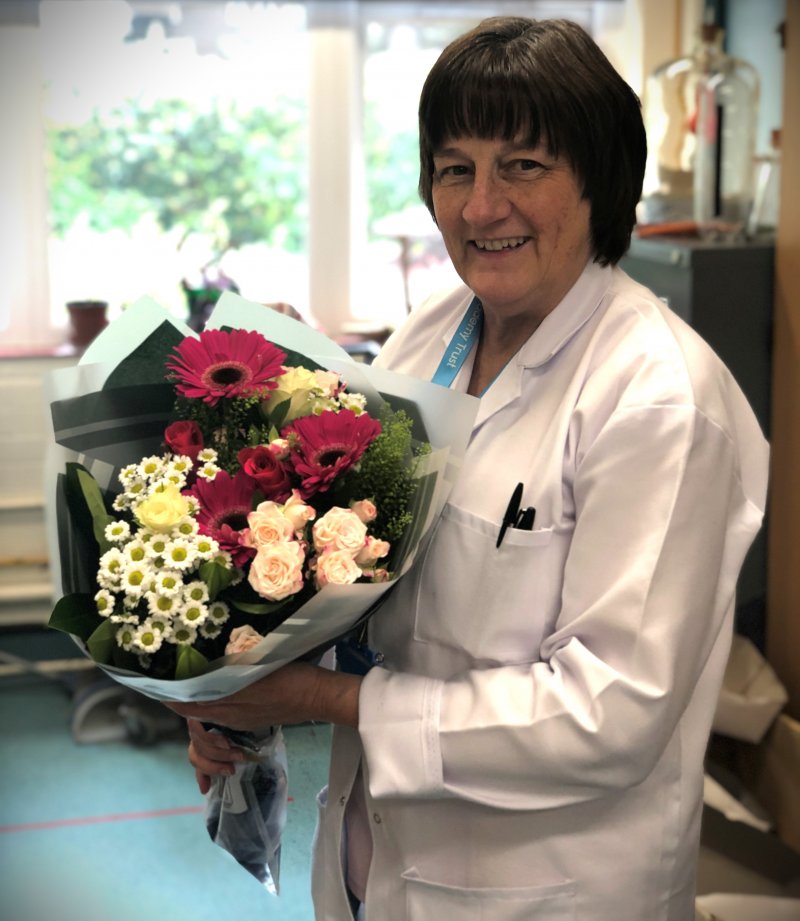 Have a good weekend and Bank Holiday Monday,
Simon Holmes