Key Notes: 24 June 2022
24th June 2022
Year 6 Induction Day
On Tuesday we were visited by excited year 6 pupils who will be moving up to MVC in September. The pupils had a great time experiencing a day in the life of an MVC pupil, they had 5 lessons ranging from science, maths, Mandarin and English to more practical lessons such as food technology, PE and art. They particularly enjoyed decorating biscuits and cakes and had to present their best design/creation in a competition. Pupils produced designs ranging from Peppa pig, flowers and an ocean theme. They took away their creations to enjoy at home.
The pupils were a credit to their primary schools by being organised, responsible, independent, and incredibly well behaved. We look forward to welcoming them into Year 7 in September. Special thanks to our new Prefects who did a fantastic job of guiding the pupils around school, supporting them in lessons and generally making sure they thoroughly enjoyed their day!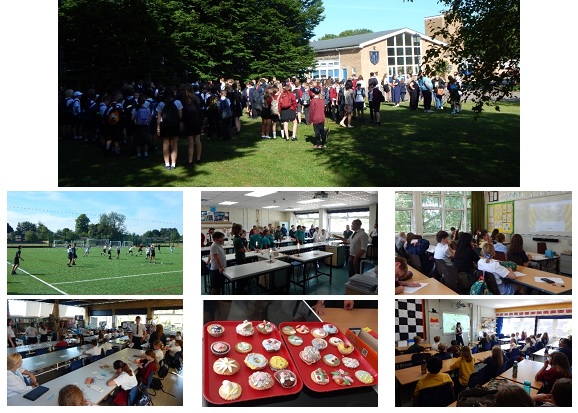 Last day for Year 11s
After the physics exams on Thursday, we held leavers' events to bid farewell to our fantastic year 11s. There was shirt signing in the hall followed by an assembly with presentations from Mr Holmes, Mr Willder, Mr Kennedy and all their form teachers. The sun came out just in time to finish the afternoon off with an ice cream! Goodbye, good luck and we will miss you.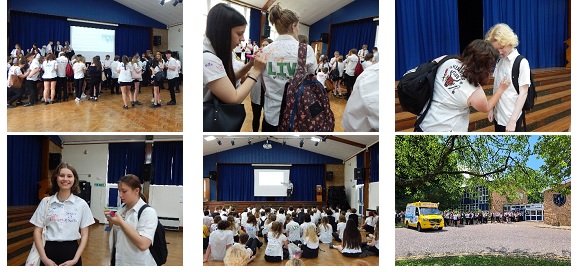 Coming up
Monday Sports Day (Reserve Tuesday)
Wednesday: District Athletics Championships in Cambridge
Thursday: Pride Celebrations – non-uniform day (£1) and cake sale at breaktime.
Thursday: Year 7 MEP Trip to British Museum and Chinatown.
Friday: School is closed due to the extra Jubilee school holiday.
Friday 6pm: GCSE Art Exhibition Private Viewing
Saturday onwards: GCSE Art Exhibition open to the public at The Hub Melbourn.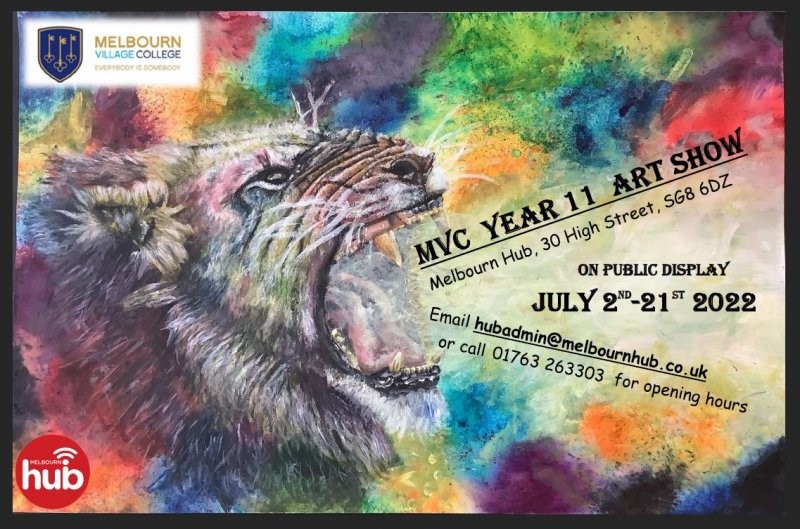 Change to School Times from September
Some advance notice that from September we will be reverting to our pre-Covid timings for the school day, as below:
8:40am Movement Bell
8:45am Tutor Period
9:05am Period 1
10:05am Period 2
11:05am Morning Break
11:20am Period 3
12:20pm Period 4
1:20pm Lunch
2:00pm Period 5
3:00pm End of Lesson 5
3:10pm Buses leave / pupils off-site
No Idling Zone
Just a quick reminder that if you are picking your child up from school at the end of the day, please remember to keep the air quality as high as possible for the pupils by turning off engines rather than leaving them idling. The buses do the same when waiting for pupils to embark. This was originally a request from our pupil Eco Group who have already put in place some positive initiatives to improve the environment for all school users.
Guidelines published by NICE and Public Health England confirm the benefits of 'no vehicle idling' zones in areas where vulnerable people congregate (for example schools and hospitals) to help to protect vulnerable people from air pollution (read more

here

)
New Prefects Enrolled
Last week we interviewed and appointed the new prefect team, we had lots of interest in the roles and were delighted by the calibre of pupils applying. Mr Holmes, Miss Boniface and Mrs Coghlan were very impressed by the quality of the pupils' presentations and ideas on what the prefect role should entail. The prefects have already completed their first event by helping on the transition day. Parents, pupils and MVC staff were very complimentary of their professionalism.

STEM Club
In Science Club this week, our science-artists (from the story in old Herculaneum!) were investigating the crystals that grew on dirty boats. The pupils grew their own crystal gardens in jam jars! There was much excitement as the pupils were able to see their crystals grow in front of their eyes! Very exciting indeed.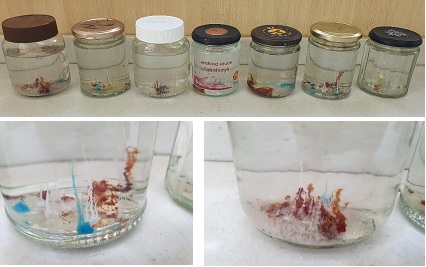 LGBTQ+ – Let's Celebrate Pride Month
On Thursday Mrs Daly and Mr Willder invited all MVC pupils and staff who are LGBTQ+ & Allies to join them for a meeting to plan Pride Day Events for next week. Turnout for the meeting was overwhelming; it was a very proud moment for staff concerned. Over 50 pupils attended the meeting and were excited about supporting this event with making posters and bunting etc. It was brilliant!
As a result of the meeting we are delighted to announce that next Thursday we will have a non-uniform day where pupils can wear colourful items of clothing for a £1 donation. Non-uniform items need to be tasteful – no shorts, crop tops are allowed.
We will also have a cake sale on the Willow Lawn at breaktime and pupils are encouraged to bring in cakes/biscuits decorated in multi-colours. Some of the year groups will also be running competitions, such as "guess how many sweets in the jar" for 10p a guess. We want to make this a successful event with no issues and so behaviour needs to be impeccable. Lessons will continue as usual, but with a splash of colour! All money raised will go towards charities supporting LGBTQ+ individuals.

Cambridgeshire County Careers Day
Three of our Year 9 pupils (Samantha, Hattie and Maddie) were part of a group who won our Y9 Enterprise Day competition earlier this year with their entrepreneurial idea 'Stitch Made Perfect'. On Thursday, they were joined by teams from Linton and Bassingbourn Village Colleges in 'Pitching for the Prize' where they presented their business idea on the Entrepreneurship Marquee stage in the Cambridgeshire County Day Final held at Newmarket Racecourse.
Our team first received coaching tips and met with members of Lucy Cavendish College Cambridge University, AstraZeneca, Deloitte UK and the Mayor of Cambridge who all congratulated them on their project. The girls did an amazing pitch, using microphones for the first time and enthusiastically explaining their idea within the time limit of just three minutes. Audience members voted for their favourite pitch and despite a close call, our team were just beaten by Bassingbourn VC. After this, the girls joined students from other schools to look around the many stands from local companies and public sector institutions who gave them plenty of inspirational ideas for their future careers.

Physical Education
On Monday, our year 10 sports leaders did a fabulous job running different events at Melbourn Primary Sports Day and travelled to Hauxton Primary this afternoon to assist with the smooth running of their sports day. Well done to all involved!

On Wednesday, our Year 9 and 10 Girls Football Activators attended their last workshop with Olympian Double World Champion Toby Garbett to present the work they have been doing and their plans for the future of girls' football at MVC. Firstly, a huge congratulations to Emma, Charley, Lauren, Jessica, Daisy, Phillippa, Annie, Tilly, Katie, Bree, Orlaith and Alice. The FA wants to give EVERY GIRL equal access to football by 2024, and our Football Activators have been a vital part of this mission. Those involved should be very proud of what they have achieved and the actions they plan to take moving forward.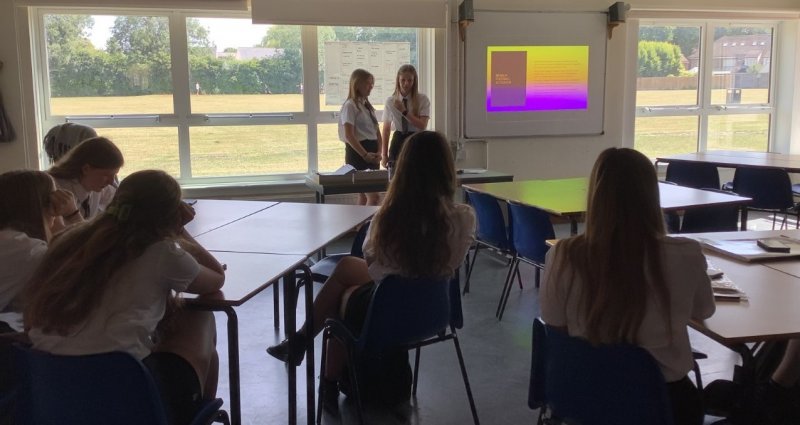 After a busy first couple of weeks in PE this half-term we turned our attention to athletics enrichments this week. We offered pupils an additional athletics club so some could practice for the upcoming Olympic Cup in Cambridge and we now have the team finalized!
The parents of the pupils selected for this competition have been notified. We have sent a reminder for pupils to ensure they prepare for the weather as they will be outside at the Cambridge University athletics tack on Wilberforce Road through the day. Most are not expected back at school until around 4.30pm.
The new date for the rounders tournament at our partner school, St. Peters in Huntindgon, is now 6th July. Parents/carers of pupils selected in Year 7 & 8 will be notified shortly.
Year 8 Bowling Trip
Head of Year 8, Mr Barlow, is pleased to have organised an end of year trip for his year group. Year 8 parents should have received an email and an option to pay for a bowling trip to Cambridge on ParentPay. Last year's trip involved a short walk down the road to play crazy golf and this year we're pleased to offer our pupils the chance to go into Cambridge via hired coach and have fun with their friends in the last week of term. Don't forget to sign up for the trip as soon as possible!
Year 10 Visit to University of Westminster
Last week 26 year 10 MEP pupils visited a local university for a day to experience what it is like to study Chinese beyond school and sixth form. While they were at the university, pupils had the chance to see the tourism campaigns that have been produced by other MEP pupils in nearby schools. Pupils had a fantastic time learning about opportunities available to them and how valuable it will be in the future for them to have a good knowledge of Mandarin.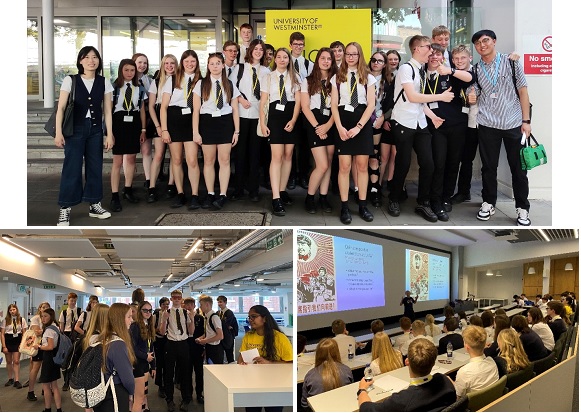 Duke of Edinburgh Award
On Saturday we had our Duke of Edinburgh Award practise expedition. Pupils learnt map reading, how to pitch a tent and pack a rucksack, basic first aid, and what kit to bring for the upcoming expedition. They did a practice walk in the local area and really enjoyed the day, as did the DofE assessors who were extremely impressed with our pupils' attitude and enthusiasm. Well done!

Pastoral
Accessing Mental Health support for our children can be very difficult currently due to the significant demands on all services since the pandemic. This places additional pressure on parents and carers trying to support our children with very limited resources, advice and guidance.
We are very fortunate in Melbourn to have a great Community with many support groups we can access. "It takes a Village" is a new group that recognises the needs of parents and carers to enable them to feel supported in what can feel like challenging times. The group can help by supporting each other and with people who have been on a similar journey, have first-hand experience and have come out the other side and are willing to be there to give advice, help, chat to support you. The group is open to residents of Melbourn and surrounding villages.
If you are interested in finding out more please contact the numbers on the flyer or email Mrs Deadman on cdeadman@melbournvc.org who is working with the "It takes a Village" group and will be happy to help you.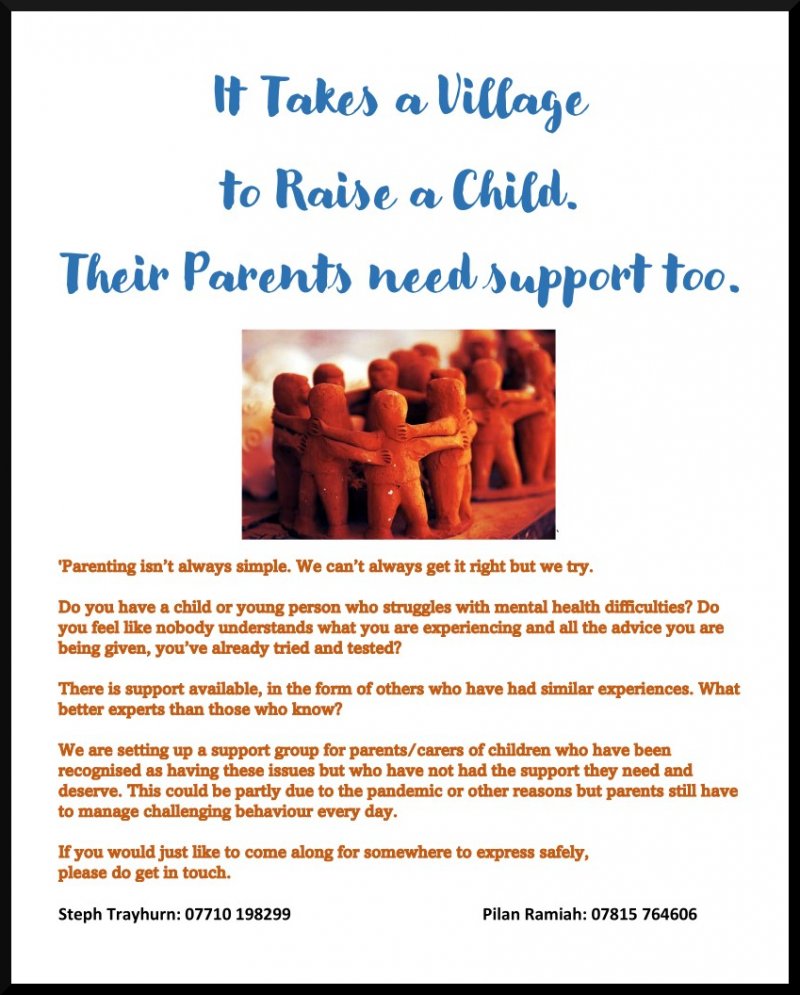 English
In English, as part of looking at the history of the English language, we have been reading the Prologue of the Canterbury Tales and looking at Chaucer's descriptions of what were seen as typical – or stereotypical – characters in the 1300s, all of whom were going on a pilgrimage to Canterbury.
Year 8s have been looking at writing their own modern versions of character descriptions, bringing them right up to date. Morgan has completely understood the assignment with his fantastic description of a cool kid. Ms Seagrove was super impressed!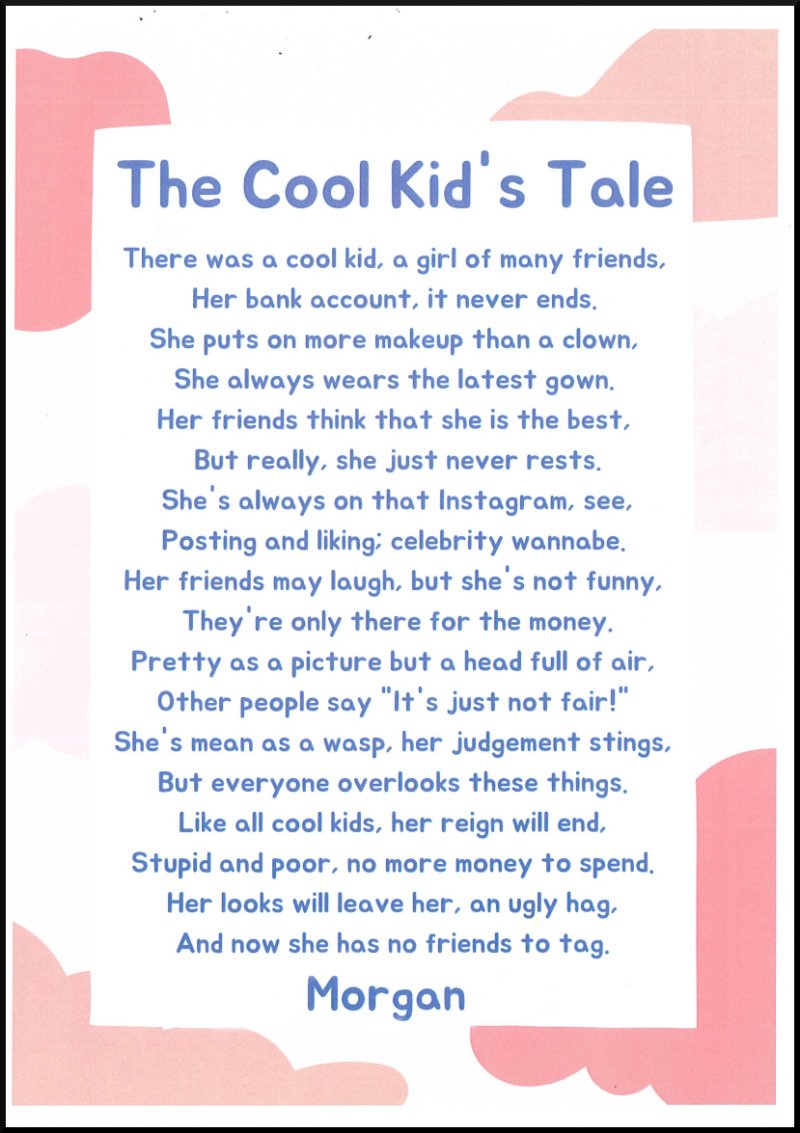 Post-16 Events
There are lots of Year 10 Open Evening events happening around this time of year to help your child take their first steps on your journey to post-16 education. Please see the last page of this Newsletter for plenty of ideas and opportunities to get you started.
Gymnastic Coaches
Comberton Gymnastics are looking for an enthusiastic person(s) with an interest in coaching Gymnastics to join their team in Melbourn. Some knowledge is advantageous, but not essential. For more information email info@comberton-gymnastics.co.uk or 07984 603395.
Pupil Voice
This week Mrs Joyce and Mrs Hallam conducted pupil voice activities in the Humanities Department and English Department. We value the feedback pupils give us on particular topics such as assessment and marking.

Harvey Greenfield is Running Late
Ex-MVC teaching assistant turned actor and musician, Paul Richards is putting on a free performance of his comedy play "Harvey Greenfield is Running Late" at the MVC Community Centre on Wednesday 29th June at 8pm. Originally a successful Edinburgh Fringe production in 2019, the play has subsequently been performed in the West End of London, Brighton, Reading and Swindon before Covid put an end to live performances…
The play would be suited to both older pupils, parents and carers. For more details see here.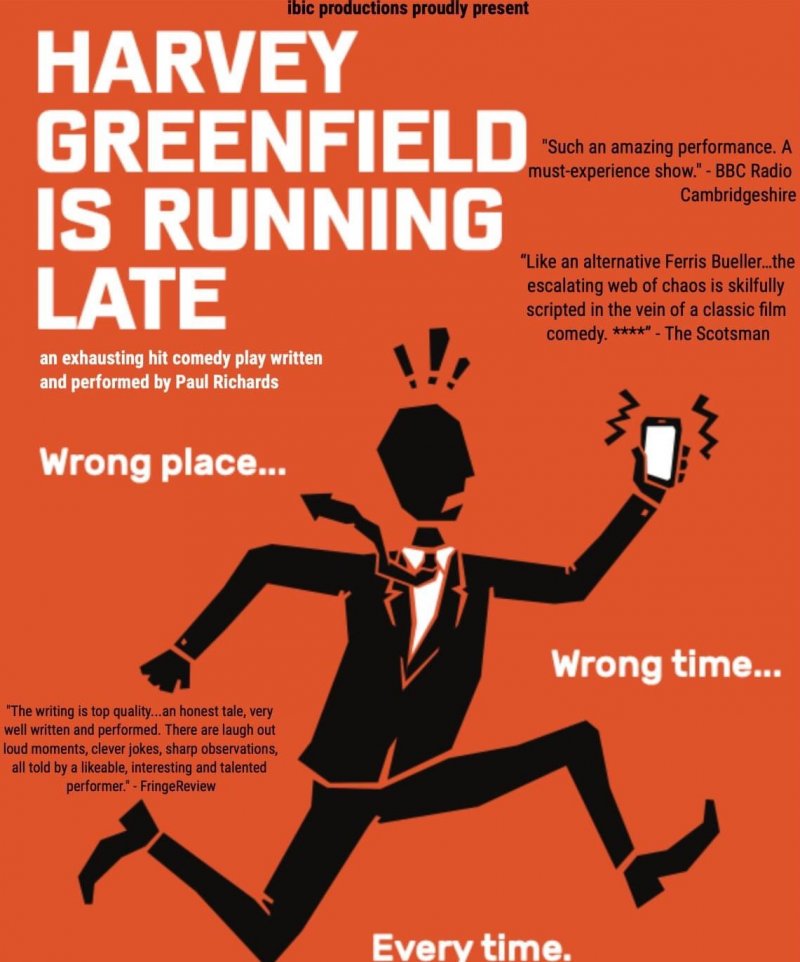 Vacancies
We are currently advertising for a number of vacancies including Teaching Assistant positions in the Cabin and Student Support Centre. For more information, please visit our website here.
Have a good weekend,
Simon Holmes