Key Notes: 23 July 2021
23rd July 2021
This is the End!
We've finally got to the end of the most unusual of years. The rising Covid cases and associated reduction in numbers of pupils in school has meant that we weren't able to celebrate as we normally would. We can only hope that September gives us some chance to experience something resembling normality. We hope you have found these Key Notes informative and look forward to starting up again after the Summer!
MVC News Summer 2021
The summer edition of MVC News is available to view here.
Articles include: New Sensory Room; Mandarin Takes Off; History on the Doorstep; Flocking to Enrichment; 'Believe in Yourself'; New Book Award; GCSE Art goes Online; Trust News and SCSSP Latest update.
Sports Day 2021
We had a great Sports Day on Monday in the sunshine. Pupils enjoyed lots of different activities including Rounders, Frisbee, Tug of War, and Bench Ball. Well done to joint winning houses, Lewis and Franklin. Ashton P and Thomas H collected the trophy for their houses.

School Trips Rescheduled
This year our end of term trips had to be postponed due to the pandemic and have been rescheduled as follows:
Current Y7, new Y8: Friday 24th September (Jurassic Mini Golf in Melbourn)
Current Y8, new Y9: Friday 24th September (Shepreth Wildlife Park)
Current Y9, new Y10: Friday 24th September (Gravity in Stevenage)
Current Y10, new Y11: Tuesday 7th September (Southend-on-Sea)
School Uniform for next year
Our uniform suppliers, School Yard, will be closed until Monday 26th July, and will be short-staffed during the following week.
Singing for Charity
Congratulations Keeley (Year 10) for doing a 100 song karaoke-a-thon fundraiser for the Teenage Cancer Trust. She has raised £831 so far – a fantastic achievement! - and there are still a few days left if anyone wants to donate – Keeley's fundraising page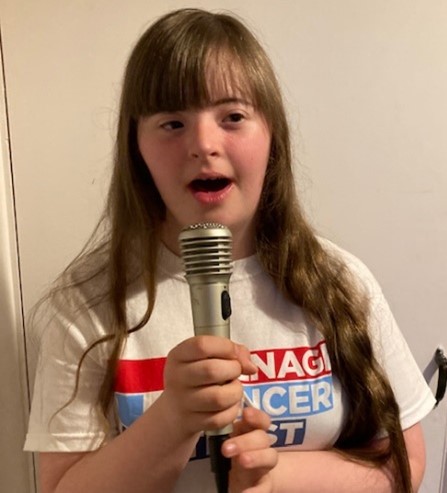 Positive Achievement: Bronze Certificate Winners
Congratulations to Theo, Robert, Luke, Abi, Frances, Josh S and Kiera in Year 7 who are the latest pupils to have reached the prestigious 125 positive credit mark and earnt themselves a Bronze Certificate. Mr Barlow has created the pathway for his year group; 125 for Bronze, 250 for Silver and 500 for Gold! The current highest score by a pupil in Year 7 is 170 credits, but many are already around the 100 mark so we are hopeful they can earn the Gold Certificate by the end of Year 11!
Sensory Room
A big thank you to everyone who responded to Patrick's request for beanbags for the new Sensory Room. We are delighted to have received donations from Caroline M, Linda B and Peasegood & Sons. Also thank you to Melbourn Flooring for their donation of carpet samples.

Eco Group members meet Anthony Browne, MP
Two members of the MVC Eco Group met with Anthony Browne, MP last week about the school's effort towards a greener future. Abigail and Rhianna said: "We talked about what the Eco Group have already done (eg, planting and canteen food) and what the school could do to become net carbon zero. Anthony Browne, MP gave us some advice on not only making our school greener, but also our local community. His suggestions were very helpful and we are planning to carry out a some of these in the future."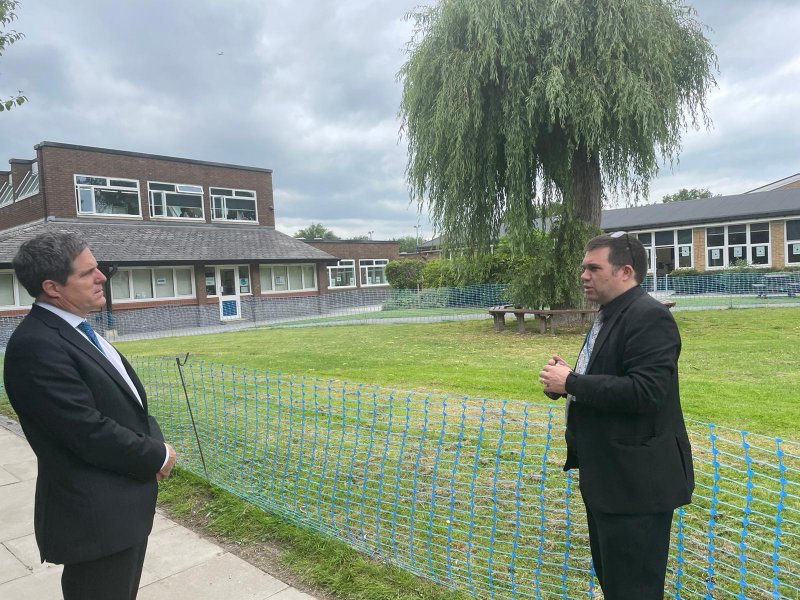 (Photo: A Browne)
New Eco Forum starts up
In September there will be a new group for pupils at Melbourn VC called ECOFORUM. This is for all pupils who are interested in environmental issues and would like to be involved in helping to make Melbourn VC more environmentally friendly. One aim is to achieve the Bronze and Silver Eco-Schools Awards and then aim for their highest award – the Eco-Schools Green Flag Award. To achieve these awards, pupils will develop an action plan with goals to improve Melbourn VC in various environmental areas. Pupils who would like to be involved or find out more, can email MEL-Ecoforum@melbournvc.org and watch out for notices at the start of term for the first meeting.
Mandarin Celebration Dinner
Two years ago, at the beginning of Year 10, Mr Fan promised his first Mandarin GCSE group that he would organise a celebration dinner party for them at the end of Year 11. This event was postponed a few times because of the pandemic, but yesterday, seventeen pupils were finally able to enjoy a celebration meal with Mr Fan and Mr Tobutt.

Summer Activities
There is lots of useful information the government's "Education Catch up for your child" website here. The Holiday Activities and Food Programme, includes ideas for summer activities to do with your children, a reading challenge, as well as mental health and wellbeing information and support.
Water safety
The dangers of open water:
The water is often far deeper than people might think.
It's very cold, which can quickly cause cramp and breathing difficulties.
It may contain hidden rubbish and debris, such as shopping trolleys and broken glass, which can cause injuries and lead to drowning.
Sometimes it can be polluted which could lead to illness.
During the school holidays, and particular in hot weather, increasing numbers of children are drowning. On average, there are 50 of these tragedies each year in the UK.
If you do decide to swim in a lake or river, make sure you keep yourself as safe as possible...
Don't jump or dive in as the water can contain unseen hazards and be far deeper than it looks.
Never swim near weirs or locks as there are often dangerous currents.
Always make sure someone on land knows you are swimming.
If you see someone in trouble in water:
Do not hesitate - call 999 immediately with clear details of your location.
Send someone to the nearest road to flag down the emergency services when they arrive and direct them to the incident.
Find the nearest life ring and throw it to the person. If a life ring is not available, throw in anything that could help them float, for example, a football.
If someone goes under the water, mark on the water's edge the place they were last seen with something like a piece of clothing.
Making a quick get away
Here is a picture from the last Staff Running Club session this year (post run of course!). A massive thanks to all staff who took part during these difficult times, especially Mr 'Speedy Legs' Fung!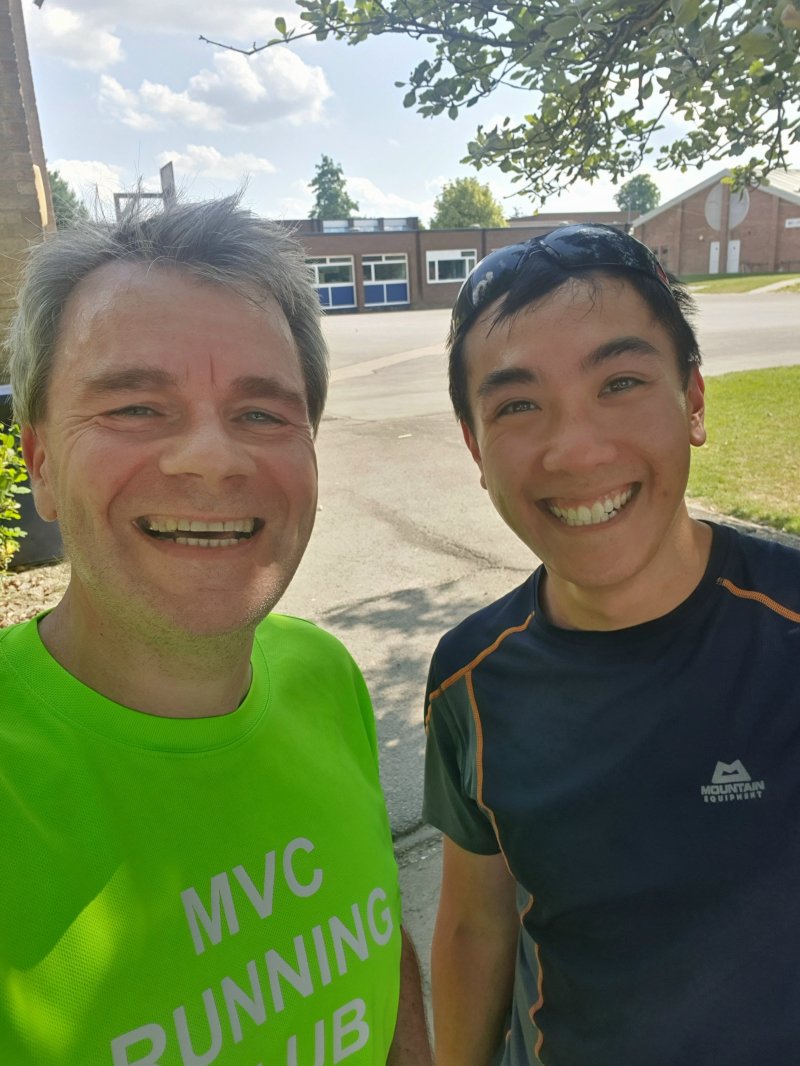 September will bring the opportunity for staff to run again after school with no experience necessary – we'll be gentle, promise!
Have a good summer holiday,
Simon Holmes