Key Notes: 22 July 2022
22nd July 2022
Summertime begins
On our last day of term we gathered for final assemblies to celebrate the achievements of the year and wish every one a lovely summer break. In Septemer, Year 7 pupils will start school first on the Friday 2nd September. All other year groups will join them on Monday 5th September.

MVC News
The latest edition of MVC News has been published and is being sent with this newsletter. MVC News is also available to read online here. In this issue: Bringing Language to Life, Fantastic Artwork, Food Fit for the Queen, round-up of Year 11 events, Trust News, STEM Club, Sports, SCSSP round-up and much more.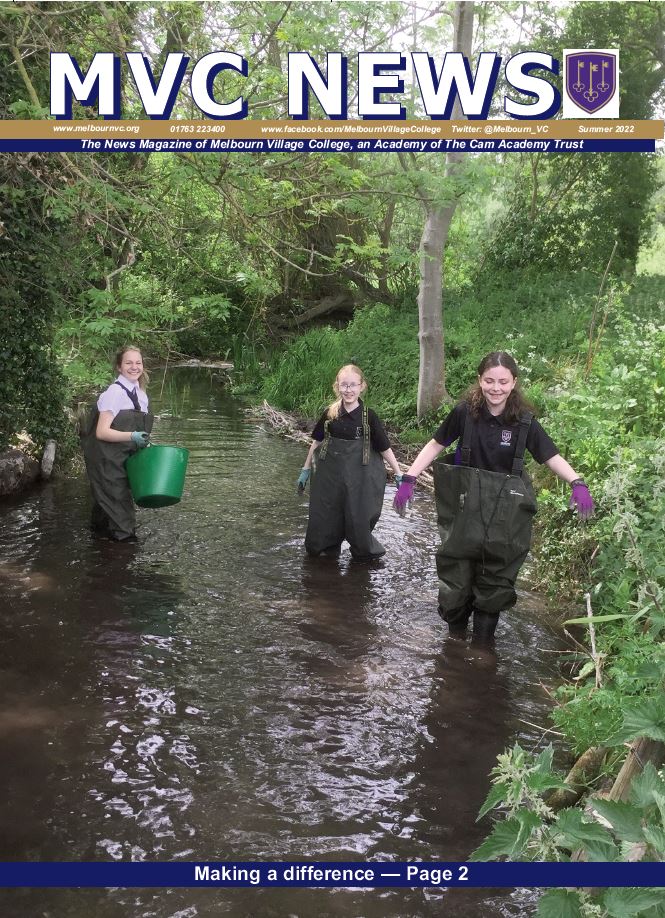 Work Experience
Year 10s have been on their second week of work experience. They were back in school today for a round-up of their experiences, completing their work experience booklets and finalising post-16 options. See lots of pictures at the end of this newsletter.
Warwick Castle trip
On Wednesday, Dr Wilson and Miss Joyce took about 100 year 7 pupils to Warwick Castle, for a joint science and history experience. Luckily, the weather was kind, and on arrival the pupils were able to go around in small groups looking at all the activities. Many of them were brave enough to climb the ramparts and were impressed with the full-sized knight in armour on his armoured horse in the Great Hall. The pupils were a real credit to our school and behaved impeccably. The staff enjoyed the day too – a massive thanks to them all.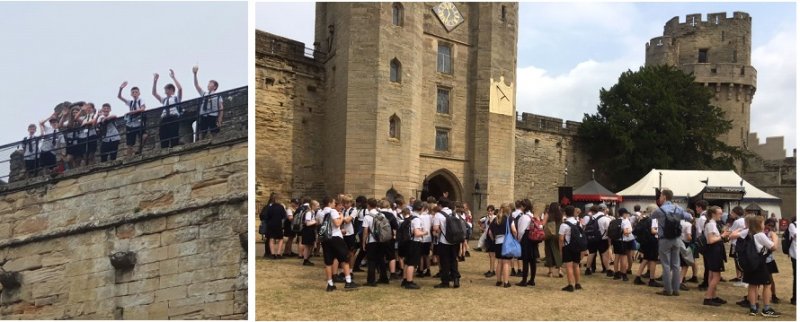 Year 8 Tenpin Bowling
Nearly 90 Year 8 pupils went Tenpin bowling in Cambridge on Wednesday. They enjoyed an air-conditioned coach and two games in friendship groups, and the arcades and Slush Puppies were equally as popular as the bowling! Even though this trip was relatively short, there was still time for a sing song on the way back to school. Well done to Year 8s.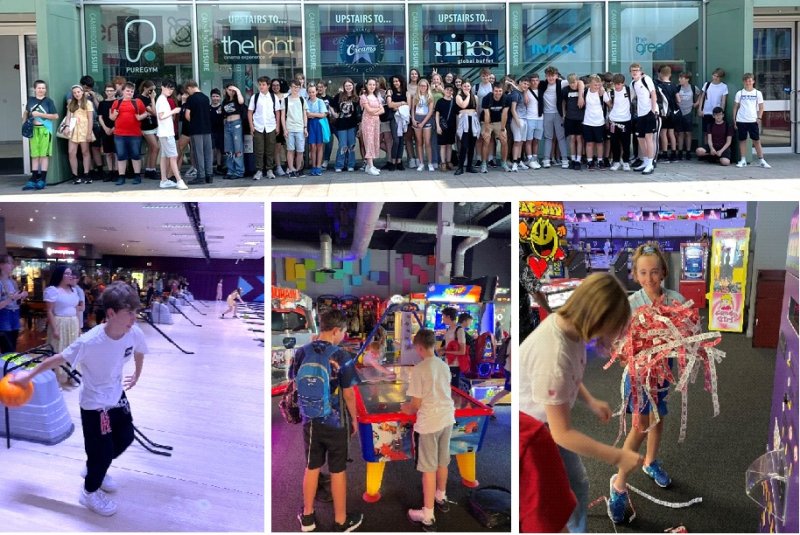 Work Experience pupil as MVC Science Technician
A year 10 student, Samuel, has spent 2 weeks in school, working as a Science Technician. He has learnt about the importance of this varied job for the smooth running of the science department. He worked well with our 3 technicians, Mrs Pam Jones, Dr Jeanette Dyer and Mrs Aneira Santoso, and all the teachers. During his placement, Samuel has improved his existing science technical skills which he learnt in lessons as well as learning new ones, and increased his awareness of health and safety requirements when working with chemicals and equipment.
He particularly enjoyed checking the electricity trolley equipment (including powerpacks, light bulbs, leads, ammeters, and voltmeters) and helping to fix any that were broken. Another favourite activity was using the labelling machine to produce professional labels on bottles of chemicals. He also got to try out some of the experiments that pupils do in lessons, including investigating which surface has the most bacteria – which turned out to be Dr Wilson's laptop! He also had fun trialling some activities for Science Club next term. The Science Department have been very impressed with Sam's polite and enthusiastic manner and wish him well in his future career!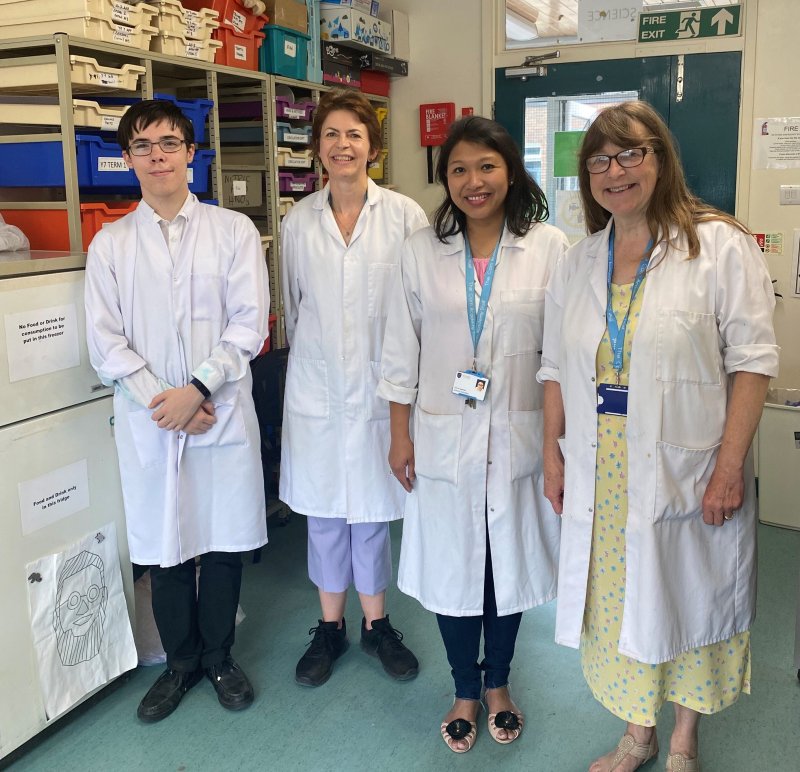 New catering company - Caterlink
A new company will take over catering at Melbourn following Lynn Gregory's retirement this summer. Caterlink will be feeding staff and pupils at the college — and all seven primary phase schools in The CAM Academy Trust — after winning the contract earlier this term. They will take over a kitchen which is set to be upgraded with a new roof and new ventilation system, as well as some new equipment.
Information and menus from September have been emailed to parents/carers. If you would like to update dietary information we currently hold about your child, including allergies, please reply or email jgoldsmith@melbournvc.org
Pastoral
Accessing Mental Health support for our children can be very difficult currently due to the significant demands on all services since the pandemic. This is turn places additional pressure on parents and carers trying to support our children with very limited resources, advice and guidance.
We are very fortunate in Melbourn to have a great Community with many support groups we can access. "It takes a Village" is a new group that recognises the need for support for parents and carers to enable them to feel supported in what can feel like challenging times, supporting each other and, with people who have been on this journey, have firsthand experience and have come out the other side who are here to support, help, chat to support you. The group is open to residents of Melbourn and surrounding villages.
If you are interested in finding out more, please contact Steph Trayhurn on 07710 198299 or Pilan Ramiah on 07815 764606 or email Mrs Deadman on cdeadman@melbournvc.org who is working with the "It takes a Village" group and will be happy to support you.
Support can be fitted in around your free time and availability and be flexible around your needs – why not give them a call to see how they could support you?
SEND Review Consultation
Information about the SEND Review Consultation is being sent out with this newsletter. The main highlights include:
The creation of new national standards for:

SEND Provision
Alternative Provision
Funding allocation
Training for SENCo's

The development of a standardised Education Health and Care Plan (EHCP) which will be provided digitally to improve timescales and consistency
The implementation of mandatory mediation as a part of an appeals process before tribunal
The development of approved lists to help parent carers, young people decide which provision is most suitable
The increase in responsibilities for LAs working with Multi Academy Trusts.
Pinpoint Cambridgeshire Newsletter
The next edition of the newsletter for parents/carers of children with additional needs and disabilities is now available to view online here. This issue includes details of free events, groups and activities available from September.
MVC Eco Committee
Eco plan aim: improve biodiversity by planting more pollinator-friendly plants.
Action: create a flower border by the Community Changing Rooms.
Having a clear out? Do you have any old tools – forks, spades, trowels, brooms, plastic trugs, watering cans, old gardening gloves, water butts – that you no longer need? The Gardening Club will gratefully accept all offers. We will take fixable broken tools too!
Plants needed! If you are splitting any plants next Autumn and would be happy to donate some to our new border, please email
mel-ecoforum@melbournvc.org. Ideally, we are looking for pollinator plants.
Do you need a little exercise to get back in to shape after your summer holidays? The ground where the new flower border will go is compacted and needs digging over with some compost incorporated. If you would be happy to join a working party in September (probably on a Sat/Sun morning – time will depend on the number of volunteers 😉, cake provided) please email mel-ecoforum@melbournvc.org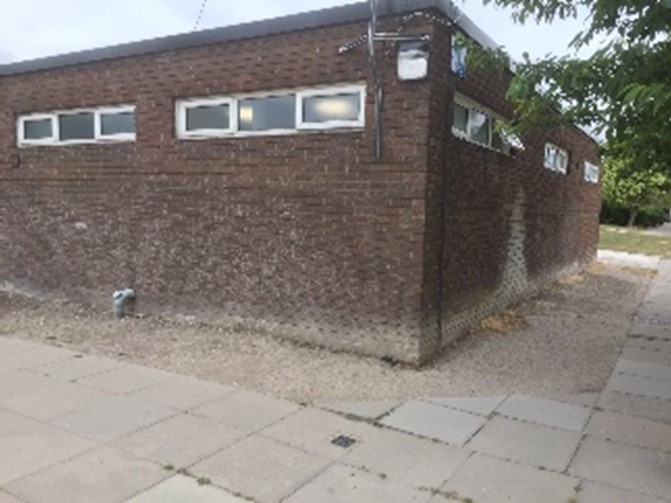 Eco plan aim: reduce the amount of single use plastic that ends up in the marine environment.
Action: art project to raise awareness of the amount of single use plastic that we use.
Please collect any small(ish), clean, pieces of single use plastic for the Eco committee's art project. There will be a collection point in reception next term. Bottle tops, plastic string bags, pen lids, toothpaste tops etc. Red, yellow, blue and green would be perfect!

Adult Education Programme 2022/23
The 2022–23 Adult Education Programme brochure for courses at Cambourne, Comberton and Melbourn Village Colleges is being sent out with this newsletter. The CAM Academy Trust adult education programme provides high-quality and varied courses, taught by well-qualified, enthusiastic tutors. There are also online courses, particularly useful if you have no transport or are trying to save fuel! A small number of courses are free of charge, subject to eligibility criteria.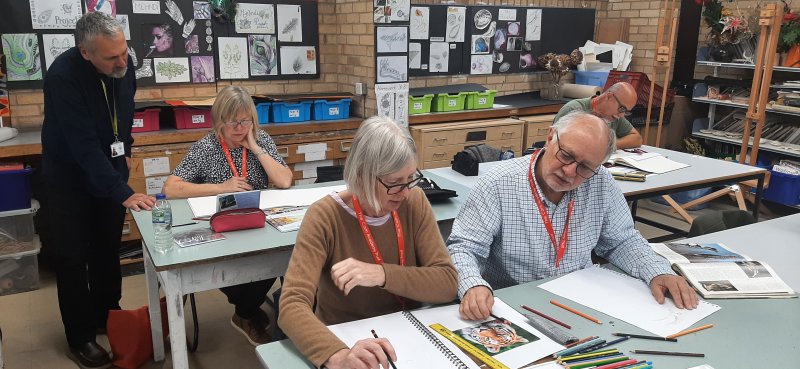 Club Hub UK
Club Hub is the UK's largest kids' activities directory. Parents and carers can search for affordable activities for children during the summer holidays in the UK. Here is the link to their website: https://clubhubuk.co.uk/listings/holiday-activities/
Farewell to staff leavers
Yesterday after school there was a farewell event for staff who are leaving the college at the end of this term. We wish them all well in the future.

Lynn Gregory (Catering Manager) is retiring after 23 years. You can read more about her memories and time at the college in the current edition of MVC News
Nicky Patel (Student Support Centre) is leaving after 15 years supporting pupils with additional needs
Tracey Seagrove (English) is returning to Comberton VC
Andrew Lambley (Technology) is retiring
Joanne Giles (Food & Nutrition) is moving to a school in Peterborough
Joanne Boniface (Assistant Principal) is becoming Director of Science at Bedfordshire Schools Trust
Simon Callow (Science) is going to Freman College
Nayim Rahman (Science) is going to teach abroad
Charlotte Joyce (History and Social Studies) moves to Northstowe Secondary College
Teaching assistants: Donna Dishaw, William Hall, Matthew Dommett, Hongfei Thurgood and Kate Taylor.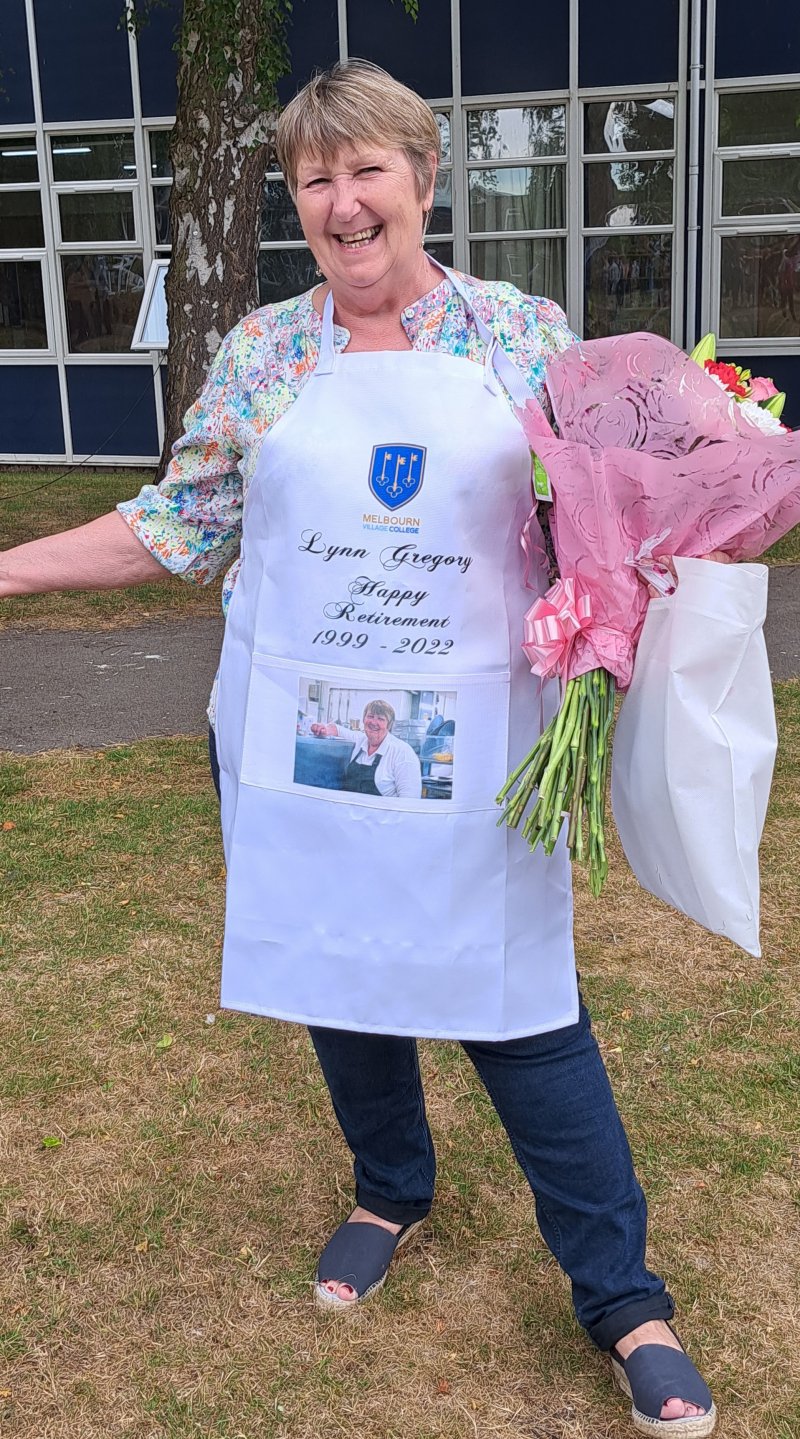 Vacancies
We are currently advertising for a number of vacancies including Teaching Assistant positions. For more information, please visit our website here.
Year 7 and 9 Art
This week, pupils in Year 7 have been designing computer generated interwoven lettering using the Ibis Paint X App on their iPads, showing how well they used this app to be creative. Year 9 pupils have produced some fantastic visual brainstorms, inspired by the work of Pop artists such as Andy Warhol and Roy Lichtenstein among others.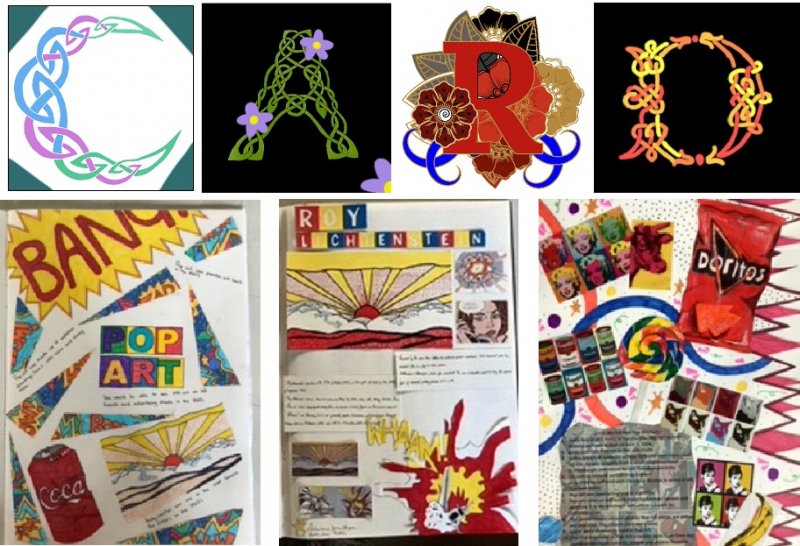 Have a good summer break,
Simon Holmes
---
Year 10 Work Experience in pictures