Key Notes: 20 May 2022
20th May 2022
Jubilee Closure Day
Thanks to the Queen's Platinum Jubilee, there is an extra bank holiday happening during half term this year. As a result of this, schools have been asked to put in another closure day to compensate. We have decided to have our closure day after the exams but before Y10 go on work experience so that they will have chance to complete the full two weeks. The school will therefore be closed on Friday 1st July.
MVC in the News
On Monday we were visited by BBC Look East who came in to interview our Ukrainian pupils about how they are settling in at MVC and to life in the UK. The pupils did a great job explaining their experiences and the challenges they have had and are facing. I talked to Theo Chikomba about the support we are providing, such as iPads to help them with homework and translation, and Mrs Daly our Pastoral Liaison Officer talked about the help we provide with uniform as well as emotional support through our pastoral care team. You can watch the clip on our YouTube channel here.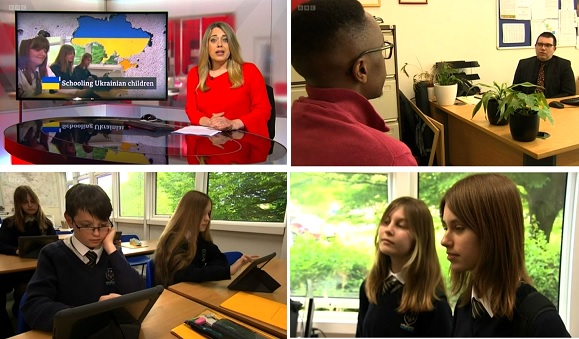 Linguistics Immersion Day
Twenty-five Spanish pupils from the secondary school Eloy Villanueva from Santander visited MVC on Wednesday with José Herrera from Links Into Spanish and two teachers from their school. They were paired with 25 of our Year 7 pupils who were chosen at random to take part in activities to help practise their language skills. The Spanish pupils enjoyed being language teachers to our pupils and vice versa. All the pupils were very enthusiastic to exchange conversation and thoroughly enjoyed the linguistic immersion day. We have missed this link over the past two years and are really happy to have reinstated it.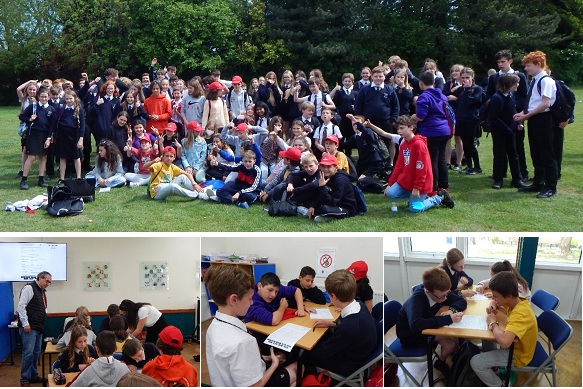 English
Year 7 have been researching the context of their class novel, Private Peaceful by Michael Morpurgo. The action in the book takes place before and during World War 1 and pupils have produced some excellent work with lots of facts and illustrations.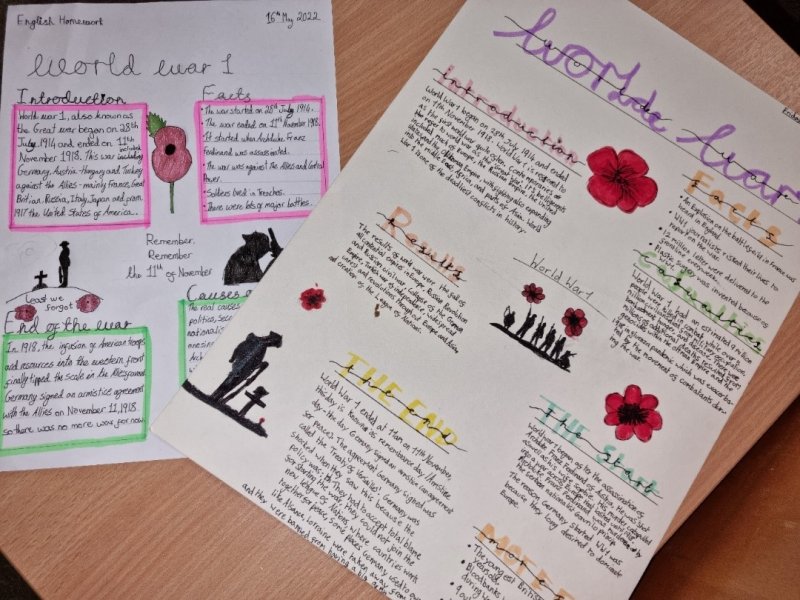 Physical Education
There have certainly been a lot of sporting events happening this week. Pupils have enjoyed being able to play outdoors in tournaments, taking advantage of the sunny weather.
Year 9 girls had a netball match against Cambourne VC on Wednesday. They played well as a team, showing some great skills. Well done to Player of the Match, Alice, who scored as did Lara, Annie and Hattie. The defence was excellent, especially Maddie who made some amazing interceptions. They came away with their first win of the season – 11 goals to 7.

Year 7 also had a fabulous afternoon of netball. They travelled away to Cambourne Village College and played some great games, in very hot conditions.

The year 8 and 10 netball teams also played against Cambourne on Wednesday night at MVC. The year 8s had a convincing win, with some excellent shooting and defensive work. The team have been working very hard during enrichment training sessions and deserved the victory. Meanwhile, the year 10s had a hard-fought game against tough opposition; they were resilient and worked hard right to the end. Great effort by all!
Well done to our Year 7 football team who played another round of the Cam Academy Trust Cup this week. Great play all round and a massive thank you to Sports Leaders, Jess and Joseph, for superb refereeing. Winners were Comberton, 2nd Cambourne, 3rd St Peters, and 4th Melbourn. Refreshments were served afterwards thanks to our fantastic catering team.

Following a week-long break for boys' fixtures after the epic Year 10 County Cup Football victory, it was time for our budding Key Stage 3 stars-of-the-future to compete in a Trust table tennis tournament. We hosted teams from Cambourne, Comberton and St Peter's schools in mainly doubles matches that required agility, coordination and of course communication.

It was great to see the boys going toe to toe with our bigger partner schools. If many decide to choose GCSE PE in the future, we can expect some more impressive practical scores in this area. Table tennis winners were Melbourn, 2nd Cambourne, 3rd Comberton, and 4th St Peters.
As the weather continues to improve, we remind pupils that our summer enrichments are a great way to let off steam after your five lessons. Our athletics team is taking shape and the pupils who have regularly attended athletics enrichment on Tuesdays will get to represent the school next month in a competition in Cambridge!

Primary Liaison – Mini Tennis Festival
Our Year 10 Sports Leaders hosted a Sports Partnership Primary School Tennis Festival on Tuesday for our local primary schools. They showed excellent leadership skills, with lots of clear instructions, fabulous demonstrations, and great positivity! It was great to watch the fantastic effort from all involved!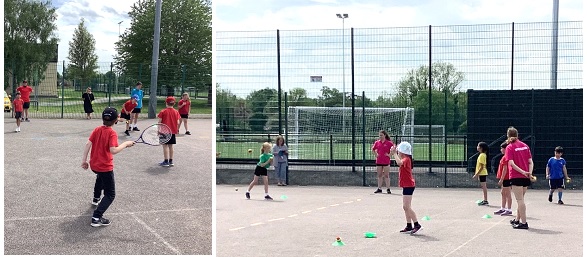 Sporting Achievement
Congratulations to Annabelle and Emma who were part of the U15 Coton team that won their league on Wednesday night. The team had been plagued by injury, but fought hard to take the title. This is the 2nd year in a row that they have won this prestigious title. Well done girls.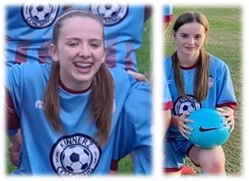 Student Support
Keira and Keeley have created some artwork for an exhibition by Rowan, a Cambridge charity that supports adults with learning disabilities through art. They have been working in their art lessons and art enrichment club to produce these pieces, which are now for sale on the Rowan website. The theme was the great outdoors. Keira's piece is called Abstract Rose and Keeley's is After Picasso. Lovely pictures, well done!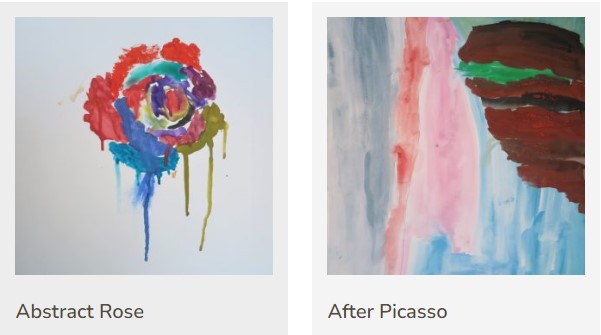 Year 10 – Post-16 Open evening Events and Taster Days
A reminder to all year 10 parents and pupils that they need to book themselves on to these events to be able to explore options for after year 11. Visiting colleges and providers is a great way to do this – please see the MVC post sent earlier this week for further details. Comberton Sixth Form have a Y10 taster day on Friday 10th June (during the school day) – pupils should sign up via their website (by Sunday 22nd May) to get a flavour of what being in Y12 is actually like! Comberton are expecting over 500 local pupils at this popular event so please talk to your child and suggest they take part in this and/or any other events that might be of interest.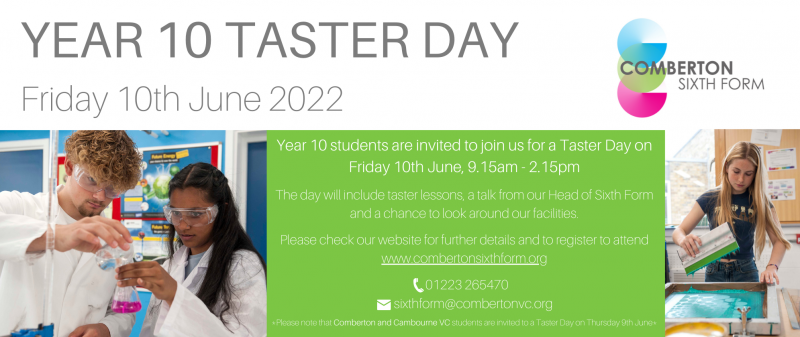 GCSEs Begin
Tuesday saw the start of our whole cohort of year 11s doing a GCSE together – this one was biology paper 1. Pupils were invited to a relaxing breakfast from 8am hosted by Dr Wilson and the science department. Pupils sat happily, eating croissants, bananas, apples and healthy snack bars, washed down with fruit juices. Happy smiley faces were everywhere, even though there may have been a few nerves! Our year 11s have had a difficult time with Covid-19 lockdowns, but we know that they will do well!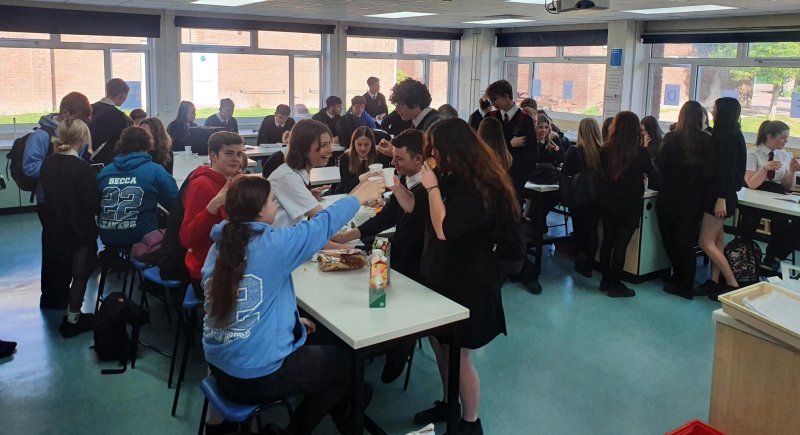 Morgan Sindall Construction visit Y9 lessons
Pupils in Year 9 geography and science received a very interesting talk from Sharla about working in construction. She is on Morgan Sindall's apprenticeship scheme where she is learning how the planning, surveying, and health and safety processes work on a construction site. She project manages a number of sites in the East of England. The talk helped to inform pupils about the variety of jobs available in construction, from hands-on bricklaying, electrician, groundwork, logistics, and plumbing to the more office-based jobs. Sharla is very keen to work with our pupils in the future to inspire them to consider a career in construction!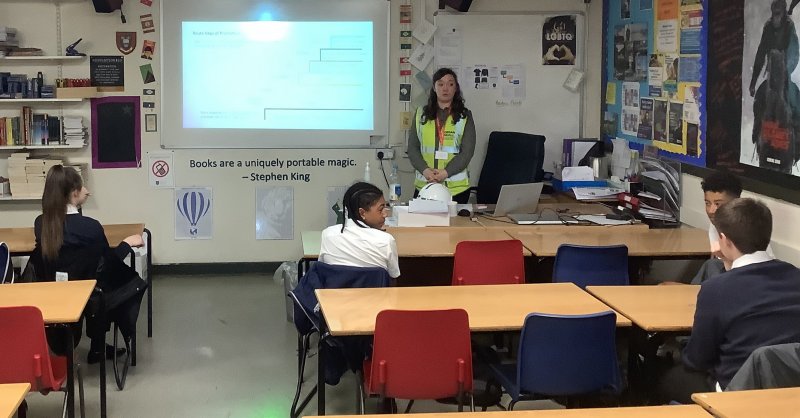 Eco Group
Year 7 Eco Group members, Lera, Caitlin and Maisie, braved the river Mel for a litter pick this week – just look what they found!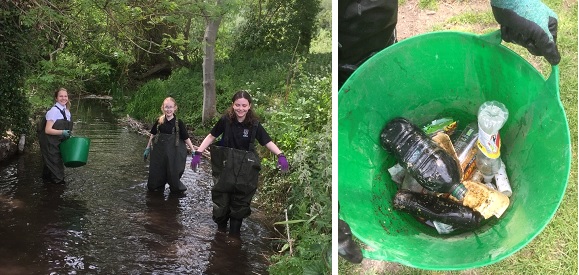 Eco tip - Everyone loves a relaxing shower, but did you know, every minute you have in the shower, you are using approximately 12 litres of water! And, the average shower time is 10 minutes! Can you calculate how much water that uses? Lots, right? So, to save wasting water, why not turn the shower off whilst you are washing, between soaking and rinsing? Setting a stopwatch to reduce your overall time in the shower is another helpful tip!
Pastoral Support
YMCA has various webinars with information for parents and carers including behaviour and mental health. This week we are sharing the webinar on anxiety. This is something we are seeing increasingly in school amongst all year groups. The session covers what anxiety looks like in school, how to talk about it, and how to support children in managing it. Anxiety in Children: Strategies for Parents and Carers
Attendance at School
Even though we are nearing the end of the year, we are still very focused on achieving our attendance targets. We encourage excellent attendance to ensure pupils have the best chance of achieving their potential. They are expected to have at least 96% attendance which is equivalent to no more than 1 day off per 6 weeks. We appreciate that illness happens, but if a pupil is just feeling a bit under the weather, we would expect them to attend school. Please let tutors know so they can keep an eye on them. If a pupil is to be absent, please email absence@melbournvc.org.
STEM Club
Science Club takes place after school on a Wednesday and is run by Dr Wilson and Miss Piper. It is open to all KS3 pupils and they carry out a series of really fun experiments – this week was no exception! Pupils were encouraged to bring out their artistic side, using red cabbage indicator (and a range of household fluids of different acidity/alkalinity). This gave them a colour palette to use to paint their gecko picture with. Pupils also used micropipettes for the first time and quickly became very adept at dispensing very small drops onto their pictures. The results speak for themselves! As an added bonus, we'll be putting our results forward for a STEM award later in the year. Bravo, MVC chemical artists!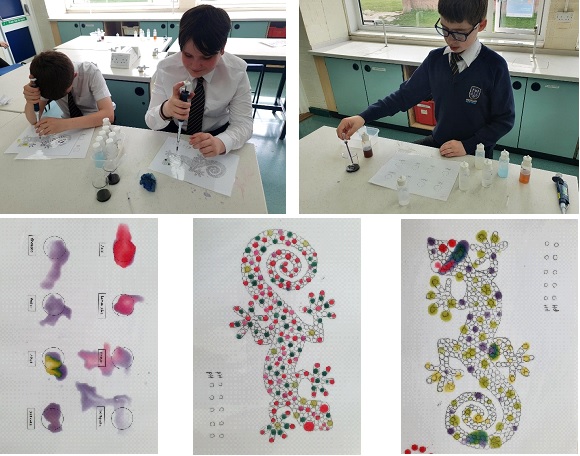 And in more news from our multi-talented science team – Science Technician, Dr Jeanette Dyer, will be playing her clarinet with the University of Cambridge Concert Band on 17th June in "Music from the Movies". Tickets available from UCCB website.
Have a good weekend,
Simon Holmes