Key Notes: 19 November 2021
19th November 2021
Covid Update
We very much appreciate all that parents and carers are doing to help us keep our school Covid-safe. Yesterday, we met with the Cambridgeshire Public Health and Covid Support teams and have taken some additional steps to help prevent the spread of Covid-19 within the school and the local community. Our main mitigations now include:
Asking all pupils to wear face-masks at all points in the school where they mix with other year-groups. This includes all corridors and communal spaces.
Keeping pupils in their own year-group areas on the backfield at break and lunch times, to minimise the mixing between year groups.
Changing the order in which pupils go into lunch.
Encouraging pupils use hand-sanitiser when entering every classroom.
Reminding pupils to wear face-masks when travelling on school buses.
An email has been sent to all parents giving further details. Pupils in years 7, 10 and 11 should continue with twice-weekly lateral flow testing and Years 8 and 9 have been asked to test every day before coming to school. To help us track cases please log every test, positive or negative, on the Test Register. You can order additional test kits online here.
These measures will ensure that as much asymptomatic infection as possible is picked up and will help all local schools to continue to operate at full capacity and minimise the spread of infection through the school and wider community.
Public Health strongly suggest that if your child has not been vaccinated against Covid-19 that you speak to your local GP surgery about vaccinations and consider whether this is something you wish for your child; at the moment we are not aware of any plans for the School Vaccination Team to re-visit Melbourn Village College to administer Covid-19 vaccinations.
Should your child develop symptoms (high temperature, a new continuous cough or a loss or change to their sense of smell or taste), please follow the stay at home guidance and let the school know as soon as possible. If your child is off school, work will be set in Teams (see login details here).
Children in Need – non-uniform day
It has been fantastic to see all the pupils taking part in our non-uniform day and the generous donations we have received. We are delighted to have raised over £600 for Children in Need. Despite trying times, MVC continues to rise to the challenge and support good causes. Well done everyone and thank you to the Prefects and Ms Boniface for organising today. Children in Need aim is to ensure that every child in the UK is safe, happy and secure by funding local charities and projects that help disadvantaged children and young people across the UK.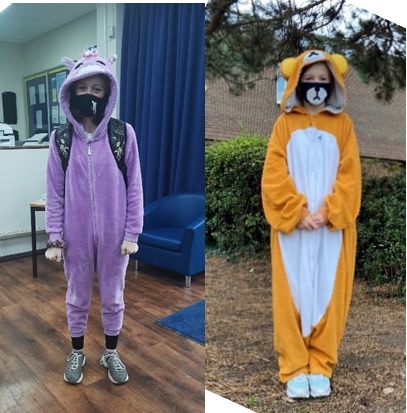 Ipads in School
A gentle reminder to all year 7 parents that the sign-up window for the iPad scheme is nearing the end. Please ensure that you sign up using the link previously emailed by Monday 22nd November.
Ski Trip 2022
For everyone going on the trip next February, please note that the final payment is due by next Friday, 26th November. Thank you to everyone who has already paid.
Health and Wellbeing
As part of our Wellbeing Wednesday initiative, tutor groups have been encouraged to go for a morning walk or jog. This is to promote fresh air and exercise and links with this weeks' theme of wellbeing and looking after the environment. Here are Darwin 7 enjoying the fresh air and autumn leaves!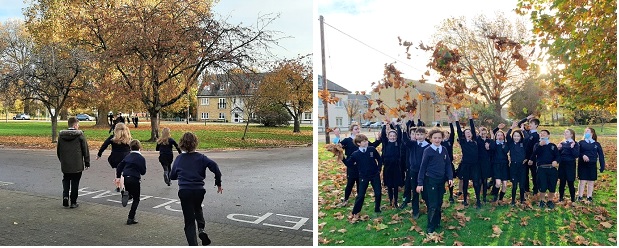 English
Our year 11s have been working hard preparing revision materials for their English Literature GCSE. Here is a fantastic character mind map by Hayley linking characters to themes, other characters, and choosing quotes to remember for the exam. Revision resources such as these will prove invaluable for those last-minute revision sessions!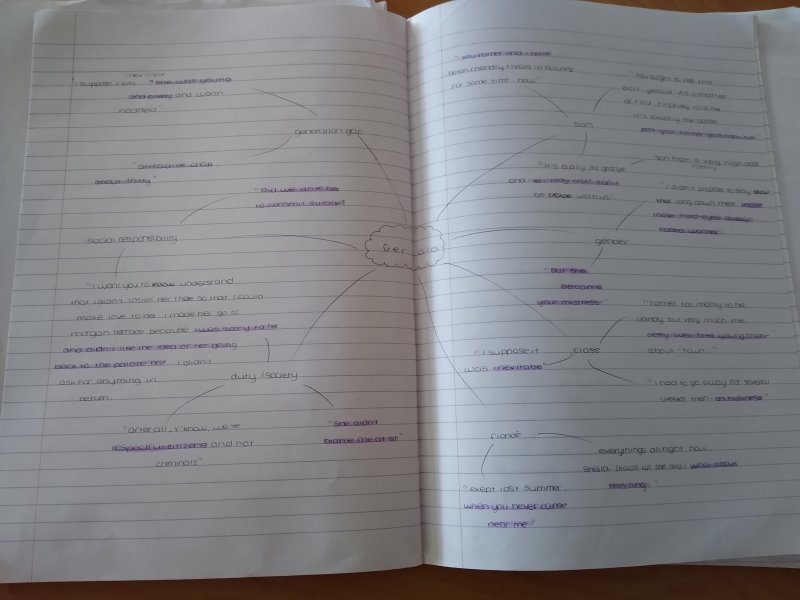 Inspired by the recent visit of poet Ash Dickinson, students have been putting pen to paper and writing their own fantastic poems. The poems will all be published in the new Student Poetry section of our Reading Blog here. Below is a taster of some of their fantastic work. Our after-school enrichment Creative Writing Club will be writing more poems next week; so do keep an eye out for them on our Reading Blog too.
Halloween

by Zoe

A dazzle of crows swirling in flight,

In the crisp air of the night

The rough branches of leaf-less trees,

Swaying silently in an autumn breeze

A vampire's cry, it has begun,

It's chilly outside, and Halloween has come.
Physical Education
We had a fantastic turn out for the Year 7 and 8 football team selection session on Tuesday this week with nearly 50 pupils in attendance. As a result, we are going to hold another session next week to give all pupils the opportunity to be selected for the school team/s. This will be held on Tuesday 23rd November from 2.50-3.50pm. All Year 7 & 8 pupils are welcome. This may even be on the new 3G Astro pitch now it has been completed!
A match v Chesterton has been arranged for Tuesday 30th November 3.45-4.45pm on the new Astro Pitch. Pupils who are selected, will be notified next Wednesday. Parents are welcome to come and watch. If selected pupils need to ensure they arrange transport home if required.
Basketball will be starting for pupils in Year 9 - 11 on Tuesday 23rd in the Sports Hall from 2.50-3.50pm with Mr Barnes.
New 3G Astro Pitch
The new 3G Astro pitch is finally complete and was officially signed over to Melbourn Village College today. It is now ready to be used by pupils in lessons, enrichment activities and fixtures, and will also be a fantastic facility for the local community. Jan Berridge, Trust Facilities Manager, and others involved in the project were present to confirm that the 100m x 64m floodlit pitch had passed all inspections, and to hand it over to MVC. Mr Barnes and Miss Evans from the PE Department were delighted to be the first to try out the new facility!
When using the new 3G pitch, we strongly advise that pupils have the correct footwear to ensure the safety of pupils and to keep the pitch in the best condition possible playing condition. Please see the list of recommended footwear at the end of this newsletter. The PE department are looking forward to using this excellent facility with all the pupils.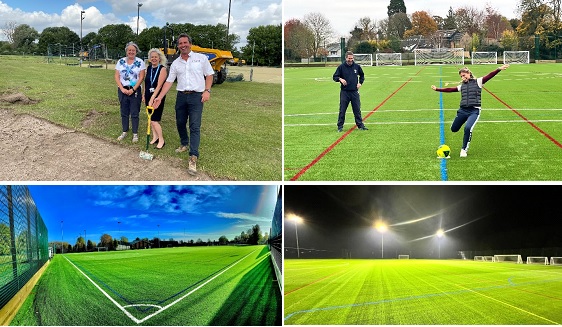 From cutting the first turf a the beginning of August 2021…. to the finished pitch today!
Cambridge United Young Coaches Club
Cambridge United Young Coaches Club are offering an exciting new opportunity for aspiring young coaches at MVC to be inspired, learn from experts and access potential pathways into professional sport.
This initiative is called the Cambridge United Young Coaches Club, and this is an invitation to 16-21 year olds to attend a free session at The Abbey Stadium on Wednesday 1st December @ 7pm. For more information and to sign up for the event click here.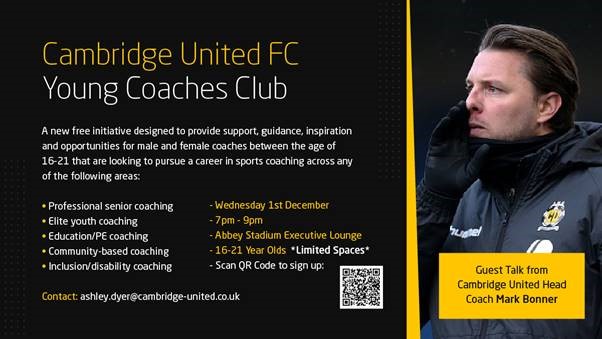 Community Education
We pride ourselves on being at the heart of our local community. Each week we host a number of Community Education Classes that are always very popular. Here are some pictures from our sign language, printmaking, guitar, woodworking and art classes. You can find out what is on offer here.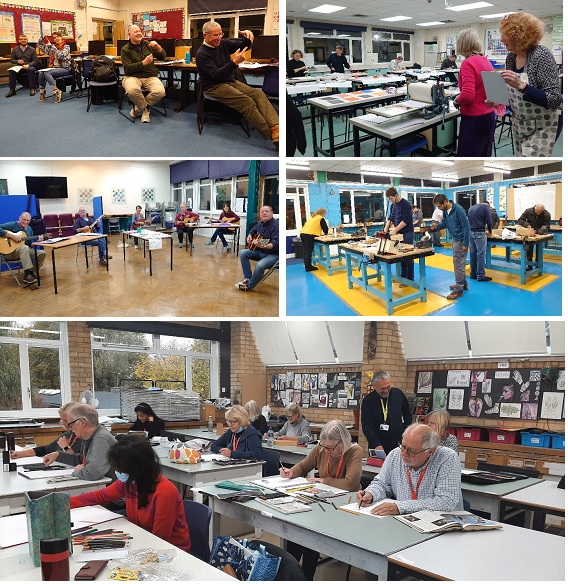 Student Support Centre
Are you able to help by donating any secondhand play food, dolls, dolls clothes, and a dolls baby bottle? Ideally, these need to be Baby Born size rather than Barbie. These are needed to help pupil learning in the Student Support Centre. If you can help, please email Mrs Anna Ghale (SENCo & Skills Base Lead) on aghale@melbournvc.org
Pupil Showcase: Year 7 Art
Here are some excellent pieces of work from Year 7 pupils: Thomas W, Simon D, Eva A, Iris B on the theme of "Sunflowers" by Van Gough. Well done!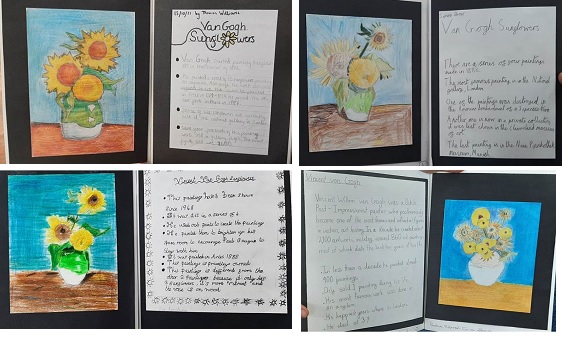 Have a good weekend,
Simon Holmes