Key Notes: 18 June 2021
18th June 2021
Teacher Assessed Grades
Today we have finished the process of submitting the Teacher Assessed Grades for our current Yr11 pupils to the exam boards. Over the past half term and a bit, teachers have had to take on the additional roles of assessment creators and markers and have worked incredibly hard to ensure MVC pupils achieve the grades they deserve. At the same time, I'd once again like to give credit to the pupils for the way they conducted themselves during this past half term.
Staff Training Day Reminder
Please note that the staff training day originally planned for this Friday, 25th June, was moved to the end of last December. Friday is a normal school day.
National School Sport Week – June 20 - June 25
Next week is National School Sport Week. In PE lessons pupils will be taking part in a variety of sports – some old and some new. At home you can also get involved by doing as much activity as possible. Maybe you will be inspired by the Euros football tournament or the Queen's Tennis Tournament. We are aware that lots of pupils take part in a variety of different sports clubs outside of school. We would love to see what everyone does and collate it for an upcoming sports article. Please send your pictures to kcoghlan@melbournvc.org.
Directional and MACK Enrichment Session
There are still spaces available on the above enrichment sessions for Year 7 (MACK, Wednesday after school) and Y8 (Directional, Thursday after school). These sessions are a good way for pupils to make friends, build confidence etc. You can sign up here.
School Uniform Donations
We would be pleased to receive any donations of uniform, particularly Year 11 jumpers and ties. These can be dropped off at Reception. We will be sending out information towards the end of term about how to order secondhand items and also regarding uniform support for those in receipt of the Pupil Premium.
Year 9 Trip Payment Reminder
Reminder for Year 9 parents that the final deadline for payment of the end of term trip to Gravity Trampoline Park is Monday 21st June to ensure a place. Please make payment via your ParentPay account.
Exam Access Arrangements
Exam access arrangements allow candidates with specific needs, such as SEN, disabilities or temporary injuries to access the assessment and show what they know and can do without changing the demands of the assessment. The intention behind an access arrangement is to meet the needs of an individual candidate without affecting the integrity of the assessment. The Student Support Centre (SSC) has been checking the exam access arrangements for pupils in year 10 this term. Pupils who have qualified for these will be spoken to next week and a letter confirming their arrangements sent to their parents. SSC staff have also begun investigating which pupils in year 9 are likely to need access arrangements in readiness for more formal assessment in the Autumn term. Please contact Melbourn exams access arrangements mel-eaa@melbournvc.org if you have any questions about access arrangements and reasonable adjustments.
Calling All Former Meldreth Primary School Pupils
If your child attended Meldreth Primary School they may remember a long-standing teacher, Mr Andrew Jones. He will be retiring at the end of this academic year and the school is trying to make up a book of memories for him. They would be grateful if any ex-pupils of Meldreth Primary School would like to contribute something. This could be a short written memory, a picture, a good luck message etc. You can drop your contribution into the Meldreth school office or email it to office@meldreth.cambs.sch.uk
Sumdog Maths
Congratulations to 71A who were the 'Daily Winner' of the Cam Academy Trust Maths Contest on Monday with an overall score of 86%. They were battling against other schools in the Trust using the website Sumdog. Keep practising for the next contest!
South Cambs School Sports Partnership Leadership Academy
South Cambs School Sports Partnership is delighted to pupils to apply to be part of its Leadership Academy. The Leadership Academy is designed to provide high quality support, training and development for young people that are committed to actively volunteering within their school and local community to develop and grow them as young people and as leaders and volunteers. For details of how to apply contact Mrs Coglan kcoghlan@melbournvc.org
Year 7 Drama Assessment
Reminder that Year 7s have a drama assessment on Monday. They have all been given the script, but a copy is also available on Go4Schools.
Pupil Showcase: Spanish Vocabulary and Grammar
Year 8 pupils have created some cards for a new display in the classroom to help them improve their understanding of grammar. They worked really hard using cut up words to make different sentences with colourful designs.

Year 7 have been working on their own version of a Spanish poem (El hombre sin cabeza by Armando José Sequera), using characters from Among Us. Their work is on display in the classroom.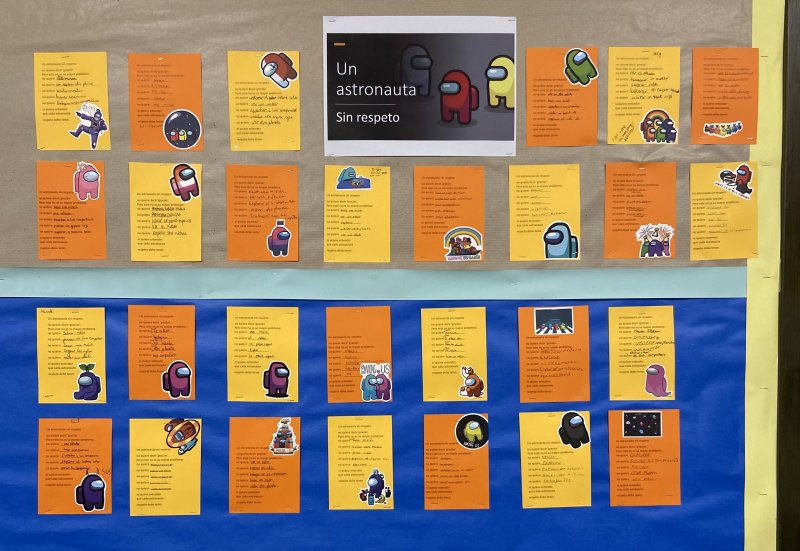 Pupil Showcase: Year 7 and 8 English Creative Writing
In English, year 7 and 8 pupils have enjoyed produce some amazing pieces of creative writing.They have worked imaginatively and thoughtfully. Some examples are shown below. Well done.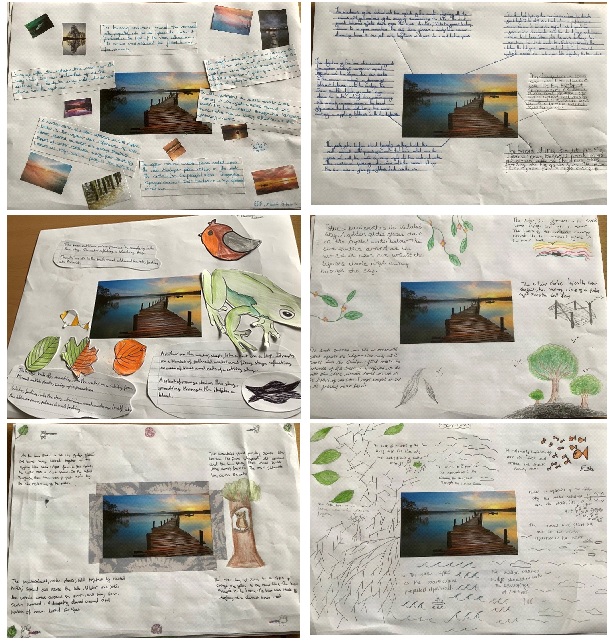 Have a good weekend,
Simon Holmes