Key Notes: 16 December 2021
16th December 2021
Onwards to Christmas and New Year
Many of you may remember that last December we faced rising Coronavirus numbers and increasing absences from schools, leading to the threat of a Christmas lockdown, which eventually came in the New Year. The last week or so has had some similar echoes, but it has been preceded by a very different term. It was so fantastic to welcome everyone back in September and one only has to look back at these newsletters and the MVC News to be reminded of all the amazing things that pupils have been involved in and have achieved this term. Other than for a small period in November, cases here have remained relatively low and school has continued 'as normal'.
I'm very proud of both the staff and the pupils for the way they have committed to this term and for the hard work they have put in. We look forward to a successful 2022.
A quick reminder that our plans for the start of next term are as follows:
Thursday 6th January: Year 11 and 7 return and have a Covid test at school; all other year groups will have lessons via Teams, still following their timetable
Friday 7th January: Year 8 and 9 return and have a Covid test at school; Year 11 and 7 continue; Year 10 continues to have lessons on Teams, following their timetable
Monday 10th January: Year 10 returns and has their Covid test at school.
We obviously hope there are no further Government announcements that change this – if so we will obviously be in touch to update you as soon as possible.
MVC News Winter 2020
I am delighted to announce that the Winter edition of MVC News is now available to view on our website here. Your child will also receive a hard copy today or tomorrow.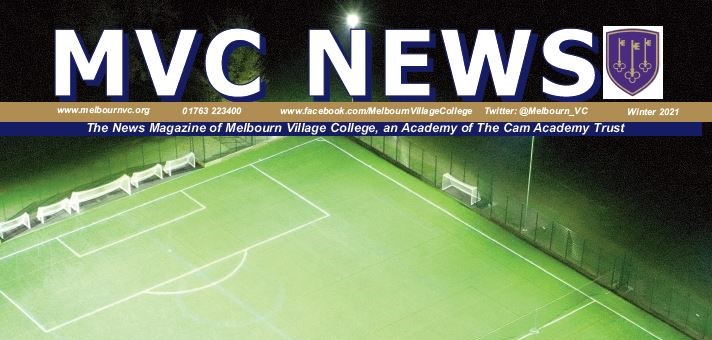 Drama opportunity
We have been given an opportunity for one of our pupils to play the part of the Angel in the outdoor Nativity Service at Melbourn Church on Christmas Eve. If you are interested in taking part in this event, please see Mrs Nicholls or email cnicholls@melbournvc.org
New Enrichment Activities for Spring Term
Extracurricular clubs will be starting again on Monday 10th January. These sessions will take place between 2.50-3.50pm on Monday, Tuesday and Wednesday. We would encourage all pupils to take part in as many activities as possible. We also run a free bus service home after the activities. This will visit all local catchment areas and Royston, so arrival home times will vary daily. We aim to get all students home by 5pm. To ensure your child is included on the registers for activities and bus travel (if required), please complete the Enrichment Activities form by clicking here. Paper copies are available from Reception.
Post-16 Applications
Well done to Y11 pupils for completing their post-16 college applications. Final checks are currently happening before they are all sent off. To their credit, the pupils have been conscientious and very well engaged in the process. Some pupils will be applying for apprenticeships from late January onwards, and all Year 11s should be invited to at least one guidance meeting at a post-16 college.
Festive Treats in the Canteen
Our amazing catering staff have been having fun in the kitchen today making lots festive treats for the pupils. Some of the delights on offer included Christmas chocolate cupcakes and star biscuits. Mrs Gregory says "Can you spot which biscuit is the odd one out?"

Rewards Events
On Wednesday, during periods 4 and 5, pupils took part in lots of different events as a reward for all their hard work. Activities included Christmas Karaoke, Casino, Games Tournament, Films, Crafts and many more.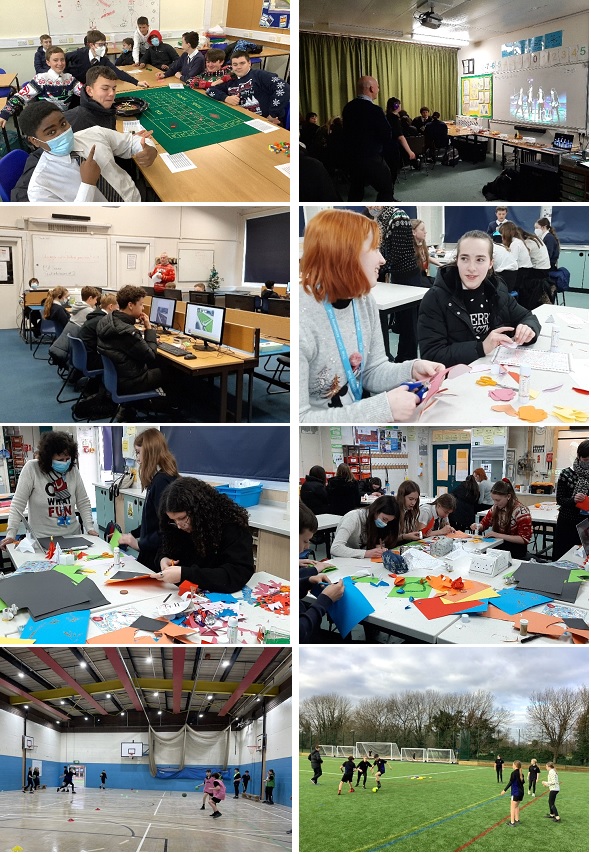 Christmas Jumpers
Wednesday was Christmas Jumper Day and it was wonderful to see the school was awash with colour. Pupils and staff wore lots of Christmassy jumper designs and accessories! Thank you all for your support. We raised £165 in aid of Save the Children. It is wonderful to have charity events back at MVC!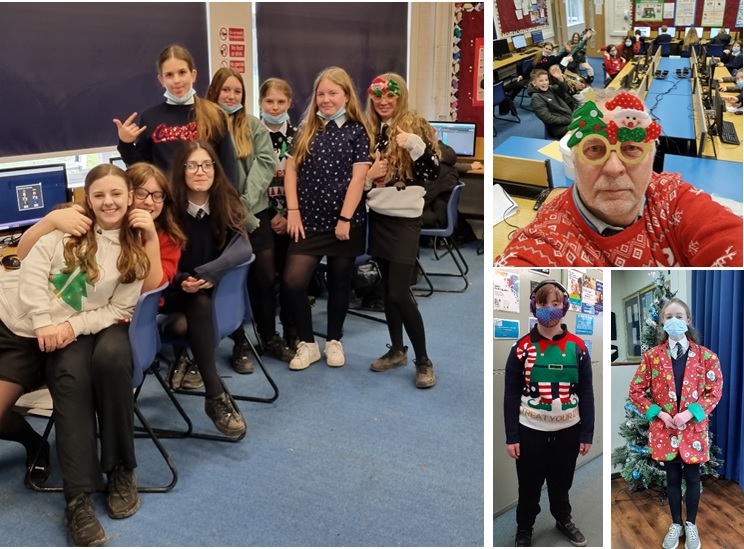 English
Class 7XM enjoyed a festive lesson analysing the use of similes and metaphors in a song from 'The Grinch'. They then wrote their own verses. Some of the pupils even sang their results to us, which was amazing! Excellent writing, performance – and fantastic humour. Well done!

MVC Christmas Concert 2021
This year's Christmas Concert is now available to watch online here.
This year we featured a selection of both solo and duet performances from pupils in all year groups featuring: Year 7 Choir and Year 10 Show Band with some Christmas favourites. Solos and duets including Samuel, Ruby & Seren - O Little Town of Bethlehem; Freya - We Three Kings; Aliya - Ding Dong Merrily on High; Reuben & Tom - In the Bleak Midwinter; Josh & Jan - I Saw Three Ships; Jacob & Josh - Away in a Manger; Keeley - Last Christmas; Zak - The Christmas Song; and Jessica & Keira - Have Yourself a Merry Little Christmas. Congratulations to everyone who took part.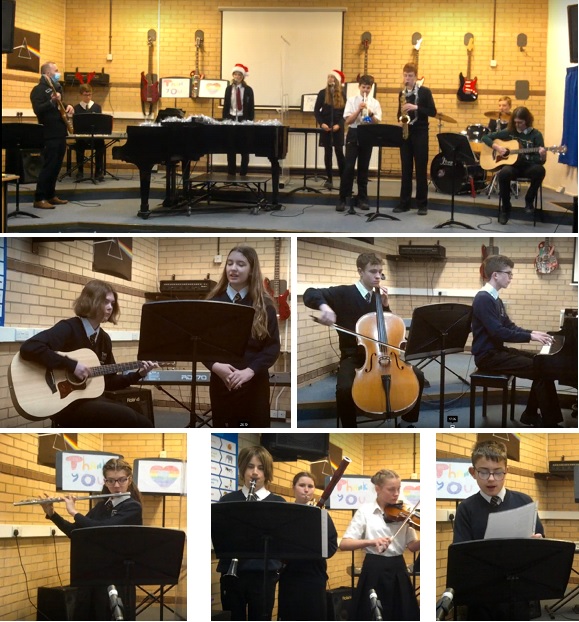 Science and songs
Year 9 pupils seen here carrying out a practical task in physics yesterday. Lots of hard work is going on while listening to Christmas music!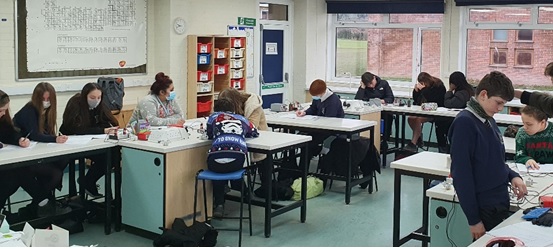 Geography – Awareness of Different Lives
This amazing piece of artwork was created by Bree in Year 9. It is her own response to the struggles of people living in Kibera which is the largest slum in Africa located in Nairobi, Kenya. It is now hanging in Mr Kennedy's classroom and has pride of place.
Mr Kennedy said "I was completely blown away by this amazing piece of homework and I think Bree is an awesome geographer!"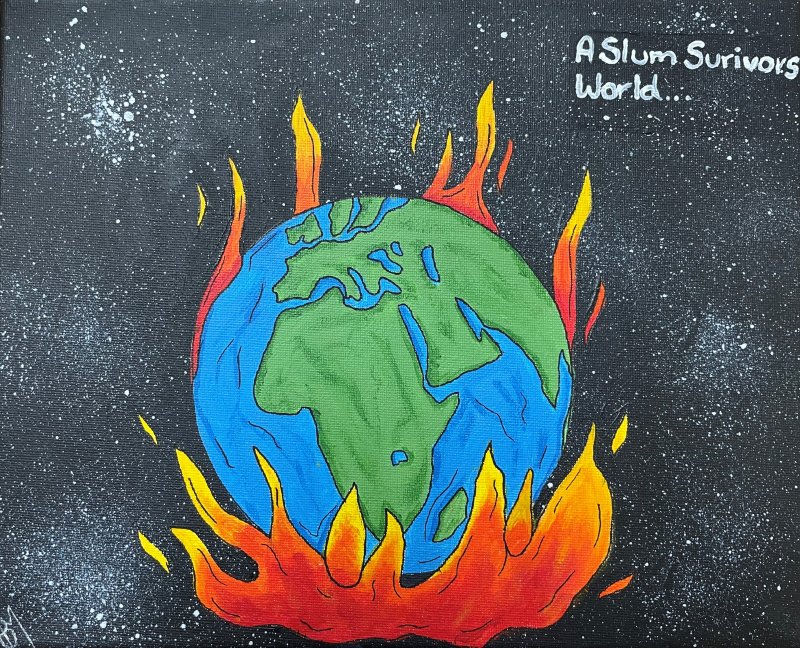 Outstanding Sporting Achievement
Congratulations to Hannah in Franklin 10 who took part in the British Shooting Schools Pistol Competition again this year, representing MVC.
She came 3rd in the East of England competition and has qualified for the National Championships that will be held in February next year. This is a fantastic achievement and MVC is proud of you, Hannah!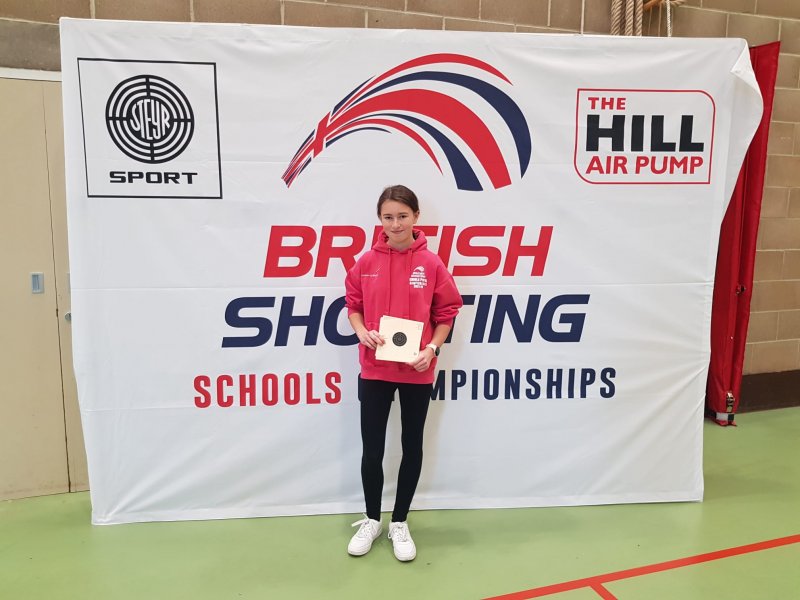 Food and Nutrition
Pupils in Year 8 were able to explore their creative side today. They selected from a range of recipes, and worked at their own pace to cook and decorate their chosen bakes. They made gingerbread people, chocolate cupcakes, shortbread biscuits, a yule log etc. Miss Giles said "They clearly enjoyed baking with their friends and a lot of icing sugar was used!" The pupils sang and danced along to festive jingles whilst they created their treats!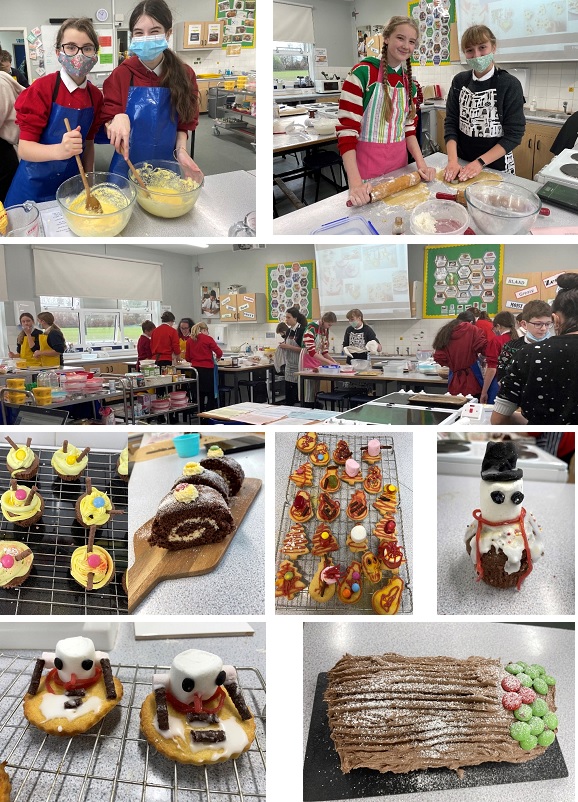 Skills for Life
As part of their Life Skills lessons, pupils have been focusing on empathy, charity and inclusion. They have enjoyed reading 'The Boy at the Back of the Class' by Onjali Q. Rauf, which is a story about a little boy, Ahmet, who is a refugee running from war in his home country who finds himself in England. Pupils have been quick to recognise the importance of being kind, inclusive and empathetic to others' situations and, as a result, they decided to do something to help children less fortunate than themselves. The class brought in gifts to wrap, made Christmas cards, and delivered them to The Salvation Army in Cambridge for them to be distributed to children in need.
Miss King said "I am overwhelmed by the pupils' generosity, organisation and Christmas Spirit!" In total 26 gifts were donated. Thank you to Y9 Life Skills class for your charitable attitude and kindness, which will no doubt put a lot of smiles on a lot of children's faces this Christmas!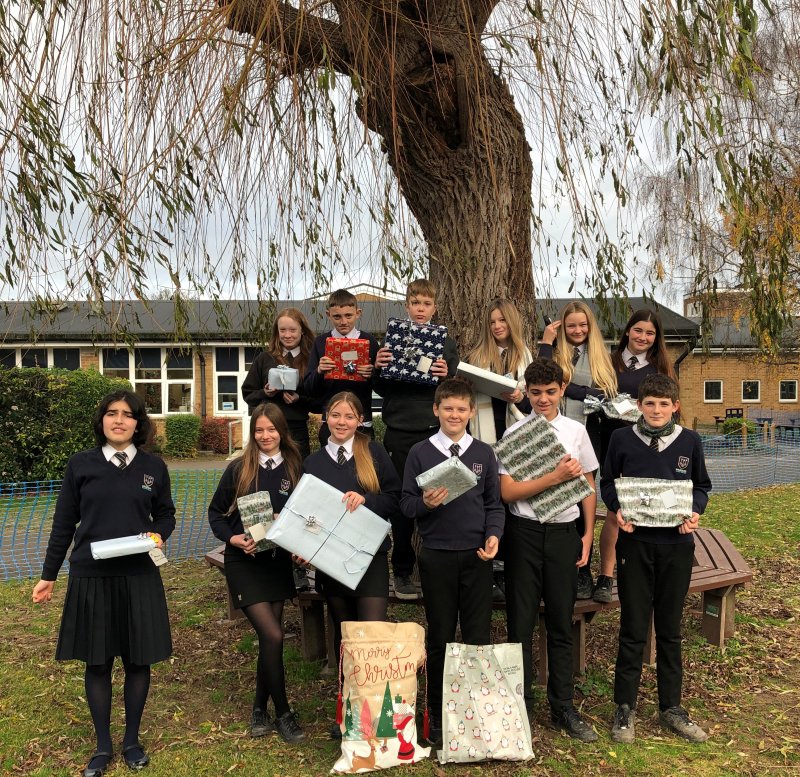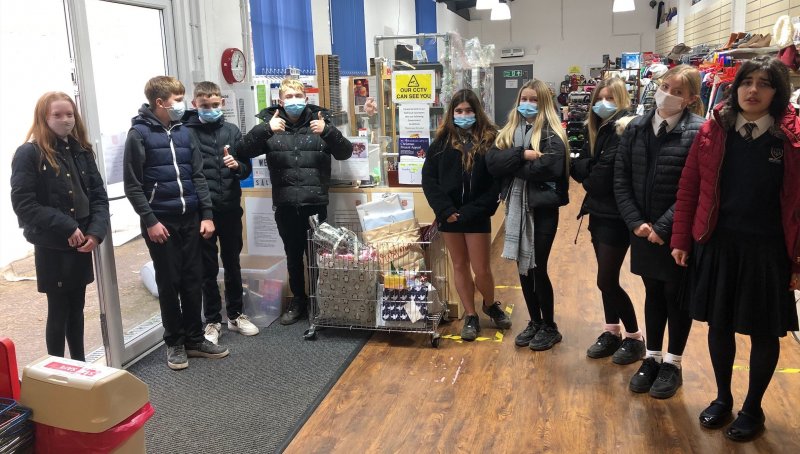 Owl Boxes
A local Owl Expert who lives in The Moor has very kindly donated two owl boxes to the college. He visited on Monday to identify suitable locations and has safely installed them within the school grounds. Owls can often be heard from our site at night, and it is wonderful to be able to care for them with help from the local community.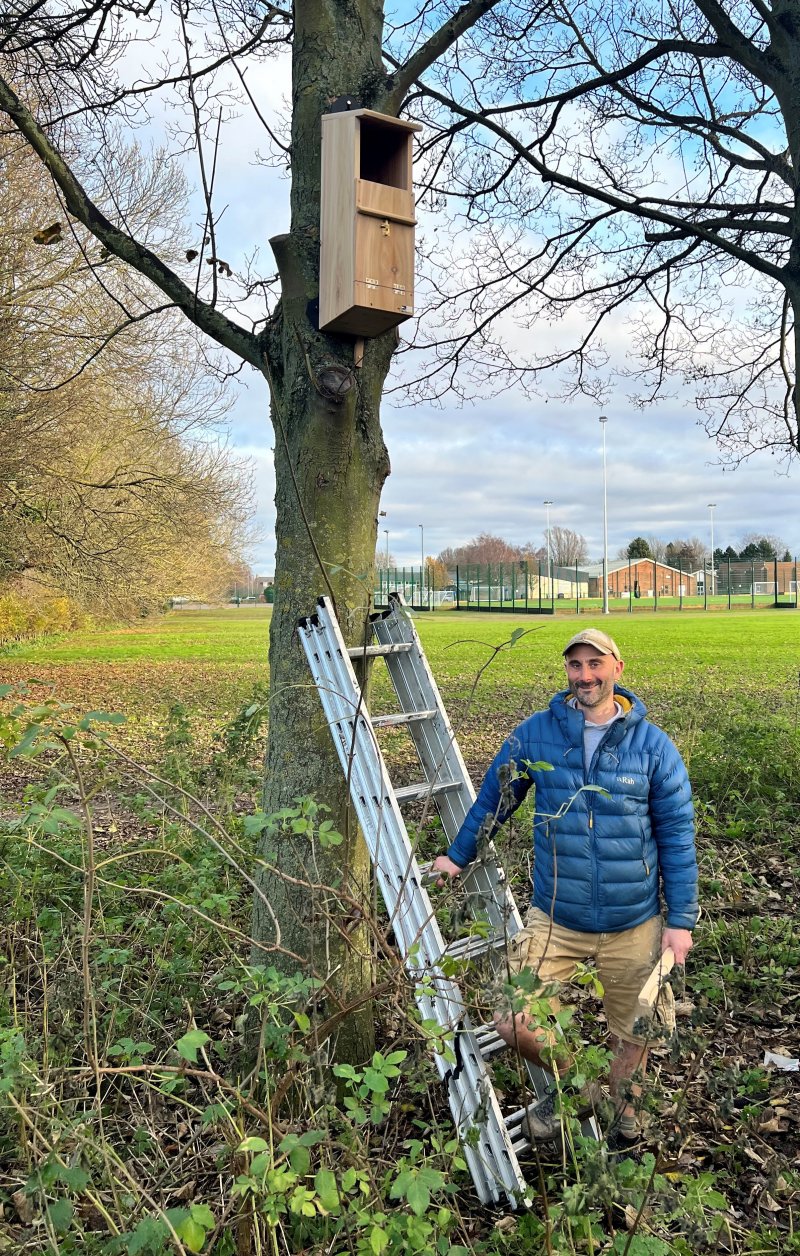 Have a good Christmas break and see you in the New Year.
Simon Holmes