Key Notes: 15 July 2022
15th July 2022
Heatwave
You will not doubt be aware of the predicted hot weather on Monday and Tuesday. We are putting in place a number of actions to mitigate the hot weather:
The uniform adjustment to allow black, loose-fitting PE style shorts will remain.
Pupils will not have to wear ties. White shirts are expected as usual.
To reduce exposure to the sun, we will close the field at lunchtime – instead pupils may remain in the lunch hall or use the Sportshall.
We will have no outdoor active PE lessons on Monday / Tuesday – pupils should still bring their PE kit.
We will continue to provide additional water – pupils should bring water bottles.
Pupils should still bring sun cream and a hat to school.
We will update you about the remainder of the week on Tuesday but expect to revert back to our usual uniform.
Next week
Year 10s on work experience Mon-Thurs
Wed 20th July – Year 7 Warwick Castle Trip and Year 8 Tenpin Bowling Trip
Fri 22nd July – Year 10s in school. Last day of term. School finishes at 2.50pm
Eco Tip
This week's tip is from Eco Group member Caitlin – having your food delivered is so much easier than driving to a supermarket and it's also eco-friendly. Instead of several cars driving to a shop, one vehicle transports all the food to one area. Shopping online also reduces impulse buying, which means less food waste. So next time you're doing the weekly shop, get it delivered!
Also, look out for products which have less plastic packaging or offer refills!

Work Experience
Year 10s have been on their first week of work experience. They have four more days next week and are back in school on Friday for a round-up of their experiences, completing their work experience booklets and finalising post-16 options.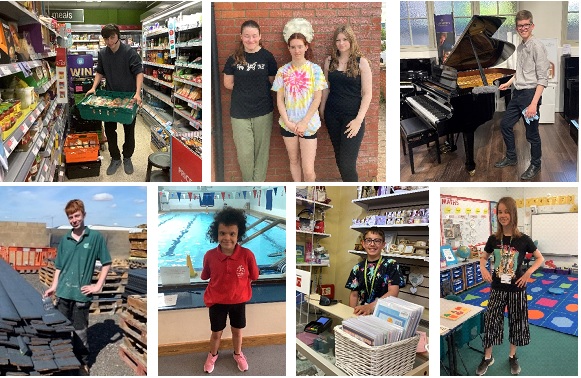 Pastoral
Accessing mental health support for our children can be very difficult currently due to the significant demands on all services since the pandemic. This places additional pressure on parents and carers trying to support our children with very limited resources, advice and guidance.
We are very fortunate in Melbourn to have a great Community with many support groups we can access. "It takes a Village" is a new group that recognises the needs of parents and carers to enable them to feel supported in what can feel like challenging times. The group can help by supporting each other, as there are people who have been on a similar journey, have first-hand experience and have come out the other side and are willing to be there to give advice, help, and chat. The group is open to residents of Melbourn and surrounding villages.
If you are interested in finding out more please contact Steph Trayhum (07710 198299), Pilan Ramiah (07815 764606) or email Mrs Deadman at cdeadman@melbournvc.org for more detail.
Youth Club
Groundwork is back up and running in Melbourn, every Wednesday at the Pavillion from 3.15-5.15pm. Run by trained youth workers, the club provides a safe space for young people to spend time with friends, take part in sports, and activities, and learn about issues that impact their lives. See more information on their website.
Duke of Edinburgh Award
Congratulations to the 30 Y10 pupils who successfully completed their Bronze Duke of Edinburgh expedition on the hottest weekend of the year so far! Setting off from Riseley in Bedfordshire, they had to walk 18km on the first day and finish at their campsite on the outskirts of Kimbolton. The pupils planned all the routes themselves and also had to make sure they all packed enough food for the whole weekend. Laden down with heavy rucksacks they all set off for their first day in good spirits. It quickly became apparent to the Assessors which groups could and could not navigate effectively. Some groups made excellent progress and checked in at the designated checkpoints and coped well. Other groups spent a lot of time getting lost and going around in circles! It was gone 8pm when the final group made it to the campsite, having walked considerably further than their planned route. Despite this, everyone's spirits seemed to recover after they cooked their evening meal.
Day two was even more challenging with the heat reaching a sweltering 32oC! Despite this, all the groups completed the 19km in a more timely fashion, and their navigation skills improved! All the participants enjoyed the weekend and rose to the challenge. Everyone went home tired but in good spirits having learnt much about themselves and their teammates. Thanks to our assessors from Azarias Outdoors for their guidance throughout.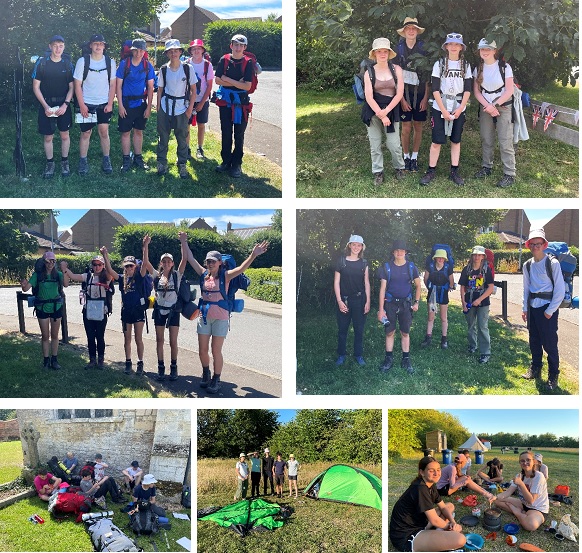 Year 8 MEP Trip
MEP pupils from Year 8 had an educational trip to the British Museum and Chinatown on Tuesday. This learning adventure is aimed at sparking interest above and beyond a pupil's language level and encouraging further exploration of Chinese culture. Pupils had an opportunity to view some amazing historical artefacts and finish their MEP worksheets during the trip. At the end of the day, they enjoyed a meal at a Chinese restaurant in Chinatown.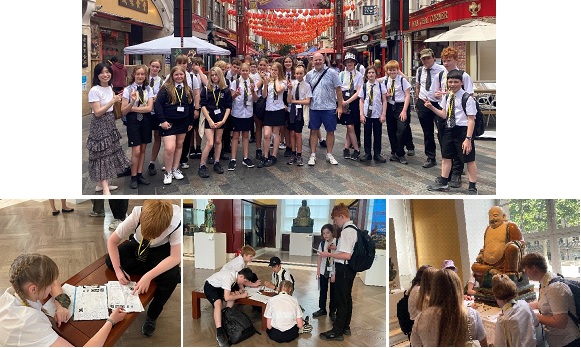 Year 9 MEP Intensive Learning
Year 9 MEP have been participating in an intensive online learning programme for two weeks, run by the British Council and South West Jiaotong University. Students have learnt about traditional Chinese crafts such as weaving, as well as Taichi, KungFu and Chinese poetry. Some students performed an excellent rendition of a Chinese pop song by TF Boys using their own instruments during the online music festival, and have also had the opportunity to speak to Chinese peers online and practise their conversation skills.
Physical Education
With Sports Day ticked off the calendar and schemes of work coming to a close, the PE department have been creative with some of their lessons. Here's one of our students Josh in Year 8 taking part in a golf lesson (can you spot the ball in the sky!?). The pupils worked on technique then created their own course. Other recent activities have been tennis, with many children trying to emulate some of our Wimbledon heroes, Danish long ball and dodgeball now that the Sports Hall has been cleared of all the exam tables and chairs.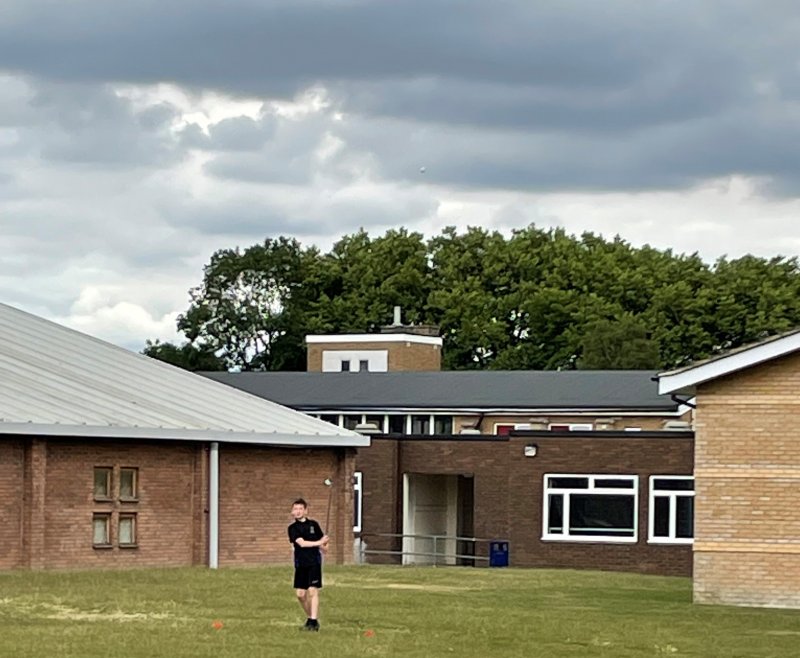 English
Year 8 pupils in Mr Bacon's class have been doing some great work developing their own characters and stories for a creative writing assessment. They have been focusing on:
character development;
effectively structuring their narratives by creating structural mountains and storyboards and
establishing hooks throughout the narrative to engage the reader.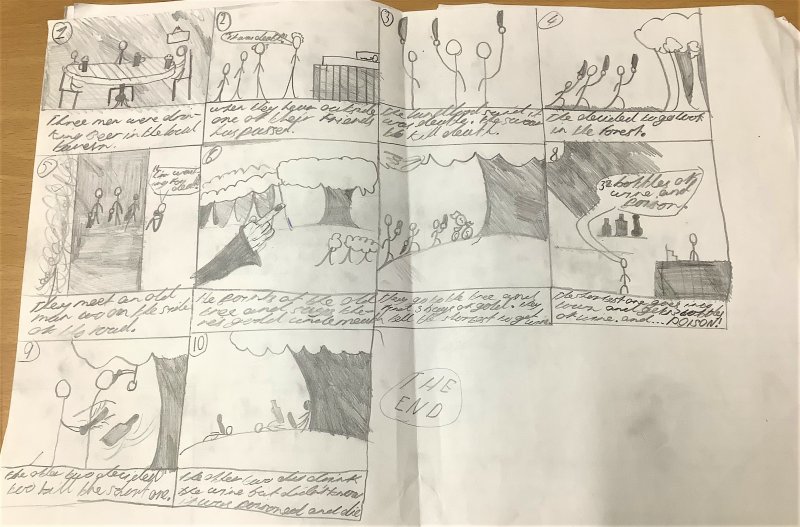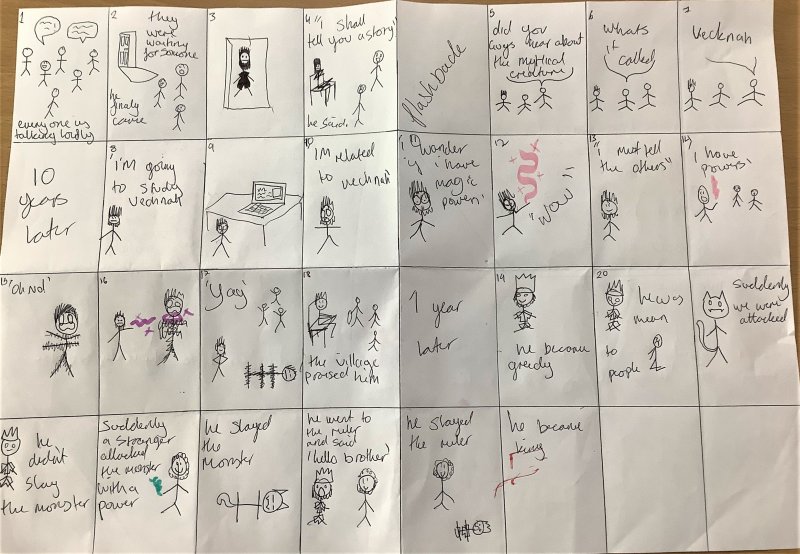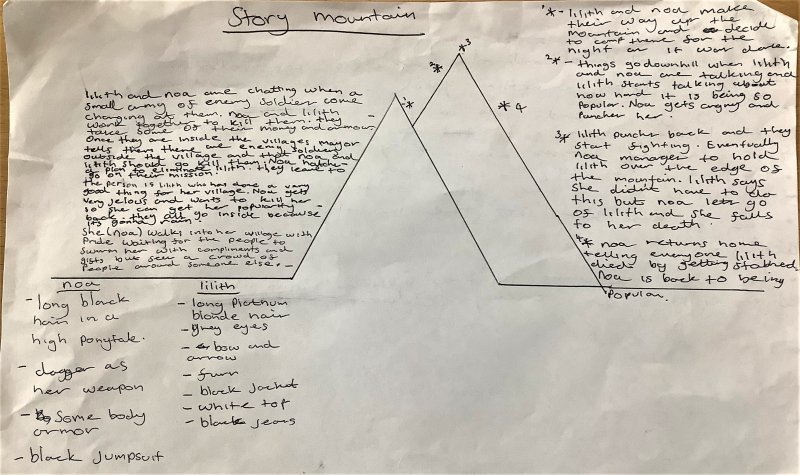 Water Safety
As the weather gets warmer, please make your child aware of the dangers of swimming or paddling, bodies of open fresh water, including rivers, lakes, and reservoirs.
The water may look inviting, but there could be hidden dangers such as:
very cold temperatures - the water can be colder than expected, even in warm weather
hidden currents - there can be strong underwater currents, which can trouble even the most confident of swimmers
reservoirs are often very deep - it is difficult to estimate the depth and they can be deeper than people expect
there may be hidden debris or underwater hazards which can cause injury, including weeds and plants which can entangle people under the water
if it's polluted either with chemicals, algae, bacteria or other germs and it could make you ill
it can be very difficult to get out (especially on steep slimy banks)
there are no lifeguards on duty
the remoteness of some of these places can also hamper and delay rescue attempts
More information is available here.
Centre 33 Wellbeing Talks on Self-Esteem and Confidence
If you would like to understand more about what can affect self-esteem and confidence and learn ways to improve how you feel about yourself, then join one of the online talks this month. See the poster below.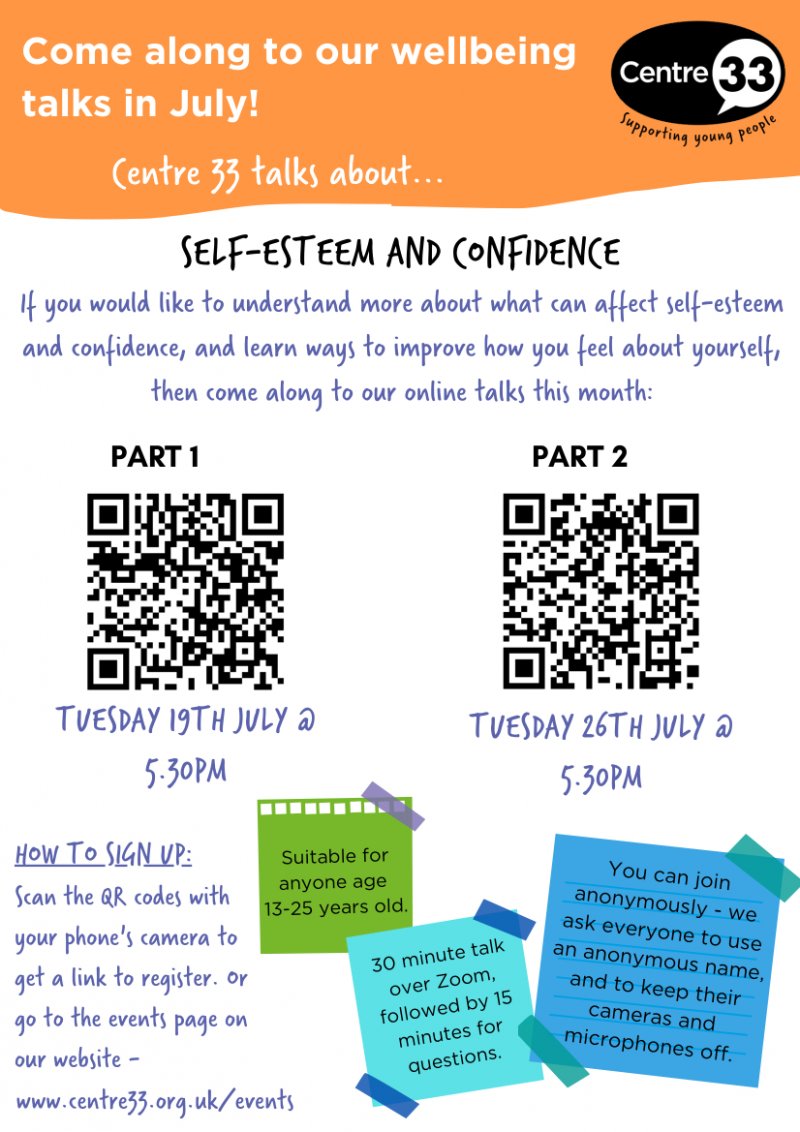 Cambridgeshire Hockey
Cambridgeshire Hockey will be running a series of summer camps, suitable for all levels of playing ability at Cambridge University, CB3 0EQ @ £15.00 per player, per session:
Week 1: 3rd – 5th August (Registration closes 31st July)
Week 2: 15th – 17th August (Registration closes 12th August)
Week 3: 22nd – 24th August (Registration closes 19th August)
Please register here or email: jgrammercambshockey@gmail.com for more information.
Vacancies
We are currently advertising for a number of vacancies see our website for more details.
GCSE Art Exhibition
The art exhibition is still on at the Melbourn Hub until July 21st. Please take the opportunity to see the fantastic art produced by our Year 11s. The virtual art exhibition can be viewed here.
Year 8 Art
Y8 Pupils watched this video about stained glass artist Jamal Rafay and were inspired to design their own stained glass window celebrating the NHS.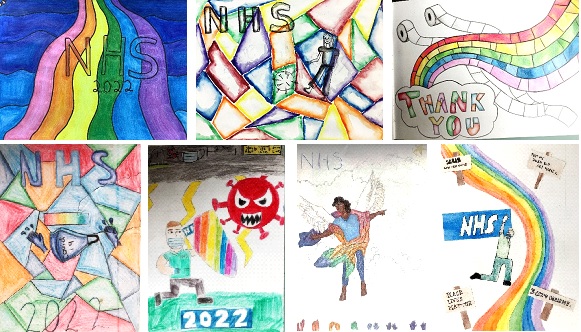 Have a good weekend,
Simon Holmes