Key Notes: 13 May 2022
13th May 2022
Valuing our community
This week we were made aware of an act of kindness by one of our pupils when a member of the public called in to thank them for helping to return their mobile phone which also contained credit cards and cash. We do not know the name of the pupil, so I am mentioning it here because MVC is proud of them! We were also delighted to be able to host the Melbourn Football Club Quiz Night recently and have received a lovely letter of thanks from them. The event raised £145 for CPSL Mind.
Final reminder that Y10 pupils need to secure a work experience placement by Wednesday 25th May. Please contact Mrs Brown if you need more information: tbrown@melbournvc.org
The professional photographer was in school last week taking pictures of the school in action. We are in the process of updating the school website and MVC social media images, so keep an eye out for some great new photos. Here are a few below:

Next week:
Tuesday: Primary Tennis Festival at MVC
Thursday: Year 7 Parents' Evening
Pastoral Support
YMCA has various webinars with information for parents and carers including behaviour and mental health. This week we are sharing the webinar on anxiety. This is something we are seeing increasingly in school amongst all year groups. They focus on what anxiety looks like in school, how to talk about it, and how to support children in managing it. We aim to share a series of these webinars in the coming weeks via KeyNotes.
Anxiety in Children: Strategies for Parents and Carers
History on the Doorstep
Miss Joyce and Mr Tobutt took their Year 7 historians to visit All Saints' Church in Melbourn this week to examine the architecture, cultural and religious significance of this fantastic local building.
Next week pupils will start a new history topic on the importance of the Church in the lives of medieval people. They will be looking at superstition, the portrayal of Heaven and Hell, and how this influenced the behaviour of the English peasantry.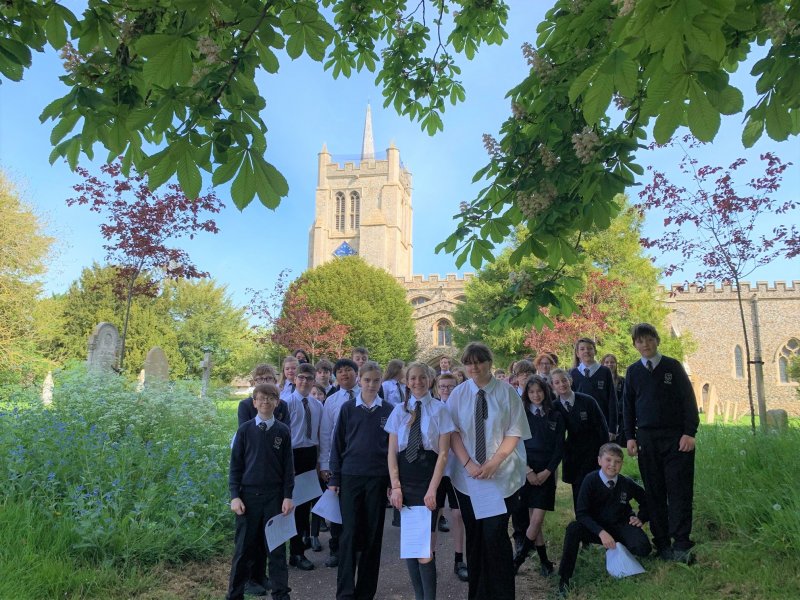 Physical Education
Lots of fun was had at the KS3 Rounders & Cricket Club on Monday. The sun was shining, and it was great to play team sports outside. If any more pupils would like to join the KS3 Rounders & Cricket Club, please would they come along on a Monday after school or see Mrs Coghlan or Mr Mills.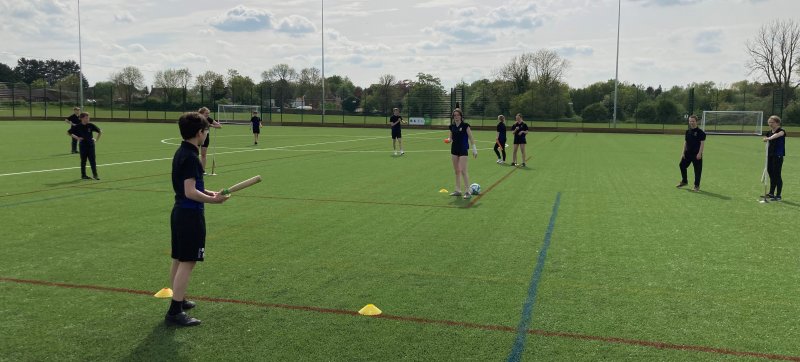 A mixture of our Year 9 & 10 Girls Football Activators have been working hard to encourage more girls to play football. The girls have been working together on their leadership & marketing skills to provide opportunities for their younger peers to participate in an afterschool girls' football enrichment at MVC. Last Friday the Football Activators kicked off their initiative by leading taster sessions during the Year 7 Girls PE lessons; the Football Activators showed lots of passion and came up with some great ideas to get more girls playing football. All Year 7/8 girls are welcome to come and try the Girls' Football enrichment on a Tuesday after school.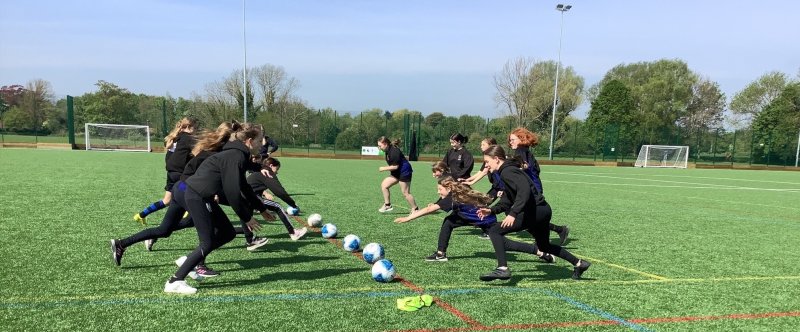 Drama
Congratulations to Keeley on her fantastic solo performance of the song "Marilyn Monroe" as Mrs Johnstone from the musical Blood Brothers as part of her AQA Drama Award. She even made the apron herself! At the end of her performance, Keeley found out that she has passed all the required qualifications to get onto the Performing Arts course at Cambridge Regional College. Well done Keeley, we wish you every success in the future!

"Float like a butterfly, sting like a bee..." Year 10 pupils have started their GCSE Drama Devising Component - working in groups to create an original performance based on their response to 'Muhammad Ali'.

Eco Group
Eco-tip: Just lost your last hairband? If you have an old pair of tights you can cut them up to make loads more!
Science – Primary Liaison
Dr Wilson, our Head of Science, has been paying flying visits to some of our feeder Primary Schools this week. Lots of the young KS2 pupils are learning about living things at the moment and he was really pleased to see that the pupils in Melbourn Primary School even have newly hatched chicks! Over the course of the next half term, Dr Wilson will be visiting these schools, helping them to research mini-beasts and their life cycles.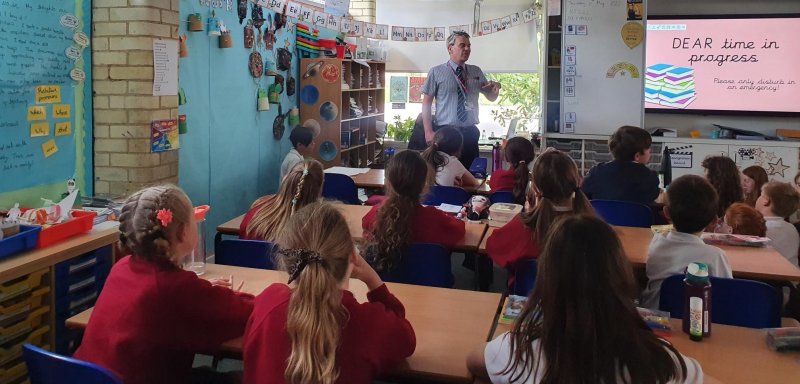 STEM Club
The STEM club led by Dr Wilson and Miss Piper has re-launched this term with a bang! So far they have explored the explosive properties of metals, and made 'divers' to examine the density of water. This week the pupils have planted seed balls, inspired by the BBC TV series 'The Green Planet'. These must be carefully nurtured for around 4 weeks to allow the seeds to germinate and should result in some sprouting of the wildflowers which will be planted out. There are lots more exciting activities planned for this term, so if any more KS3 pupils would like to join they are very welcome – just come along on a Wednesday!
The STEM club is working towards gaining a 'STEM Clubs Quality Mark Award – Bronze Level'. They will have to show evidence of meeting certain criteria, which will be gathered over this term, and then submitted to the STEM Learning Assessment team. Hopefully, a decision will be made by next term if they have been successful. Good luck!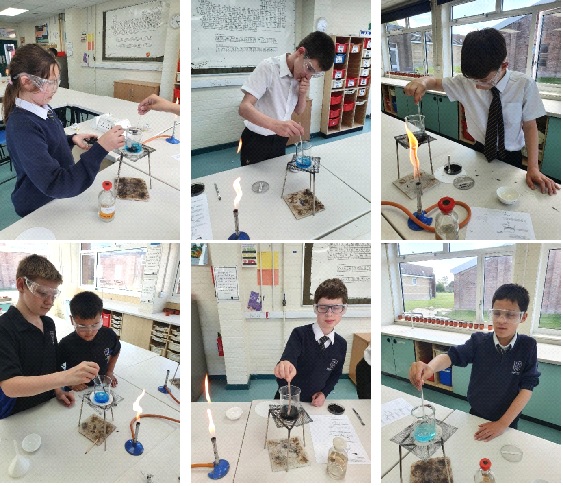 Meldreth to Melbourn Underpass
Amanda Silvester and Sarah Grove from South Cambridgeshire Communities Team came to MVC before Easter and spoke to some of our Year 10 pupils about the community consultation on the Underpass between Melbourn and Meldreth railway station. The survey has now been launched and the community team would like pupils, parents/carers and staff who would use this facility, either for school or for leisure, to complete the survey. The flyer at the end of this newsletter has a QR code to take you to the survey or you can follow this link.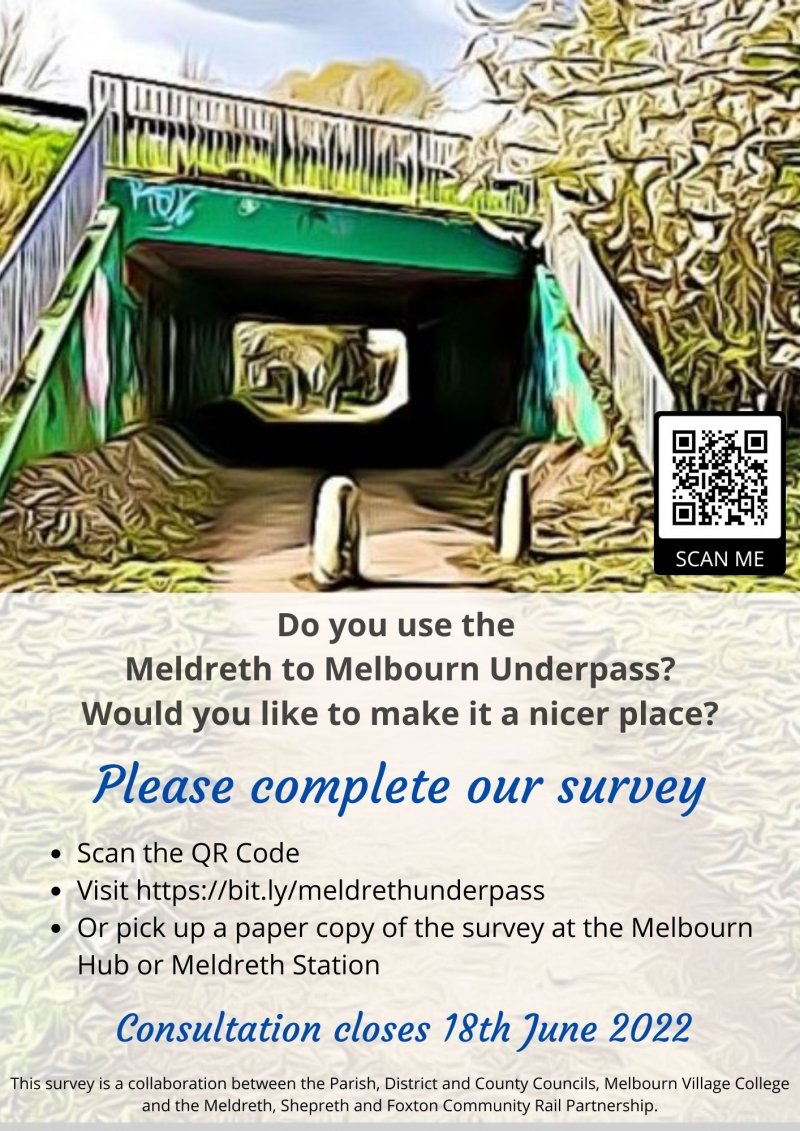 Fostering in Cambridgeshire and Peterborough
Cambridgeshire County Council have asked us to share some information with you about fostering with your Local Authority – and what you can do to help them find safe, stable and loving homes for vulnerable children and young people.
"The Cambridgeshire and Peterborough Fostering Service receives around 50 referrals every month, and we are doing everything we can to provide nurturing environments for children and young people who need our help. We particularly need people who have experience of working with children, such as teachers, teaching assistants and other professionals from the education sector.
The Local Authority is uniquely placed to support foster carers in the following ways:
We are a not-for-profit organisation and invest in our children, young people and foster carers
We enable young people to stay close to their family, friends and schools
Our carers are the first to hear about the children and young people who need a home and a loving family
If a decision needs to be made about the child, we can make it quickly as the Local Authority is the decision-maker
We offer our carers excellent bespoke training and support
We are competitive in pay against IFAs with additional tax savings"
If you can provide a safe, loving environment in which a child or young person, who cannot live with their birth family, can flourish, please get in touch:
Call 0800 052 0078
Text FOSTERING to 60777
Follow @CCCFosteringservice or @PCCFostering on Facebook"
Free Healthcare Courses
The Health and Care Sector Work Academy (HCSWA) is a Cambridgeshire and Peterborough Combined Authority project, run by City College Peterborough, supporting residents across Peterborough and Cambridgeshire to gain a career in health and care.
The project helps anyone in receipt of benefits (whether employed or currently unemployed) train for the Health and Social care sector. They offer a range of FREE flexible courses that all fit around school hours for those that have caring responsibilities. Bursary support with childcare, travel and caring for a dependent adult is also available. HCSWA work with a network of employers who guarantee an interview on completion of the course. You could be qualified and starting your new job in as little as 4 weeks! Full details can be found here
Have a good weekend,
Simon Holmes