Key Notes: 10 December 2021
10th December 2021
Arrangements for the start of next term
Earlier this week you should have received and email clarifying arrangements for Covid testing at the start of next term. In order to facilitate this testing, we will be staggering the start dates for the different year groups. The order for returning to school will be:
Thursday 6th January: Year 11 and 7 return and have a Covid test at school; all other year groups will have lessons via Teams, still following their timetable
Friday 7th January: Year 8 and 9 return and have a Covid test at school; Year 11 and 7 continue; Year 10 continues to have lesson on Teams, following their timetable
Monday 10th January: Year 10 return and have a Covid test at school.
Each pupil will be tested once on their first day back in school before we revert to asking
families to perform the tests at home twice-weekly (Sunday and Wednesday). We already have testing consent for all but a few pupils and propose to carry that over to January 2022. Testing remains entirely voluntary (but remains strongly encouraged as a meaningful COVID-19 control). If you do not wish your child to be tested, please email Office@melbournvc.org.
We have previously relied on wonderful volunteers (parents) to assist with the testing in school. If you would be willing to join our volunteer team and (i) complete a short piece of training and (ii) spend some time in school in January, please indicate your willingness by completing this short form: https://forms.office.com/r/UaSt8iWeah and we will contact you shortly.
Sunrise
Being a Village College, we are fortunate that our school is in such a beautiful setting. One of the benefits of the shorter days at this time of year is that we get to see the lovely sunrise reflected in our stained-glass window.

Rewards Events and Christmas Jumpers – Wednesday 15th December
On Wednesday next week we will be holding our annual Rewards afternoon. This is an occasion for us to present prizes to pupils who have worked hard, and acknowledge outstanding achievement. We did not take part in the official Christmas Jumper Day this year, but instead, if they wish, pupils can wear a Christmas Jumper on the Rewards Day for a donation of £1 to Save the Children. Please note this is not a non-uniform day – pupils should be in full uniform or wearing a Christmas jumper in place of their school jumper (other school uniform – shirt, tie, trousers, skirt etc. remains as usual).
IPads for Yr7 Update
There was big excitement in the IT technician's office this week when lots of boxes of iPads arrived, ready for the launch of the iPads for Learning project with year 7s in the New Year!
Christmas Concert 2021
Look out for details of the online Christmas Concert taking place on Wednesday next week.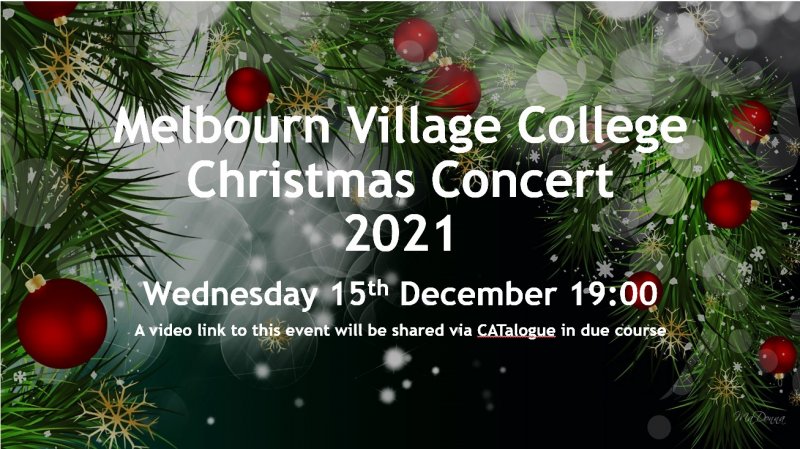 It's Not Rocket Science!
Pupils from Year 5 Melbourn Primary School visited MVC today for an exciting science lesson with Dr Wilson about solids, liquids, and gases. The pupils learned about particle arrangement and energy in these states and were shown a spectacular demonstration of the thermite reaction (which is used to join train tracks together!) Pupils now have a new favourite scientist (move over Einstein and Newton!)
Leavers' Hooded Sweatshirt
Reminder that the deadline for ordering leavers' Hoodies is Monday 13th December. It will not be possible to take any more orders after this date.
Online Safety Newsletter – Dec 2021
The latest edition of our Online Safety Newsletter is being sent out with this edition of Key Notes and can be viewed online here. This month's edition looks at Parental Controls for games consoles, tablets and smart phones. There is a section on a new checklist created by the Internet Watch Foundation – TALK – which aims to increase awareness of the risk of online child sexual abuse. It also contains information on staying safe with chat in online games; the risks of online location sharing; free personalised online safety toolkit; and helping children with autism stay safe online.
Cambridgeshire Constabulary Safer Schools Newsletter
The December edition of Cambridgeshire Constabulary Safer Schools Newsletter is being sent out with this edition of Key Notes. The subjects covered are as follows:
Don't ask Santa for an e-scooter – advice on legislation and rules about e-scooters
Knife Crime Awareness week of action – update on results and activities
The 12 frauds of Christmas – advise and awareness regarding charity frauds
Discord: what parent/carers need to know.
English: Christmas Poetry Competition
Following the recent visit by poet Ash Dickinson, we are pleased to announce a Christmas poetry competition for year 7. See the poster below for details.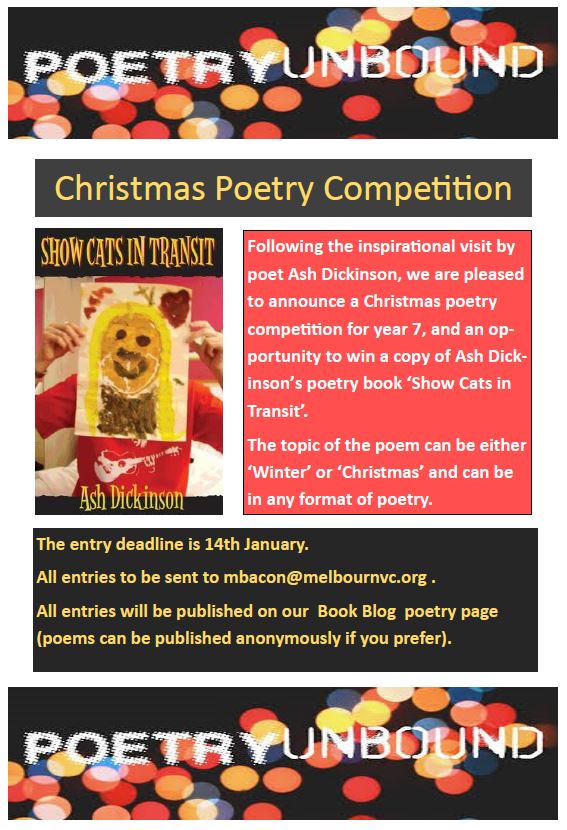 Physical Education
Our Year 11 boys continued their impressive run in the ESFA Small Schools Cup by defeating Debenham High School from Stowmarket amidst storm Barra on Tuesday! The wind howled, the rain hammered down and any grass pitch would have been waterlogged, but we were able to play on thanks to the amazing new AstroTurf. The boys looked at home as they raced into a wind-assisted 7-1 half-time lead! Whilst we had chances to build on this, we eventually ended up winning 7-2 despite also controlling large periods of the second half.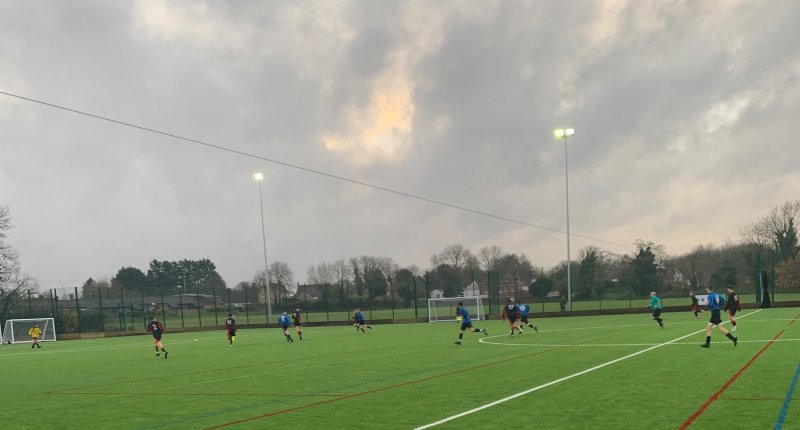 Mr Barlow was pleased with the intensity of the performance, particularly in the first half; "the boys have taken earlier feedback onboard and are starting to gel as a team. We know there will be tougher challenges to come and it's important we stay disciplined".
MVC pupils also did really well in the District Schools Cross-Country competition at Netherhall this week. The weather was very wet and cold, but everyone gave 100%. Annabelle H came 14th in the Inter-girls' race and secured herself a place in the next round. We look forward to hearing the team event results in due course.

Upcoming sporting events
We are pleased to have organised several outdoor fixtures this term. In fact, we have been ahead of the game compared to other schools in the area by giving many of our pupils the extra-curricular sporting opportunities we think are so important. We have followed Sport England's advice, recognising that although the risk of spreading Covid-19 outside is lower, it is necessary to remain cautious. We have made use of our two new changing rooms for boys and girls, enabling us to better separate pupil groups and schedule more enrichment activities as a result. Head of PE Kelly Coghlan is excited for next term; "We are set to welcome another PE teacher in a training capacity and are going to make full use of our new AstroTurf pitch. In addition to this, Melbourn Leisure Centre have kindly agreed that KS4 pupils can start to use the fitness suite again in some of their core PE lessons. This will also benefit their general wellbeing as exams are approaching!' Pupils should look out for their new PE timetable for January, particularly as many of the KS3 boys will have swimming.
Date for your diaries: Wednesday 12th January: Year 8 & 9 Boys Football v Comberton at home 3.45-4.45pm
Outstanding Sporting Achievements
In this week's newsletter we are delighted to acknowledge the inspirational sporting achievements of two more pupils, Aliya L (Y9) and Elias R (Y10).
Here is Aliya's story…
Aliya's sport is Taekwon-Do, which requires a lot of hard work and perseverance to achieve success. We therefore congratulate Aliya who, on Tuesday, passed her 4th Kup grading in Taekwon-Do, gaining her blue belt! The examiner commented on how good her balance was when kicking and she had a good knowledge of patterns of over 30 moves! She has attended Taekwon-Do every week since the club started, just over 3 and a half years ago. During lockdown she attended 2, sometimes 3 sessions a week via Zoom. She only has 3 more gradings to go before her black belt, and we wish her every success.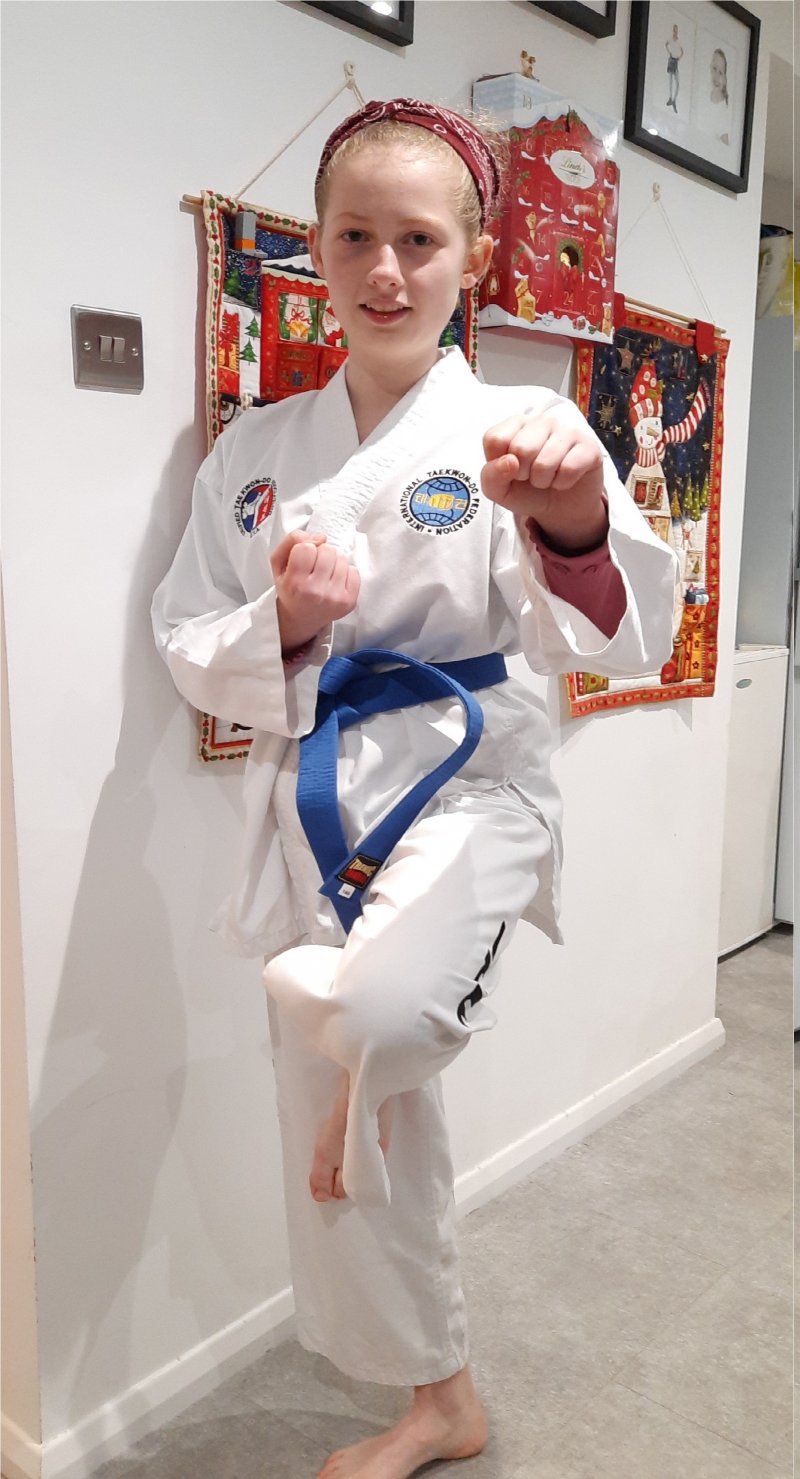 Here is Elias' story…
Elias started playing basketball aged 9. He represented Cambridge Cats Basketball Club at U11, U12 and U13 levels. Whilst playing for Cambridge he was invited to play for and represent his County, and through his regional performances he was chosen for the Basketball England's Aspire Development programme.
Elias' inspiration comes from wanting to be the best player he can be. His biggest influences are Kobe Bryant and Derrick Rose, both of whom play/ed at the highest level in the NBA. Elias is inspired by their hard work, dedication, and sacrifice to achieve their ambition.
In 2020 Elias was invited to trial for Leicester Riders, the reigning BBL champions and one of the most successful clubs in UK basketball history. He was selected and currently plays for the Leicester Riders U16 premier team, part of the Leicester Riders Academy.
In August 2021 Elias was invited to attend the U16 England boys training camp in Manchester. He was one of only 24 players in the UK to be invited and one of only two 14yr olds to be part of the squad.
This year is his first season in U16 basketball. He trains twice a week in Leicester, getting home at 11.30pm. Games this season include trips to Glasgow, Newcastle, Manchester and Birmingham. Elias is enjoying playing at this level. He is averaging 12pts per game and creating lots of opportunities for teammates. He and his teammates have recently made it through to the quarter finals of the National Cup Competition. They face some tricky matches against Manchester teams – both of whom have several England players and a few 6'8" 15-year-olds!
Elias has been offered a scholarship in the USA to continue his basketball journey. He has also been invited to visit Charnwood College to learn more about the scholarship and the basketball academy that is supported by Loughborough University and Leicester Riders. No decisions have been made yet. His goal is to continue to work hard and ultimately play professional basketball in the USA, Europe or Asia.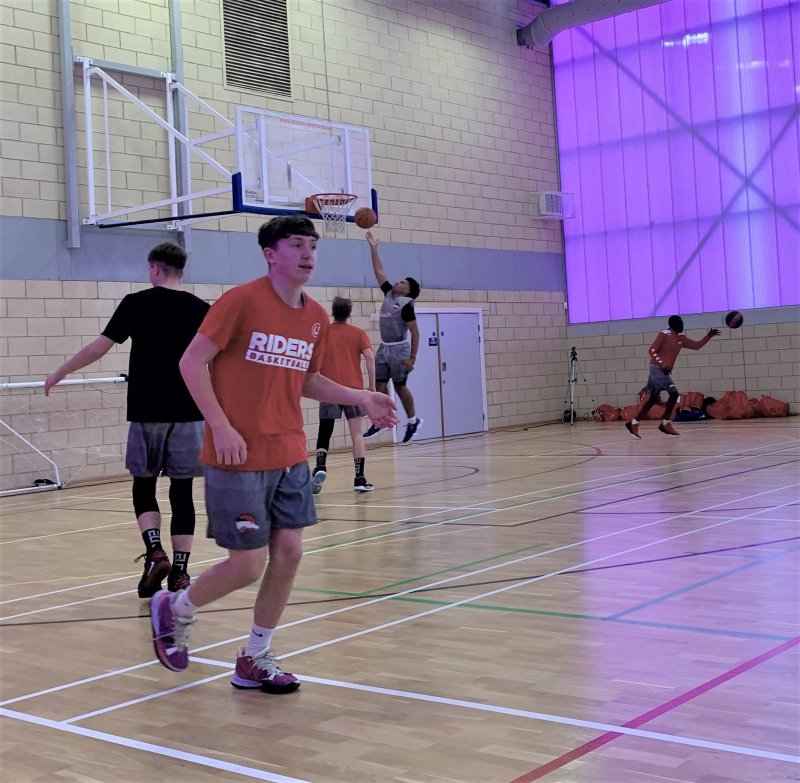 Well done Aliya and Elias. MVC is proud of you.
If your child would like to share their outstanding achievement in any area, as inspiration to others, please let us know by emailing office@melbournvc.org
Good News for Everyone – Visit to RE
Today 7YC met Jane Mann, street pastor and a representative from Good News for Everyone, formerly the Gideons. Jane has been working in the community providing Bibles and discussing the Christian faith with a great variety of people and organisations including hotels, local football teams, shoppers and NHS workers. 7YC discussed an interesting range of moral and religious topics with many asking insightful and intelligent questions. One pupil commented "It was good to hear from someone who actually works in the Church, it gave it me a useful boost to what we've studied in class". Miss Joyce, RE teacher, said "We haven't had as many outside visitors over the last two years so it was really productive for the Humanities Department to re-start our visitors programme once more. There is so much beyond the classroom to explore in education".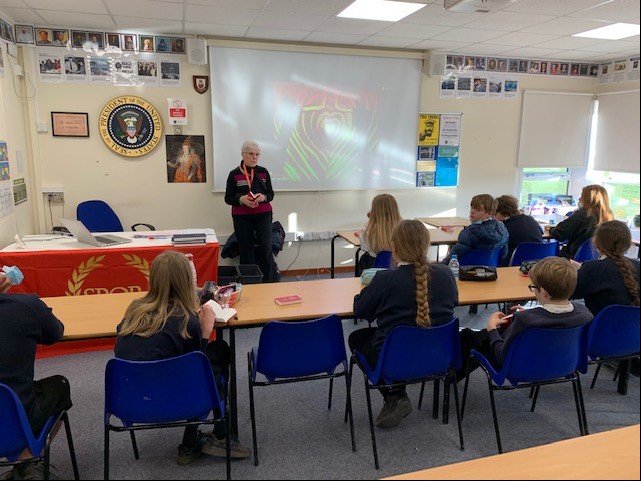 Have a good weekend,
Simon Holmes