Key Notes: 08 October 2021
8th October 2021
Covid Update
As you know, along with other schools in Cambridgeshire we have been asked to put in place some additional Coronavirus mitigations, mainly to do with the wearing of masks. We'd like to say a huge 'thank you' to yourselves and the pupils who have adapted really well to this change. We all hope that it will only be for a short time (until half term) – please support your child(ren) in remembering to bring masks to school and test themselves twice weekly at home.
Pupil Photographs
The proofs of the school photos are now back in school and will be handed out to pupils during Tutor Time on Monday. The proofs include details of how you can order copies online at DSP Photography.
Enrichment Activities
More enrichment activities have been happening this week. Here are pictures of Running Club and Minecraft Club. The Autumn Enrichment programme signup form is still available from this link here.

MVC Wins Seneca Learning Challenge
Well done to pupils in all years who had a convincing win against Aylsham High School in the Science Seneca Learning Challenge. This is an informal and fun competition which helps pupils learn and revise science topics. Bring on our next challenger!

Physical Education
Our Year 10 boys football team bowed out of the English Schools Cup on Monday, losing narrowly to Haileybury Turnford School from Cheshunt. Callum scored a neat free kick and we battled hard, eventually losing 2-1 to a late goal. Haileybury Turnford boasted a couple of very athletic forward players and Mr Barlow was encouraged by how well the boys played; "to go down to a penalty and a fortunate strike from outside the box was frustrating".
This week our Year 10 Sports Leaders had the opportunity to attend a Netball Youth Umpire Course. The course introduced the principles of umpiring and by the end of the 2 hours pupils were able to identify obvious infringements, communicate using correct voice, whistle and terminology and understand positioning and movement as an umpire through a game. Well done to Philippa F, Emma B, Daisy N, Jessica B, and Isabel S who completed the course. There are plans for a basketball activators' course, rugby, dodgeball, football and first aid course in the near future.
October half term sports camps are now open for booking:
Athletics: Tuesday 26 October 2021. Venue: Cambridge University Athletics Track, Wilberforce Road, Cambridge CB3 9AD
Netball: Wednesday 27 October 2021. Venue: Impington Village College sports centre, New Road, Impington CB24 9LX.
For details and booking click here.
South Cambridgeshire District Council are also looking for volunteers for the above events. For more information or to volunteer, please email Helen.Stepney@scambs.gov.uk
English
Thursday was National Poetry Day. The official topic this year was 'Choices'. Some of the pupils looked at poems and decided that one of the biggest choices you could make was to follow your dreams. They produced some lovely work on this subject. Here is an example from Chloe S in Year 7.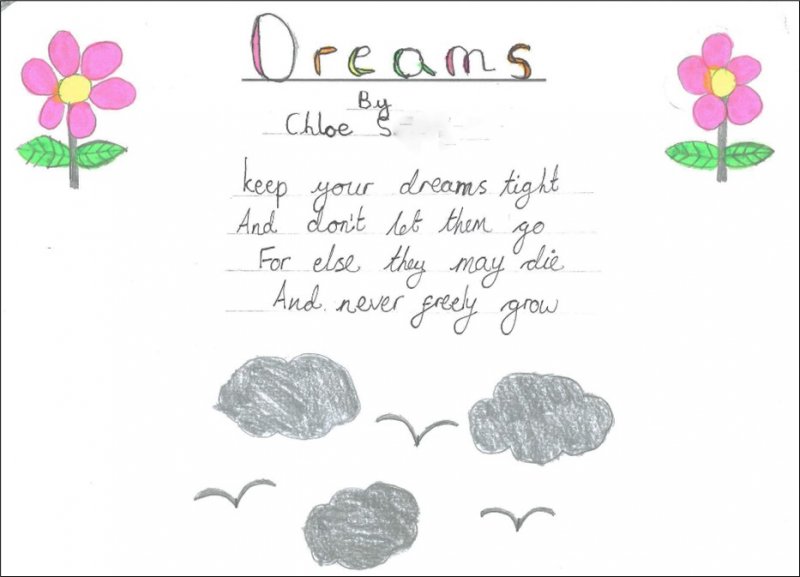 Wellbeing Wednesday – Form Challenge
This week was the last week of our form challenge! Tutors encouraged pupils in their forms to try to do something they can feel proud of and can see progress over time to help promote and raise their awareness of wellbeing. Enthusiastic pupils from all forms took on individual or small group challenges. Hawking 10 completed the crossbar challenge to see how many times they could kick the football and hit the cross bar. They also challenged themselves to see how many times they could score a penalty with the hope that they would achieve 7/10. It was nice to see them enjoying something that they had set up themselves. Meanwhile, Franklin 8 decided on a ball challenge. They had a tennis ball, mini football and mini Irish rugby ball. Pupils had to pass a ball without dropping it to see how many passes they could get consecutively. In the end, the girls beat the boys by 19 to 15. Luke J and others also tried their hands at juggling, with varied rates of success! Pupils have engaged extremely well with these challenges. Next week we have World Mental Health Day for which we will do some more awareness-raising events and activities.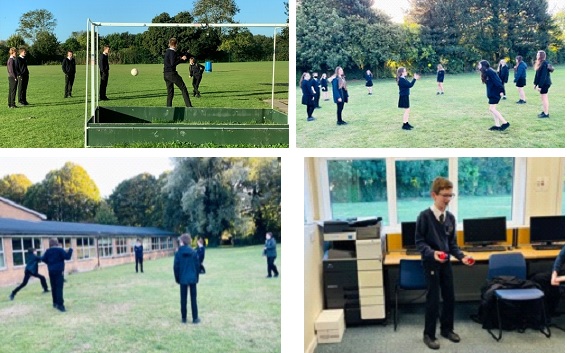 Spanish
Year 8 pupils have been practising writing sentences using the verb tener. Mrs Stanley has put their sentences on the board for some colourful revision!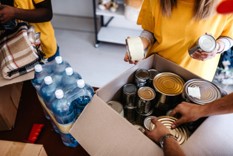 Post-16 progression for MVC pupils with special needs
MVC Student Support Centre staff are delighted to have taken delivery of a garden shed made by co-workers at the Phoenix Trust. Anna Ghale, SENCO/Skills Base lead said "It's perfect for storing the tools we use for bespoke gardening lessons with our Year 10 and 11 pupils who will be doing AQA unit awards as qualifications as an alternative to GCSEs. We will also be doing gardening with some Year 7-9 learners who have lessons in the Student Support Centre."
The shed was made for MVC by Woody and his co-workers at the Phoenix Trust - a social enterprise and charity based in Milton near Cambridge. It offers experience of the world of work to young people and adults with a range of learning disabilities, mental health and/or behavioural issues.
Former MVC pupil, Ewan W, help to make the shed and it has been wonderful to see his progression from school to this supported co-worker placement. "Enterprises such as Phoenix help our pupils with moderate to severe learning disabilities see a pathway for them post-16." said Mrs Ghale.
You can find out more about Phoenix and some of their wonderful products they sell including garden furniture, planters, bird boxes, concrete ornaments, and paving stones that the co-workers make on their website here.

Pupil Wellbeing
The October edition of Centre 33's Newletter is being sent out with this edition of Key Notes. Topics covered include what help Centre 33 can offer to young people with their mental health via counselling and guided self-help, housing, sexual health, organising their money, progressing with jobhunting and more. This service is available from some of our hubs and a helpline, Young Carers Project and Counselling in Schools.
There are also links to helpful videos and other resources here.
All young people can self-refer into Centre 33 support services on 0333 4141809, email: help@centre33.org.uk or WhatsApp: 07514 783745
Attendance FAQs
As we progress towards winter we thought it would be useful to try to make parents/carers aware of some key information regarding attendance in school. An MVC SchoolPost has been sent to parents this week. We know there are a number of milder illnesses prevalent in the population, and that some pupils may feel anxious about coming to school. We thank all parents for their continued efforts in supporting excellent attendance and please do speak to us if you have any questions or concerns.
Why is 96% and over the target for attendance?
At 96% attendance – 73% of students achieve five good grades at GCSE (9-4) including English and Maths, however even at 96% attendance a student would have missed 45 hours of learning.
96-100% is the 'Excellent Attendance' group. At 90% attendance your child will have missed 97 lessons in one year! If this trend went throughout the 5 years a child is at secondary school, this would equate to half a year of missing school time in total.
The research shows that for every 17 days missed from school a child is likely to drop one GCSE grade in EVERY subject. Only 35% of those with attendance between 80-90% will achieve five good grades (9-4) at GCSE including English and Maths.
I have received a first letter about attendance. Should I be worried?
No. At this stage communication of this kind is intended to keep you updated with your child's attendance level and, where there appears to be an increase in absences, to see what we can do to help you and your child to ensure they are coming into school regularly.
What is meant by a session?
A school day is made up of two sessions, the morning session and the afternoon session. As an example, 5 schools days equates to 10 sessions.
My child does not want to come to school. What should I do?
Parents/carers have a legal duty to ensure that their child of statutory school age is receiving an appropriate education. If your child is not wishing to come to school, then we need to know so that we can look into the reason(s) for this and work out what we can do to help.
If my child contacts me during the school day, should I collect them?
No. Absences for illness will ONLY be authorised if the child has been assessed by a first aider and school have requested a child to be collected. If you remove your child from school without consent, then the absence will be recorded as unauthorised and your child may face sanctions for using their phone within the school day.
If you have concerns, please call the school office to speak to the attendance team or email absence@melbournvc.org.
Staff Professional Development
Congratulations to Miss Evans (PE), who has just successfully graduated from the SSAT Leadership Legacy Project as part of the 2020-21 cohort. Designed for those with the potential to be future leaders, the project combines professional development with research and each participant has to produce a 'think piece' based around their subject area. Miss Evans took the opportunity to reflect on the future of her subject post-Covid and her work was highly commended by her SSAT moderator who said "I thoroughly enjoyed reading your Think Piece and would go so far as to say it is a very important piece of educational writing for your school and even the wider community". High praise indeed!
Thinking about becoming a teacher?
If you are considering teaching as a career, please see the information from The Cambridge Teaching Schools Network Training Partnership that is being sent with this Newsletter. The next 'Train to Teach with CTSN SCITT' event will be held on Monday 18th October, 6-7pm.
Running for Charity
On Sunday 17th October, MVC Science Technician, Dr Dyer will be running the Cambridge Half Marathon. She will be raising money for Tom's Trust, a local charity who support families whose child has been affected by a brain tumour diagnosis. During lockdown 2021 she trained towards the virtual challenge of 'Run Everyone' with the school running club, and ran a half-marathon distance in a time of 1 hour 55 minutes. Dr Dyer is looking forward to racing through the university colleges and to Grantchester, and feeling confident after recently competing in the Cambridge Cambourne 10k race.
If you would like to support her efforts, please visit the fundraising page here.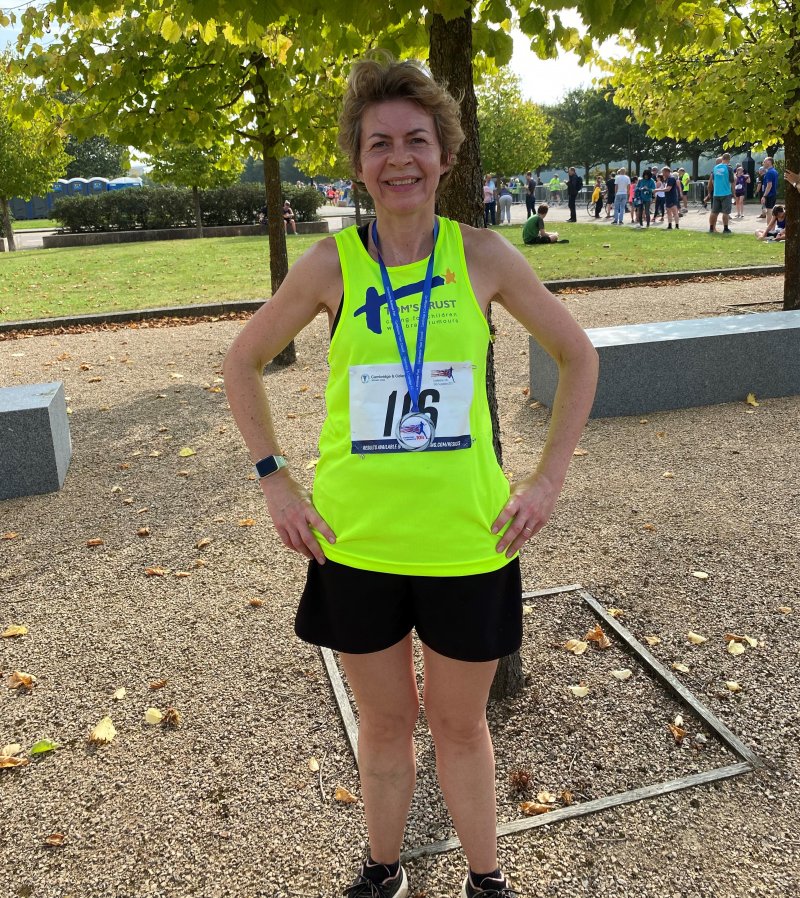 Pupil Showcase: Art
Year 10 GCSE students in Art have been studying a variety of artists based on the following themes; Face of Humanity, The Wonders of Nature and Constructed. Mrs Ward would like to congratulate these students on their commitment and dedication to the subject. They are producing some fantastic work as you can see below.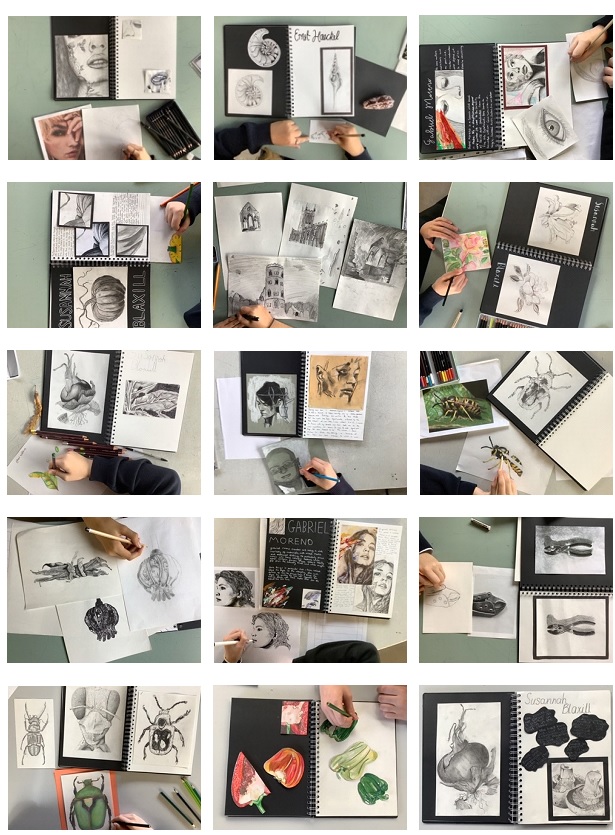 Have a good weekend,
Simon Holmes