SLT Update May 11th 2018
11th May 2018
Well done to Melbourn Dynamos U13s, who were The Royston Crow League Cup runners-up last Sunday. The team consists predominantly of Year 8 MVC students with a few from schools across the cluster and within the Trust. The boys did extremely well and met Hitchin Town Youth in the final; they were extremely unlucky to have lost 4-2, as they dominated the match in terms of ball possession. This team have also managed to secure second place in the league, which is a huge achievement from a small village team.
Once again, Ruby Want, Harriet Henry and Cambridge City Girls Football Team did an amazing job last weekend. They had very tough components in Bognor Regis; it was very hot and they had to work very hard to win the tournament, as the standard was very high. On Tuesday they also played in a match that decided the U13s girls' league champions, winning 5-1. Again this was a great achievement, with the team playing a year up. League cup final on 19th May. Well done, girls. Keep it up.
Last week Dominic Clemons in Year 11 played golf in the U18 Fairhaven trophy, coming 13th out of 123 players. Congratulations on an excellent result.
On Wednesday, the first inter-school athletics competition took place at Sawston VC. Matt Pinney ran an excellent 800m and was placed second.
This week, Year 7 History students have visited All Saints Church, Melbourn, as part of their History curriculum. Studies included medieval views on Christian teachings, the lives of monks and nuns, as well as the significance of the Church in the lives of peasants and nobles in England. Both Mr Holmes and Mr Tobutt, who are sharing Year 7 History classes this year, were impressed by the engagement and interest shown by the students.
Today, we were delighted to welcome David Johnson from Cambridge Pixel, who talked to our Year 10 Computing Students about the huge range of opportunities open to them in the future. Mr Richardson said: 'This was an excellent opportunity for our students to gain an insight into the working world of computing'.
Note for your diary: Our GCSE Art Exhibition at the Plough in Shepreth will run from 16th June to 4th July, with a preview on the 15th. Our Art results are consistently in the top 5% of schools nationally for the progress students make, so do take the chance to go and look at their high quality work.
Reminder: the deposit deadline to secure a place on the 2019 trip for skiing is Tuesday, 15th May.
Please see the below for information about the Oxford and Cambridge Summer Singing School.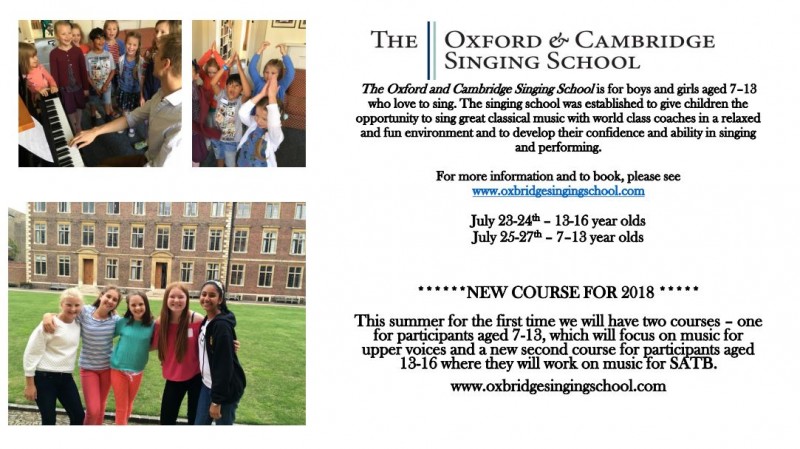 Have a good weekend.
Regina Lawrence
Deputy Principal